The Other Family Doctor: A Veterinarian Explores What Animals Can Teach Us About Love, Life, and Mortality
Spiral-Bound | March 14, 2023
Karen Fine
Rebinding by Spiralverse™
★★★★☆+ from 501 to 1,000 ratings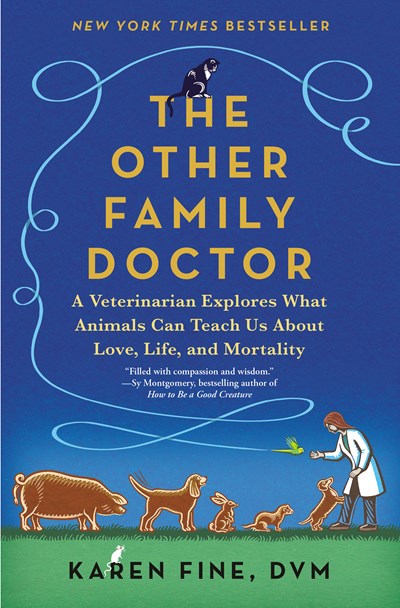 All Creatures Great and Small meets Being Mortal in this compelling memoir of one woman's dream to become a veterinarian in a field historically dominated by men, and how, through her work both with her patients and their people, she comes to better understand humanity, mortality, and the unique role animals play in our lives.

Karen Fine always knew that she wanted to be a vet and wasn't going to let anything stop her: not her allergy to cats, and not the fact that in the '80s veterinary medicine was still a mostly male profession. Inspired by her grandfather, a compassionate doctor who paid house calls to all his (human) patients, Dr. Fine persevered, and brought her Oupa's principles into her own practice, which emphasizes the need to understand her patients' stories to provide the best possible care.

And in The Other Family Doctor, Dr. Fine shares all these touching, joyful, heartbreaking, and life-affirming tales that make up her career as a vet. There's the feral cat who becomes a creature out of a fable when he puts his trust in a young vet to heal his injured paw; the pot-bellied pig who grows too big to fit in the car but remains a cherished part of her family; the surprising colony of perfectly behaved ferrets; the beloved aging pet who gives her people the gift of accompanying them on one final family vacation; and the dog who saves his owner's life in a most unexpected way.

Woven into Dr. Fine's story are, of course, also the stories of her own pets: the birds, cats, and dogs who have taught her the most valuable lessons—how caring for the animals in our lives can teach us to better care for ourselves, especially when life seems precarious.
"A delight for past, present, and prospective pet owners. And for everyone else."
—David Steinberg, Albuquerque Journal

"Just in case you didn't love your animal doc enough already, Karen Fine's The Other Family Doctor will make you want to HUG your vet. This endearing memoir of what it takes to become a veterinarian and make it through the trenches of providing 24/7 care for the creatures we love best is so full of grit, determination, humor, and love."
—Jenna Blum, New York Times bestselling author of Woodrow on the Bench and Those Who Save Us

"Filled with compassion and wisdom, Karen Fine is a healer whose own wounds have deepened her gifts for bringing animals and their people comfort and peace."
—Sy Montgomery, New York Times bestselling author of The Soul of an Octopus and How to Be a Good Creature

"A vivid exploration of what it means to heal, to connect with animals, and to find our truest calling. If you're anything like me and you've wondered at your dog's veterinary appointments who are these doctors that care for our animals through sickness and health, who hold us and them when the time comes to say goodbye to the pets we love most, this book is for you."
—Rory Kress, author of The Doggie in the Window

"Compassionate and empathetic, The Other Family Doctor is required reading for anyone who has ever loved an animal."
—E.B. Bartels, author of Good Grief

"Karen Fine has captured the human-animal bond in loving detail that's sure to resonate with animal lovers everywhere. The Other Family Doctor is heartwarming and by turns hilarious, enlightening, and deeply poignant. This captivating memoir may bring forth a few tears, but ultimately, it's an uplifting look inside the life and work of someone who cares deeply for our beloved companions. Somewhere, James Herriot is smiling."
—Sarah Chauncey, author of P.S. I Love You More Than Tuna

"This is no ordinary memoir. Dr. Fine is one of those truly gifted veterinarians that don't just treat the pet, but also know how to take care of the human. . . . Beautifully written with great sensitivity."
—Ingrid King, Purrs of Wisdom

"The Other Family Doctor is a heartwarming and healing look at the myriad joys and sorrows of loving animals. With warmth, humor, and years of expertise, Fine sheds light on the daily life of a vet, and the amazing lessons her four-legged patients have taught her. If you consider your pet a family member, this book is a must-read."
—Dr. Marty Becker, author of From Fearful to Fear Free

"A lovely book. . . . This inspirational tearjerker is highly recommended for anyone who has ever owned or loved a pet."
—Erica Swenson Danowitz, Library Journal (starred review)

"[A] spirited homage to domesticated animals and their bond with humans. . . . Fine's keen observations will strike a chord with animal lovers, and her upbeat style keeps the pages turning."
—Publishers Weekly

"A lively, often moving memoir of caring for animals. . . . A warm and humane tribute to animals who enrich our lives."
—Kirkus Reviews

Dr. Karen Fine is a holistic veterinarian who is fascinated by the relationships between animals and their people. She is an associ­ate veterinarian at Central Animal Hospital in Leominster, Mas­sachusetts. For twenty-five years she owned and operated her own house call practice in central Massachusetts. Dr. Fine is certified in veterinary acupuncture through the International Veterinary Acupuncture Society. A leading expert in the emerging field of vet­erinary narrative medicine, she has also authored a textbook called Narrative Medicine in Veterinary Practice.

Author Residence: Leominster, MA