Untold Power: The Fascinating Rise and Complex Legacy of First Lady Edith Wilson
Spiral-Bound | March 7, 2023
Rebecca Boggs Roberts
Rebinding by Spiralverse™
★★★☆☆+ from 101 to 500 ratings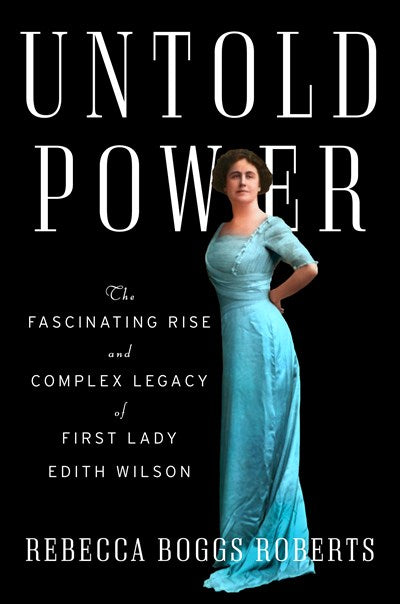 A nuanced portrait of the first acting woman president, written with fresh and cinematic verve by a leading historian on women's suffrage and power

While this nation has yet to elect its first woman president—and though history has downplayed her role—just over a century ago a woman became the nation's first acting president. In fact, she was born in 1872, and her name was Edith Bolling Galt Wilson. She climbed her way out of Appalachian poverty and into the highest echelons of American power and in 1919 effectively acted as the first woman president of the U.S. (before women could even vote nationwide) when her husband, Woodrow Wilson, was incapacitated. Beautiful, brilliant, charismatic, catty, and calculating, she was a complicated figure whose personal quest for influence reshaped the position of First Lady into one of political prominence forever. And still nobody truly understands who she was.

For the first time, we have a biography that takes an unflinching look at the woman whose ascent mirrors that of many powerful American women before and since, one full of the compromises and complicities women have undertaken throughout time in order to find security for themselves and make their mark on history. She was a shape-shifter who was obsessed with crafting her own reputation, at once deeply invested in exercising her own power while also opposing women's suffrage. With narrative verve and fresh eyes, Untold Power is a richly overdue examination of one of American history's most influential, complicated women as well as the surprising and often absurd realities of American politics.
"Quite simply a compelling yarn… Roberts's storytelling soars as she leads the reader through Edith's machinations to hide her husband's disabilities while maintaining his White House's functions."
—Washington Post

"[A] fast-moving, sure-footed biography..."Untold Power" is a delightful read"
—Wall Street Journal

"Untold Power is not a hagiography of Edith Wilson...[Roberts] uses Wilson's story not as an easy sell for the Women's History Month marketplace, but as a way to examine...entrenched power systems and to shade in a chapter of US history that set in motion the feminist cause"
—The Guardian

"Roberts isn't interested in venerating Wilson as a saint; nor is she looking to magnify the First Lady's flaws. Rather, she lets Edith be Edith, which is to say messy and complicated, as most humans are."
—The Washingtonian

"Historian Rebecca Boggs Roberts gives Edith her due, demonstrating that, as the first unelected woman to govern the country, Edith has no match...This well-told history, based on sources that are often at odds with Edith's own memoir, also begs the question: How could so much in the White House have gone unseen and unknown for so long? And, chillingly, could it happen again?"
—BookPage

"For the armchair historian, this richly embroidered narrative is a pleasure to read. Roberts is a fine storyteller, and she offers a compulsively readable, analytical biography of a complex woman too often depicted as a simple caricature…Roberts widens the lens traditionally focused on great white men to consider a broader set of historical actors, and to think about politics and power in a more nuanced way."
—Washington Monthly

"A solid biography of first lady Edith Bolling Galt Wilson...As Roberts succinctly puts it, Edith became 'the most powerful woman in the nation,' while pretending to be 'nothing of the kind.' Enriched with incisive sketches of the era's political figures, including socialite Alice Roosevelt Longworth, and concise history lessons on the Treaty of Versailles, the League of Nations, and more, this is a rich portrait of a singular first lady."
—Publishers Weekly

"Americans have often preferred their First Ladies to be merely decorative, aspiring to nothing beyond the role of devoted helpmate and gracious hostess. So, in 1919, good thing few people knew that for most of a year the power behind the presidential seal was not Woodrow Wilson—who lay incapacitated by a stroke—but his second wife, Edith Bolling Galt Wilson. In Untold Power, Rebecca Boggs Roberts paints a vivid and riveting portrait of Edith, in all her prickly, contradictory splendor. Told with gusto, historical care, wry humor, and crisp insight Boggs Roberts leads us on a spirited expedition in search of Edith, who dared to become that most dangerous thing, a woman wielding power."
—Elaine Weiss, author of The Woman's Hour: The Great Fight to Win the Vote
Rebecca Boggs Roberts is an award-winning educator, author, and speaker, and is a leading historian of American women's suffrage and civic participation. Her books include the award-winning The Suffragist Playbook: Your Guide to Changing the World; Suffragists in Washington, D.C.: The 1913 Parade and the Fight for the Vote; and Historic Congressional Cemetery. She is currently deputy director of events at the Library of Congress, and has previously worked as a journalist, producer, tour guide, forensic anthropologist, event planner, political consultant, jazz singer, and radio talk show host. Roberts serves on the board of the National Archives Foundation, on the Council of Advisors of the Women's Suffrage National Monument Foundation, and on the Editorial Advisory Committee of the White House Historical Association. She lives in Washington, DC, with her husband, their three sons, and a long-eared hound dog.

Author Residence: Washington, D.C.

Author Hometown: Los Angeles, CA