Essentials of Classic Italian Cooking: 30th Anniversary Edition: A Cookbook
Spiral-Bound | September 20, 2022
Marcella Hazan, Lidia Matticchio Bastianich (Foreword by), Victor Hazan (Foreword by), Karin Kretschmann (Illustrated by)
Rebinding by Spiralverse™
★★★★☆+ from 10,001 to 50,000 ratings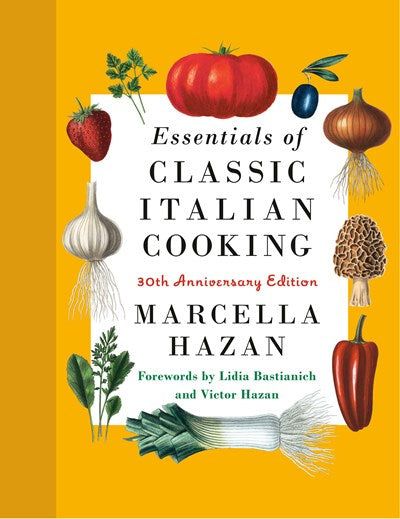 A handsome new edition of one of the most beloved cookbooks of all time, by "the Queen of Italian Cooking" (Chicago Tribune), featuring new forewords by Lidia Bastianich and Victor Hazan

Marcella Hazan introduced Americans to a whole new world of Italian food. In this, her magnum opus, she gives us a manual for cooks of every level of expertise—from beginners to accomplished professionals. From Pasta e Fagioli to the only tomato sauce you'll ever need (the secret ingredient: butter), from Risotto with Saffron to Ricotta Fritters—and every imaginable recipe in between—this is the go-to Italian cookbook for students, newlyweds, and master chefs, alike. Beautifully illustrated with line drawings throughout, Essentials of Classic Italian Cooking brings together nearly five hundred of the most delicious recipes from the Italian repertoire in one indispensable volume. As the generations of readers who have turned to it over the years know (and as their spattered and worn copies can attest), there is no more passionate and inspiring guide to the cuisine of Italy.

A BON APPETIT BEST BOOK OF THE YEAR

"Hazan's recipes, both specific and sensual, became the foun- dation for my own style of cooking, which I sometimes call 'Obsessive-Impulsive.' I also credit her with starting my obses- sion with bay leaves." —SAMIN NOSRAT, The New York Times Magazine

"The cookbook author who changed the way Americans cook Italian food." —The New York Times

"If you know nothing about Italian cooking, this is the book you want. (It's also the book you want if you know something about Italian cooking and want to know more.) Written with fluidity, personality, charm, and grace, it is filled with recipes both fundamental and special, recipes you will use, as I have since beginning to cook with its predecessors in the '80s, for decades to come. As a bonus, the new forewords are beautiful." —MARK BITTMAN, author of How to Cook Everything

"The Italian cookbook you'd take to a desert island. The presentation is a model of clarity. The descriptions of technique and the recipes are impeccable, interesting, and appealing." —The Washington Post

"If this were the only cookbook you owned, neither you nor those you cooked for would ever get bored." —NIGELLA LAWSON, author of Cook, Eat, Repeat

"It should be a staple of every kitchen." —Vogue

"You can't go wrong with a Marcella Hazan recipe." —Food52

"Marcella Hazan is way more than just another cookbook author to me. So many of the recipes in this iconic collection—the pork in milk, the Bolognese, the famous tomato, onion, and butter sauce—have graced my table for huge celebratory occasions and also just regular old Sunday dinners, and I don't see that ever changing. She's like family, the Italian grandmother I never had, standing next to me while I brown my meat and stir my sauces, telling me what to do and how to do it with her trademark precision, loving authority, and warmth. I can't wait to give this edition to my own children . . . and everyone else I know." —JENNY ROSENSTRACH, New York Times best-selling author of Dinner: A Love Story

"Part encyclopedia, part regional cookbook, Essentials of Classic Italian Cooking . . . is an indispensable introduction to the principles of Italian cooking." —Saveur

"Marcella changed my life . . . All I had to do was follow her instructions to the letter, and success was pretty much guaranteed . . . The fact that her recipes are consistently clear and straightforward enabled me to overcome a lifetime of insecurity in the kitchen. She just made it all seem so easy . . . Grazie, Marcella." —DAVID SIPRESS, The New Yorker

"If you could credit one person with introducing classic Italian food to the American public, it would have to be Marcella Hazan." —Serious Eats
MARCELLA HAZAN was born in Cesenatico, a fishing village on the Adriatic in Emilia-Romagna, Italy's foremost gastronomic region. After receiving her doctorates from the University of Ferrara in natural sciences and in biology, she lived and traveled throughout Italy. With the publication of The Classic Italian Cook Book and More Classic Italian Cooking (brought together in a single volume, Essentials of Classic Italian Cooking), her reputation as America's premier teacher of Italian cooking spread throughout the country. Hazan died in 2013.