Drama Free: A Guide to Managing Unhealthy Family Relationships
Spiral-Bound | February 28, 2023
Nedra Glover Tawwab
Rebinding by Spiralverse™
★★★★☆+ from 1,001 to 10,000 ratings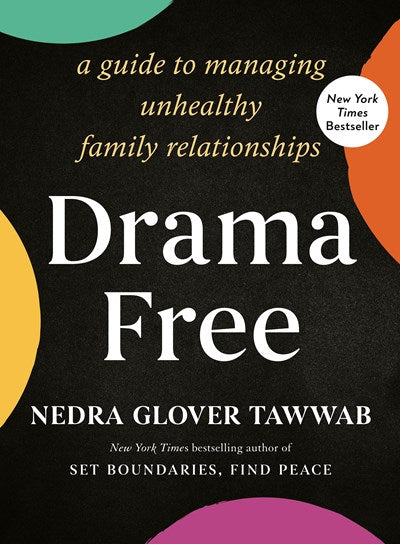 Instant New York Times Bestseller

From the bestselling author of Set Boundaries, Find Peace, a road map for understanding and moving past family struggles—and living your life, your way.

Every family has a story. For some of us, our family of origin is a solid foundation that feeds our confidence and helps us navigate life's challenges. For others, it's a source of pain, hurt, and conflict that can feel like a lifelong burden. In this empowering guide, licensed therapist and bestselling relationship expert Nedra Glover Tawwab offers clear advice for identifying dysfunctional family patterns and choosing the best path to breaking the cycle and moving forward.
Covering topics ranging from the trauma of emotional neglect, to the legacy of addicted or absent parents, to mental health struggles in siblings and other relatives, and more, this clear and compassionate guide will help you take control of your own life—and honor the person you truly are.
"Without a fresh perspective and the belief that we can break the cycle, we can get stuck in family patterns rather than living as our whole selves. With compassion and clarity, Nedra Tawwab offers a much-needed guide to understanding our upbringing—and becoming an agent for change in our own lives." —Lori Gottlieb, New York Times bestselling author of Maybe You Should Talk to Someone and co-host of the Dear Therapists podcast


"In Drama Free, therapist Nedra Tawwab gives us the tools to understand family relationships and manage them in a healthier way – while staying true to who we are and what we need. This book offers a powerful path forward." —Charlamagne Tha God, New York Times bestselling author and co-host of The Breakfast Club


"Many people go to therapy to work through the issues in their heads, overlooking that their biggest challenges often lie in their family relationships. In this book, therapist Nedra Tawwab offers practical wisdom to help you handle problems with parents, siblings, children, and yes, even in-laws. In a time when mental health is finally getting the attention it deserves, this is a vital guide to building healthier families." —Adam Grant, #1 New York Times bestselling author of Think Again and host of the TED podcast Re:Thinking


"Drama Free is an engaging and relatable guide to understanding what's really going on within our families, offering practical steps for creating healthy changes as needed." —Myleik Teele, CURLBOX founder


"The family dynamics we grew up with can feel like an immutable fact of life—a set of patterns and rules we carry with us, for better or worse. In this empowering book, Nedra Tawwab upends this assumption, unpacking these complex relationships and offering tools for positive change." —Judson Brewer, MD, PhD, New York Times bestselling author of Unwinding Anxiety
Nedra Glover Tawwab is the author of the New York Times bestseller Set Boundaries, Find Peace. A licensed therapist and sought-after relationship expert, she has practiced relationship therapy for more than fifteen years. Tawwab has appeared as an expert on The Red Table Talk, The Breakfast Club, Good Morning America, and CBS This Morning, to name a few. Her work has been highlighted in The New York Times, The Guardian, and Vice, and has appeared on numerous podcasts, including Good Life Project, Sofia with an F, and Therapy for Black Girls. Tawwab runs a popular Instagram account where she shares practices, tools, and reflections for mental health and hosts weekly Q&As about boundaries and relationships. She lives in Charlotte, North Carolina, with her family.


Author Residence: Davidson, NC

Author Hometown: Detroit, MI