Happy Earth Day!
Spiral-Bound | February 14, 2023
Deborah Hopkinson, Jennifer Zivoin (Illustrated by)
Rebinding by Spiralverse™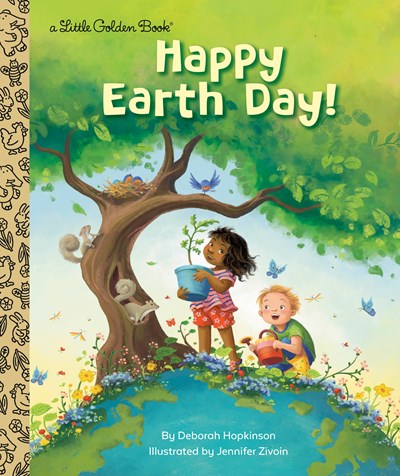 This fact-filled Little Golden Book is about Earth Day—what it is and why it's important—and offers suggestions for actions kids can take to help protect and heal our planet.

Earth Day is celebrated on April 22 each year, but this Little Golden Book about the history and importance of Earth Day will inspire children to appreciate our planet each and every day! Includes directions for family-friendly projects, such as composting, growing baby carrots on a windowsill, making a bug hotel, and more.

Series Overview: LITTLE GOLDEN BOOKS have been loved by children for more than 75 years. When they were first published in 1942, high-quality books for children hadn't been available at a price most people could afford. Little Golden Books changed that! Priced at just 25 cents and sold where people shopped every day, they caused an instant sensation and were soon purchased by the hundreds of thousands. Created by such talented writers as Margaret Wise Brown (author of Goodnight Moon) and Richard Scarry, Little Golden Books have helped millions of children develop a lifelong love of reading. Today, Little Golden Books feature beloved classics such as The Poky Little Puppy and Scuffy the Tugboat, hot licenses, and new original stories--the classics of tomorrow, ready to be discovered between their sturdy cardboard covers and gold-foil spines.
DEBORAH HOPKINSON is the author of more than 50 books for young readers, including the bestsellers My Little Golden Book About Dolly Parton, My Little Golden Book About Betty White, and the picture book Sweet Clara and the Freedom Quilt, which the New York Times called "inspiring." She lives near Portland, OR, with her family and a menagerie of pets.

Author Residence: Portland, OR

JENNIFER ZIVOIN has illustrated more than forty children's books including Sweet Child o' Mine by Guns N' Roses. Jennifer lives in Indiana with her husband and daughters, whose daily adventures, explorations, and imaginings inspire her illustrations.

Illustrator Residence:Indiana