Bob Ross: A Little Golden Book Biography
Spiral-Bound | January 3, 2023
Maria Correa, Jeff Crowther (Illustrated by)
Rebinding by Spiralverse™
★★★★☆+ from Up to 30 ratings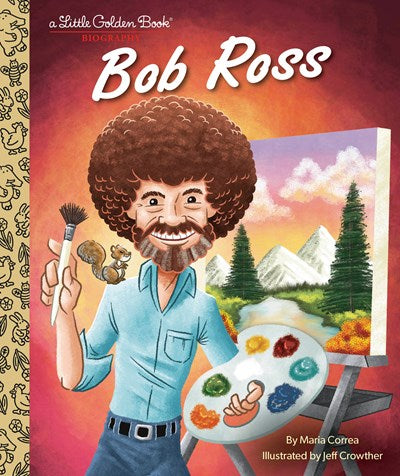 Help your little one dream big with a Little Golden Book biography about Bob Ross, the beloved painter with a big head of hair and an even bigger heart! Little Golden Book biographies are the perfect introduction to nonfiction for young readers—as well as fans of all ages!

This Little Golden Book about Bob Ross—the soft-spoken painter of happy little trees and the star of the most popular televised art show ever—is an inspiring read-aloud for young children as well as their parents and grandparents who grew up watching The Joy of Painting.

Look for more Little Golden Book biographies:
• Misty Copeland
• Frida Kahlo
• Iris Apfel
• Queen Elizabeth II
• Harriet Tubman

Series Overview: LITTLE GOLDEN BOOK BIOGRAPHIES introduce fascinating people including artists, world leaders, performers, and athletes to preschoolers. With informative text and colorful illustrations on every page, young children—and the adults reading to them—will be entertained and inspired. This subseries of beloved Little Golden Books, which have been published since 1942, features the famous gold-foil spine on its sturdy cardboard covers.
MARIA CORREA is a children's book author, editor, and translator. Originally from Medellín, Colombia, she currently lives in New York City, where she enjoys trying new things and exploring the city through her camera lens.

Author Residence: New York City

JEFFREY CROWTHER loves to draw, tell stories, and eat burritos. His work has appeared in picture books, graphic novels, magazines, and educational publications, and on television. He lives in Ohio with his amazing wife and their equally amazing, talented, brilliant, and inspirational kids.

Illustrator Residence:Ohio