Oh Say Can You Say Di-no-saur? All About Dinosaurs: All About Dinosaurs
Spiral-Bound | June 25, 2024
Bonnie Worth
Rebinding by Spiralverse™
★★★★☆+ from 1,001 to 10,000 ratings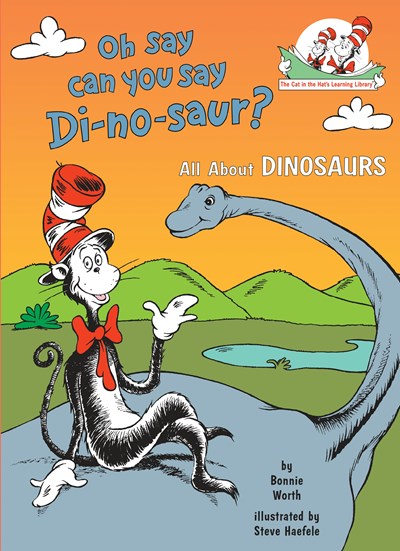 Journey through the fascinating world of dinosaurs with everyone's favorite Cat in the Hat in this positively prehistoric adventure! The Cat in the Hat's Learning Library is a nonfiction picture book series that introduces beginning readers ages 5-8 to important basic concepts.

Learn about how fossils are formed and found, and get an easy introduction to dinosaurs from the flying Archaeoptyerx to the spiky Ankylosaurus. (And not to fear–the Cat in the Hat will break the names down for easy pronunciation for kids and parents.) Perfect for readers who are crazy about dinosaurs (or even just dino-nuggets) and for any kid who loves learning and science.

Featuring beloved characters from Dr. Seuss's The Cat in the Hat, the Learning Library are unjacketed hardcover picture books that explore a range of nonfiction topics about the world we live in and include an index, glossary, and suggestions for further reading.
"There is a big gap between 'concept' books written for preschoolers and nonfiction that requires fluent reading skills. The Cat in the Hat's Learning Library books introduce beginning readers to important basic concepts about the natural world. They provide the critical foundations upon which complex facts and ideas can eventually be build. In addition, The Cat in the Hat's Learning Library shows young readers that books can be entertaining and educational at the same time. This is a wonderful series!"
-- Barbara Kiefer, Associate Professor, Reading and Literature
Teachers College, Columbia University
Bonnie Worth is the author of countless books for young readers, among them 18 of the Cat in the Hat's Learning Library books, including Oh Say Can You Say Di-No-Saur?, If I Ran the Rain Forest, Oh Say Can You Seed? (winner of the 2003 Ohio Farm Bureau Award), Hark! A Shark!, and If I Ran the Horse Show.