Know My Name: A Memoir
Spiral-Bound | August 18, 2020
Chanel Miller
Rebinding by Spiralverse™
★★★★☆+ from 50,001 + ratings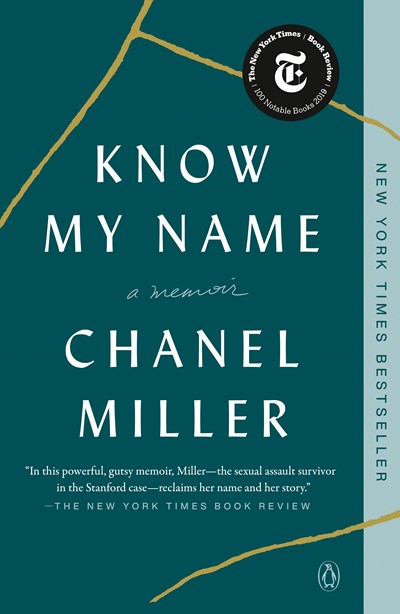 A NEW YORK TIMES BESTSELLER

"Know My Name is a gut-punch, and in the end, somehow, also blessedly hopeful."
--Washington Post

Universally acclaimed, rapturously reviewed, and an instant New York Times bestseller, Chanel Miller's breathtaking memoir "gives readers the privilege of knowing her not just as Emily Doe, but as Chanel Miller the writer, the artist, the survivor, the fighter." (The Wrap). Her story of trauma and transcendence illuminates a culture biased to protect perpetrators, indicting a criminal justice system designed to fail the most vulnerable, and, ultimately, shining with the courage required to move through suffering and live a full and beautiful life.

Know My Name will forever transform the way we think about sexual assault, challenging our beliefs about what is acceptable and speaking truth to the tumultuous reality of healing. Entwining pain, resilience, and humor, this memoir will stand as a modern classic.
WINNER OF THE RIDENHOUR BOOK PRIZE / THE DAYTON LITERARY PRIZE / THE CALIFORNIA BOOK AWARD

BEST BOOK OF THE YEAR in PEOPLE NEW YORK TIMES BOOK REVIEW WASHINGTON POST NPR PARADE TIME GLAMOUR CHICAGO TRIBUNE MARIE CLAIRE ELLE FORTUNE LIBRARY JOURNAL KIRKUS DAILY MAIL BALTIMORE SUN SHE READS MAN REPELLER BOOKRIOT SPY.COM

"She has written a memoir that converts the ongoing experience of sexual assault into literature...Beautiful."─The Atlantic

"To tell her story at all is enough…the fact that Miller tells it beautifully, caring enough for her reader to spin golden sentences from her pain, is a gift on top of a gift." ─Vogue

"Know My Name is an act of reclamation. On every page, Miller unflattens herself, returning from Victim or Emily Doe to Chanel, a beloved daughter and sister...Know My Name marks the debut of a gifted young writer. Miller's words are purpose. They are maps. And she is a treasure who has prevailed."─Jennifer Weiner, The New York Times

"In this powerful, gutsy memoir, Miller—the sexual assault survivor in the Stanford case—reclaims her name and her story."—The New York Times Book Review

"Know My Name is a blistering, beautifully written account of a courageous young woman's struggle to hold a sexual predator accountable. Stand back, folks: This book is going to give a huge blast of momentum to the #MeToo movement."─Jon Krakauer

"She writes exquisitely of her pain, makes us feel every fragment of it, but also expounds on the kindness that nourished her spirit…Miller matters. Readers will see every victim matters." ─USA Today

"In a perfect world, Know My Name would be required reading for every police officer, detective, prosecutor, provost and judge who deals with victims of sexual assault." ─LA Times

"Miller is a gifted storyteller...Know her name, know her voice."─The New Yorker

"Miller provides one of the most moving and humanizing depictions of sexual assault I have ever read…Know My Name features the kind of intimate, coming-of-age storytelling that you don't find in a typical story about a crime and its aftermath. She lets us see her in quiet moments and jubilant ones, in moments of doubt and moments of strength…In giving us the gift of knowing her, Miller has written a singular testament to the human cost of sexual violence, and a powerful reminder of why we fight." ─The Cut

"In a world that asks too many survivors to keep their experiences to themselves and shrink their suffering to preserve someone else's potential, Know My Name stands unapologetically large, asking others to reckon with its author's dazzling, undiminishable presence. To read it, in spite of everything, inspires hope."—The Guardian

"I'd never read anything that so vividly paints the bewildering maze that a sexually assaulted woman faces...Know My Name raises crucial questions about the way we treat sexual assault and, indeed, sex itself." ─Katha Pollitt, The Nation

"In its rare honesty and in its small details, Know My Name is both an open wound and a salve, a quiet cry and the loudest scream…Know My Name is more than an indictment, though it is a successful and moving one. It is also an outstretched hand, inviting you to fight alongside her."─Elle

"Miller's memoir is beautifully written, underscored by simmering indignation." ─Jezebel

"Compelling and essential…Miller reminds us that our stories are worth telling, that the names and the lives attached to those names matter." ─SF Chronicle

"Triumphant...Know My Name evokes a woman whose spirit hasn't been broken—a study in what it means to strike back, not in revenge, but in reclamation."—O Magazine

"A stunning book...beautifully written."—Teen Vogue

"Unputdownable…A much-needed memoir giving voice to those who must be heard. Miller's writing stands apart."—Library Journal (starred review)

"Miller's new memoir echoes her powerful victim-impact statement… It's a beautiful revealing self-portrait. It's funny and it's heartbreaking, and it's an inspiration. There's just no other way to say it: the writing is exquisite." ─The Daily Beast

"Miller's memoir, Know My Name, gives readers the privilege of knowing her not just as Emiy Doe, but as Chanel Miller the writer, the artist, the survivor, the fighter." ─The Wrap

"Miller distinguishes herself not only for her resilience and fortitude, but also for her power of expression. She possesses extraordinary gifts as a writer."─The National Book Review

"Miller makes a powerful case for overhauling a system that retraumatizes victims of sexual violence even in successful cases, perpetuating the feedback loop that discourages victims from coming forward to seek justice." ─Mother Jones
Chanel Miller is a writer and artist who received her BA in Literature from the University of California, Santa Barbara. Her critically acclaimed memoir, KNOW MY NAME, was a New York Times bestseller, a New York Times Book Review Notable Book, and a National Book Critics Circle Award winner, as well as a best book of 2019 in Time, the Washington Post, the Chicago Tribune, NPR, and People, among others. She is a 2019 Time Next 100 honoree and a 2016 Glamour Woman of the Year honoree under her pseudonym, "Emily Doe."