Little Fires Everywhere: A Novel
Spiral-Bound | May 7, 2019
Celeste Ng
Rebinding by Spiralverse™
★★★★☆+ from 50,001 + ratings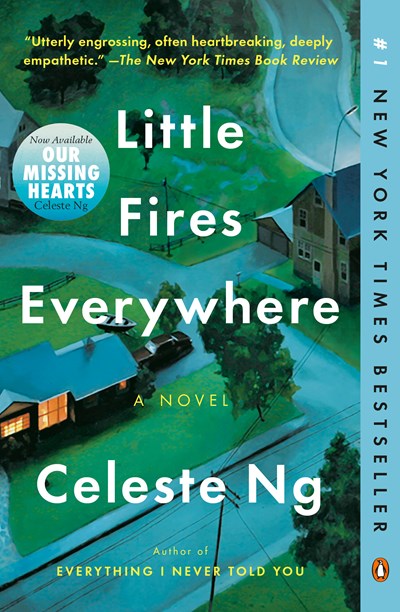 The #1 New York Times bestseller!

"Witty, wise, and tender. It's a marvel." —Paula Hawkins, author of The Girl on the Train and A Slow Fire Burning

"To say I love this book is an understatement. It's a deep psychological mystery about the power of motherhood, the intensity of teenage love, and the danger of perfection. It moved me to tears." —Reese Witherspoon

From the bestselling author of Everything I Never Told You and Our Missing Hearts comes a riveting novel that traces the intertwined fates of the picture-perfect Richardson family and the enigmatic mother and daughter who upend their lives.

In Shaker Heights, a placid, progressive suburb of Cleveland, everything is planned—from the layout of the winding roads, to the colors of the houses, to the successful lives its residents will go on to lead. And no one embodies this spirit more than Elena Richardson, whose guiding principle is playing by the rules.

Enter Mia Warren—an enigmatic artist and single mother—who arrives in this idyllic bubble with her teenaged daughter Pearl, and rents a house from the Richardsons. Soon Mia and Pearl become more than tenants: all four Richardson children are drawn to the mother-daughter pair. But Mia carries with her a mysterious past and a disregard for the status quo that threatens to upend this carefully ordered community.

When old family friends of the Richardsons attempt to adopt a Chinese-American baby, a custody battle erupts that dramatically divides the town—and puts Mia and Elena on opposing sides. Suspicious of Mia and her motives, Elena is determined to uncover the secrets in Mia's past. But her obsession will come at unexpected and devastating costs.

Little Fires Everywhere explores the weight of secrets, the nature of art and identity, and the ferocious pull of motherhood—and the danger of believing that following the rules can avert disaster.

Named a Best Book of the Year by: People, The Washington Post, Bustle, Esquire, Southern Living, The Daily Beast, GQ, Entertainment Weekly, NPR, Amazon, Barnes & Noble, iBooks, Audible, Goodreads, Library Reads, Book of the Month, Paste, Kirkus Reviews, St. Louis Post-Dispatch, and many more...

Perfect for book clubs! Visit celesteng.com for discussion guides and more.
"I read Little Fires Everywhere in a single, breathless sitting. With brilliance and beauty, Celeste Ng dissects a microcosm of American society just when we need to see it beneath the microscope: how do questions of race stack up against the comfort of privilege, and what role does that play in parenting? Is motherhood a bond forged by blood, or by love? And perhaps most importantly: do the faults of our past determine what we deserve in the future? Be ready to be wowed by Ng's writing—and unsettled by the mirror held up to one's own beliefs." —Jodi Picoult, New York Times bestselling author of My Sister's Keeper and Wish You Were Here

"Witty, wise, and tender. It's a marvel." —Paula Hawkins, author of The Girl on the Train and A Slow Fire Burning

"Witnessing these two families as they commingle and clash is an utterly engrossing, often heartbreaking, deeply empathetic experience . . . It's this vast and complex network of moral affiliations—and the nuanced omniscient voice that Ng employs to navigate it—that make this novel even more ambitious and accomplished than her debut . . . Our trusty narrator is as powerful and persuasive and delightfully clever as the narrator in a Victorian novel . . . It is a thrillingly democratic use of omniscience, and, for a novel about class, race, family and the dangers of the status quo, brilliantly apt . . . The magic of this novel lies in its power to implicate all of its characters—and likely many of its readers—in that innocent delusion [of a post-racial America]. Who set the littles fires everywhere? We keep reading to find out, even as we suspect that it could be us with ash on our hands." —Eleanor Henderson, The New York Times Book Review

"[Ng] captures her setting with an ethnologist's authority . . . And there are time-capsule pleasures in her evocation of 1997 . . . The writing is poised." —Wall Street Journal

"Delectable and engrossing . . . A complex and compulsively readable suburban saga that is deeply invested in mothers and daughters . . . What Ng has written, in this thoroughly entertaining novel, is a pointed and persuasive social critique, teasing out the myriad forms of privilege and predation that stand between so many people and their achievement of the American dream. But there is a heartening optimism, too. This is a book that believes in the transformative powers of art and genuine kindness—and in the promise of new growth, even after devastation, even after everything has turned to ash." —Boston Globe

"[Ng] widens her aperture to include a deeper, more diverse cast of characters. Though the book's language is clean and straightforward, almost conversational, Ng has an acute sense of how real people (especially teenagers, the slang-slinging kryptonite of many an aspiring novelist) think and feel and communicate. Shaker Heights may be a place where "things were peaceful, and riots and bombs and earthquakes were quiet thumps, muffled by distance.' But the real world is never as far away as it seems, of course. And if the scrim can't be broken, sometimes you have to burn it down. Grade: A-" —Entertainment Weekly

"Stellar . . . The plot is tightly structured, full of echoes and convergence, the characters bound together by a growing number of thick, overlapping threads . . . . Ng is a confident, talented writer, and it's a pleasure to inhabit the lives of her characters and experience the rhythms of Shaker Heights through her clean, observant prose. Before she became an author she was a miniaturist—almost too perfect for a writer of suburban fiction—and there's a lovely, balanced, dioramic quality to this novel. She toggles between multiple points of view, creating a narrative both broad in scope and fine in detail, all while keeping the story moving at a thriller's pace." —LA Times

"Riveting . . . unearthing the ways that race, class, motherhood and belonging intersect to shape each individual . . . Perhaps Ng's most impressive feat is inviting the reader's forgiveness for Mrs. Richardson—a woman whose own mission for perfection, and strict adherence to rules ultimately become the catalyst for the maelstrom that ensues." —Chicago Tribune

"Like Sue Monk Kidd or Madeleine Thien, Celeste Ng has a carpenter's sure touch in constructing nested, interconnected plots . . . There are few novelists writing today who are as wise, compassionate and unsparing as Ng, about the choices you make, the ones you don't, and the price you might pay for missed lives." —Financial Times

"When you're in the mood for family drama that's not your own, Little Fires Everywhere by Celeste Ng will have you hooked." —The Skimm

"Sharp and entertaining—you can't look away even when things are crashing and burning (literally)—and it possibly ranks up there with all-time great suburbia fiction, like Jeffrey Eugenides's The Virgin Suicides." —Goop

"Opposites attract and also ignite in this thoughtful novel." —People

"Ng writes with the wisdom of a hundred lives lived." —Harpers Bazaar

"A riveting read and one of our favorite new works of fiction this fall." —Refinery29

"[Ng] probes privilege and the compromises it requires in a riveting novel." —O, The Oprah Magazine

"A meditation on rules, race, class, insiders, outsiders, motherhood. There is no throwaway character. And after you've raced to the end of the book, you'll want to read it again, to take the ideas and hold them up to the harsh light of 2017. Ng's novel would be a great read in any time period—but if you're struggling with the present moment and how we got here, this novel will do what any good piece of fiction does: illuminate." —Barrie Hardymon, NPR's Best Books of 2017

"Like Everything I Never Told You, Ng's excellent debut, the book plots its way into a smart, accessible conversation about race and class. But free of the restraints of Everything's thriller construction, Little Fires gives Ng the space and patience to confront how progressive-minded communities approach identity." —GQ.com

"[A] suspenseful, tense tale." —W Magazine

"[Ng's] descriptions are so dead-on you can practically see the Cleveland skyline as you ride shotgun with these characters." —Glamour

"A meditation on the unspoken pains and contradictions of motherhood. Its story unspools all the raw, knotted tensions that go into making a family . . . Choosing a rambling van over a 401(k) isn't a sign of delinquent parenting in Ng's universe; it's just one of a series of possible paths, with its own unique pleasures and pitfalls." —Refinery29

"Unmissable . . . Ng's psychological insight is acute, yet generous . . . Little Fires Everywhere examines the cruelties that we unwittingly inflict on those we claim to love." ―Claire Fallon, HuffPost's Best Fiction Books of 2017

"Takes unerring aim at upper-middle-class America's blind spots . . . a nuanced study of mothers and daughters and the burden of not belonging to our families or our communities." —Vogue

"Totally absorbing, each character drawn so well it makes it impossible to decide whose side you're on." —Marie Claire

"Ng writes with the wisdom of a hundred lives lived, churning out complex characters mostly sympathetic, sometimes loathsome, but all startlingly human." —HarpersBazaar.com

"Fans of novelist Celeste Ng's debut, Everything I Never Told You, and devotees of her resistance-ready Twitter feed can rejoice . . . The story drifts effortlessly between characters; each is full and memorable as they coax the novel to its fiery climax. Ng reminds us that action is a choice, and you'll want to keep reading until the last irreversible actions play out." —Bust

"Couldn't be more timely . . . Little Fires Everywhere might just be the signpost that we need, pointing a way forward with the gentle suggestion that sometimes doing the right thing means breaking some rules." —Paste

"Compelling . . . Little Fires Everywhere invests all of its emotional energies in the relationship between mothers and their children . . . in Ng's precisely rendered perfect suburb." —Vox

"Ng's taut class drama is calibrated for fireworks." —New York Magazine, Books to Read This Fall

"Written with deep empathy and vivid characters who feel true to life, Little Fires Everywhere is a captivating, insightful examination of motherhood, identity, family, privilege, perfectionism, obsession, and the secrets about ourselves we try to hide." —Buzzfeed

"There are few modern writers as brilliant at capturing the complexities of a family as Celeste Ng . . . The book is smart, nuanced, and exhilarating—but more than anything, Little Fires Everywhere is a gorgeous exploration of motherhood in its many forms, and the many different paths that women travel to get there." —Shondaland.com

"Ng's uncanny ability to embody multiple viewpoints makes for a powerful, revelatory novel." —BBC.com, Ten Books to Read in September

"The un-put-downable story that everyone will be talking about this Fall. A must read for book clubs." —PopSugar

"Equal parts clever, relatable, surprising and unsettling . . . Ng covers a lot of ground here, from class nuance to the nature of conformity. But the story really shines when she examines complex mother-daughter relationships and how they work . . . until they don't." —PureWow

"Engrossing . . . Ng's characters are authentic and complex, but it's her confident narration that will invite readers to settle in for the ride—a storyteller who knows what she's doing is at the wheel . . . With each revelation, Little Fires Everywhere grows more propulsive and insightful, boring through the placid surface of American suburbia." —Dallas Morning News

"Ng has one-upped herself with her tremendous follow-up novel . . . a finely wrought meditation on the nature of motherhood, the dangers of privilege and a cautionary tale about how even the tiniest of secrets can rip families apart . . . Ng is a master at pushing us to look at our personal and societal flaws in the face and see them with new eyes . . . If Little Fires Everywhere doesn't give you pause and help you think differently about humanity and this country's current state of affairs, start over from the beginning and read the book again." —San Francisco Chronicle

"The truth is messy for everyone in Little Fires Everywhere. As she did so well in Everything I Never Told You, Ng crafts sympathetic backstories for the characters that make their decisions understandable if not entirely acceptable. She also creates layered portraits, especially of the girls and women, to raise questions about what mothers can give and what their children need when no one can stick to the rules." —St. Louis Post-Dispatch

"Ng's talent for depth of story and character development shines and will stay with you long after you've finished the book." —Richmond Times-Dispatch

"Immersive and thought-provoking . . . Hang on and prepare to be mesmerized as you meet two families in idyllic Shaker Heights, Ohio." —The Missourian

"A haunting, layered story of mothers and daughters, and how they attract and repel each other." —Seattle Times

"A multilayered, tightly focused and expertly plotted narrative . . . A deeply impressive novel with the power to provoke and entrance." —Minneapolis Star Tribune

"One of the best novels of the fall is an emotional tale about motherhood, class and so much more . . . Everything I Never Told You, was good, but this is better." —AARP.org

"Mesmerizing . . . The result is a deftly woven plot that examines a multitude of issues, including class, wealth, artistic vision, abortion, race, prejudice and cultural privilege." —BookPage

"Ng's best-selling first novel Everything I Never Told You proved her deft hand at crafting family dramas with the deep-rooted tension of a thriller, a skill she puts to pitch-perfect effect in her latest entry . . . that is equal parts simmering and soulful." —HarpersBazaar.com

"A quiet but powerful look at family, secrets, and running from the past. Once again, Ng has delivered a near-perfect novel." —BookRiot

"An intricate and captivating portrait of an eerily perfect suburban town with its dark undertones not-quite-hidden from view and a powerful and suspenseful novel about motherhood . . . Ng explores the complexities of adoption, surrogacy, abortion, privacy, and class, questioning all the while who earns, who claims, and who loses the right to be called a mother . . . an impressive accomplishment." —Publishers Weekly (starred review)

"Ng's stunning second novel is a multilayered examination of how identities are forged and maintained, how families are formed and friendships tested, and how the notion of motherhood is far more fluid than bloodlines would suggest . . . [A] tour de force." —Booklist (starred review)

"This incandescent portrait of suburbia and family, creativity, and consumerism burns bright . . . As in Everything I Never Told You, Ng conjures a sense of place and displacement and shows a remarkable ability to see—and reveal—a story from different perspectives. The characters she creates here are wonderfully appealing, and watching their paths connect—like little trails of flame leading inexorably toward one another to create a big inferno—is mesmerizing, casting into new light ideas about creativity and consumerism, parenthood and privilege. With her second novel, Ng further proves she's a sensitive, insightful writer with a striking ability to illuminate life in America." —Kirkus (starred review)

"Spectacular sophomore work . . . a magnificent, multilayered epic that's perfect for eager readers and destined for major award lists." —Library Journal (starred review)

"Little Fires Everywhere takes us deep into other people's homes and lives and darkest corners. Along the way, Celeste Ng is always witty, engrossing, unsparing and original." —Meg Wolitzer

"Little Fires Everywhere is a dazzlingly protean work—a comedy of manners that doubles as a social novel and reads like a thriller. By turns wry, heart-rending and gimlet-eyed, it confirms Celeste Ng's genius for gripping literary fiction." —Peter Ho Davies, author of A Lie Someone Told You About Yourself and The Fortunes

"As if it wasn't totally obvious from her stunning first novel, Little Fires Everywhere showcases what makes Celeste Ng such a masterful writer. The way she examines the complexity of place, and the people who inhabit that place, is some of the most virtuosic, compelling, and wise storytelling that I've seen in a long time. By looking so closely at this community, she opens up the entire world, and it's an amazing experience." —Kevin Wilson, author of Nothing to See Here and The Family Fang

"Yes, it's the story of one Ohio town, but Little Fires Everywhere is not that familiar tale of the underside of the American suburb. It's a powerful work about parenthood and politics, adolescent strife and artistic ambition, and the stark choice between conformity and community. Celeste Ng possesses the remarkable ability to write about the most serious of subjects with the lightest possible touch." —Rumaan Alam, author of Leave The World Behind

"I cracked open this book mid-morning and did not even move again until it was time to turn on a light. What a joy it was to be so thoroughly taken, to let the chores and clocks and even my own breathing stop while I raced through these pages. Celeste Ng once again proves she is a force to be reckoned with. Little Fires Everywhere is a deft, smoldering masterpiece." —Mira Jacob, author of Good Talk: A Memoir

"As I read Celeste Ng's second novel I found myself thinking, again and again: How does she know so much? About all of us? How does she write with such perception, such marvelous grace, such daring and generosity? Little Fires Everywhere has the irresistible pace of an expertly tuned thriller, and the observational brilliance of lasting literature. It marks Celeste Ng as a writer of the first rank, among the very best in her generation—right there with Zadie Smith and Jacqueline Woodson. I was mad for this book." —Joe Hill, author of The Fireman and Heart-Shaped Box

"I was fascinated, not to mention worried about, and frightened of and for, these intriguing characters. Celeste Ng is a powerful and poignant writer whose attention to detail is pitch-perfect. Her intuitive rendering of how and why people behave in such unflattering ways is important. Her writing is honest and rich—and I love how little fires spread here until they're put out." —Terry McMillan, author of It's Not All Downhill From Here and Waiting to Exhale
Celeste Ng is the number one New York Times bestselling author of the novels Everything I Never Told You, Little Fires Everywhere, and Our Missing Hearts. Ng is the recipient of fellowships from the National Endowment for the Arts and the Guggenheim Foundation, and her work has been published in over thirty languages.