A Woman of No Importance: The Untold Story of the American Spy Who Helped Win World War II
Spiral-Bound | March 24, 2020
Sonia Purnell
Rebinding by Spiralverse™
★★★★☆+ from 10,001 to 50,000 ratings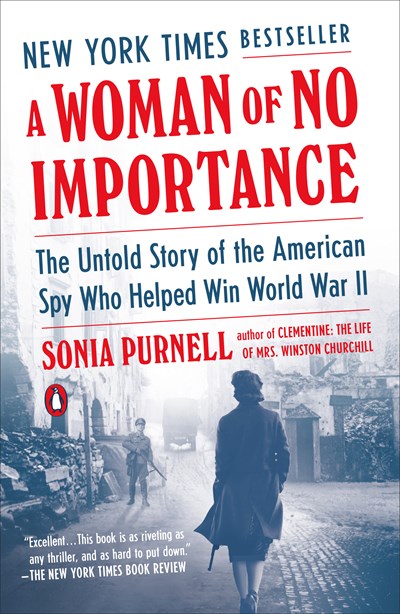 A NEW YORK TIMES BESTSELLER

Chosen as a BEST BOOK OF THE YEAR by NPR, the New York Public Library, Amazon, the Seattle Times, the Washington Independent Review of Books, PopSugar, the Minneapolis Star Tribune, BookBrowse, the Spectator, and the Times of London

Winner of the Plutarch Award for Best Biography

"Excellent…This book is as riveting as any thriller, and as hard to put down." -- The New York Times Book Review

"A compelling biography of a masterful spy, and a reminder of what can be done with a few brave people -- and a little resistance." - NPR

"A meticiulous history that reads like a thriller." - Ben Macintyre

A never-before-told story of Virginia Hall, the American spy who changed the course of World War II, from the author of Clementine.

In 1942, the Gestapo sent out an urgent transmission: "She is the most dangerous of all Allied spies. We must find and destroy her."

The target in their sights was Virginia Hall, a Baltimore socialite who talked her way into Special Operations Executive, the spy organization dubbed Winston Churchill's "Ministry of Ungentlemanly Warfare." She became the first Allied woman deployed behind enemy lines and--despite her prosthetic leg--helped to light the flame of the French Resistance, revolutionizing secret warfare as we know it.

Virginia established vast spy networks throughout France, called weapons and explosives down from the skies, and became a linchpin for the Resistance. Even as her face covered wanted posters and a bounty was placed on her head, Virginia refused order after order to evacuate. She finally escaped through a death-defying hike over the Pyrenees into Spain, her cover blown. But she plunged back in, adamant that she had more lives to save, and led a victorious guerilla campaign, liberating swathes of France from the Nazis after D-Day.

Based on new and extensive research, Sonia Purnell has for the first time uncovered the full secret life of Virginia Hall--an astounding and inspiring story of heroism, spycraft, resistance, and personal triumph over shocking adversity. A Woman of No Importance is the breathtaking story of how one woman's fierce persistence helped win the war.
Praise for A Woman of No Importance:

"[An] excellent biography... if Virginia Hall herself remains something of an enigma — a testament, perhaps, to the skills that allowed her to live in the shadows for so long — the extraordinary facts of her life are brought onto the page here with a well-judged balance of empathy and fine detail. This book is as riveting as any thriller, and as hard to put down" -- The New York Times Book Review

"[A] compelling saga of a remarkable woman whose persistence was honed early on by her battles against low gender expectations and later on by her disability." – USA Today

"A gripping take… a compelling biography of a masterful spy, and a reminder of what can be done with a few brave people — and a little resistance." -- NPR.org

"Never have I read anything like it. Every page is compelling and demands not just to be read, but absorbed. Every act reflects incredible bravery. This is what heroism looks like…Sonia Purnell has ensured Virginia Hall's place in that great pantheon." --FOX News

"Electrifying" —Smithsonian.com

"A fitting and moving tribute to an amazing woman." – The Economist

"Reads like a detailed novel… Purnell's fascinating book supports her description of Hall's life as a 'Homeric tale of adventure, action, and seemingly unfathomable courage." —The Columbus Dispatch

"Sonia Purnell has written a riveting account of Hall's work as a ferociously courageous American spy… [she] writes with compelling energy and fine detail." —The Minneapolis Star-Tribune

"Purnell's writing is as precise and engaging as her research, and this book restores overdue attention to one of the world's great war heroes. It's a joy to read, and it will swell readers' hearts with pride." —Booklist, Starred Review

"A groundbreaking biography that reads like a spy thriller…a suspenseful, heartbreaking and ultimately triumphant tale of heroism and sacrifice." —BookPage, Starred Review

"Purnell vividly resurrects an underappreciated hero and delivers an enthralling story of wartime intrigue…fans of WWII history and women's history will be riveted." —Publishers Weekly

"A remarkable chronicle...this lively examination…shows how, if Hall had been a man, dropping undercover in and out of occupied Vichy, Paris, and Lyon, setting up safe houses, and coordinating couriers for the Resistance, she would now be as famous as James Bond…Meticulous research results in a significant biography of a trailblazer who now has a CIA building named after her."
–Kirkus

"Impressively researched and compellingly written, this brilliant biography puts Virginia Hall−and her prosthetic leg, Cuthbert−back where they belong : right in the heart of Resistance history." —Clare Mulley, author of The Women Who Flew for Hitler: A True Story of Soaring Ambition and Searing Rivalry

"In this astonishing, intriguing book, Sonia Purnell presents one of the most breathtaking stories yet told of female courage behind enemy lines. Its strength lies not only in Purnell's intimate and moving portrayal of Virginia's secret work, but also in the new light shed on the betrayal, bravery, and bungling of Churchill's Special Operations Executive for which Virginia worked." —Sarah Helm, author of Ravensbrück: Life and Death in Hitler's Concentration Camp for Women

"What a fascinating story! Sonia Purnell skillfully takes you deep into the covert operations Virginia Hall led in Nazi-occupied France. Readers will find this tale of her cunning and courage riveting." —Douglas Waller, author of Wild Bill Donovan: The Spymaster Who Created the OSS and Modern American Espionage


Sonia Purnell is a biographer and journalist who has worked at The Economist, The Telegraph, and The Sunday Times. Her book Clementine: The Life of Mrs. Winston Churchill (published as First Lady in the UK) was chosen as a book of the year by The Telegraph and The Independent, and was a finalist for the Plutarch Award. Her first book, Just Boris, was longlisted for the Orwell prize.