The Rabbit Listened
Spiral-Bound | February 20, 2018
Cori Doerrfeld, Cori Doerrfeld (Illustrated by)
Rebinding by Spiralverse™
★★★★☆+ from 1,001 to 10,000 ratings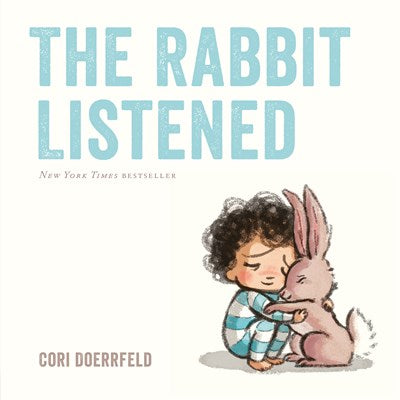 A moving and universal picture book about empathy and kindness, sure to soothe heartaches big and small—now a New York Times bestseller and a perfect gift for any special occasion

When something sad happens, Taylor doesn't know where to turn. All the animals are sure they have the answer. The chicken wants to talk it out, but Taylor doesn't feel like chatting. The bear thinks Taylor should get angry, but that's not quite right either. One by one, the animals try to tell Taylor how to act, and one by one they fail to offer comfort. Then the rabbit arrives. All the rabbit does is listen . . . which is just what Taylor needs.

With its spare, poignant text and irresistibly sweet illustration, The Rabbit Listened is about how to comfort and heal the people in your life, by taking the time to carefully, lovingly, gently listen.
New York Times Bestseller
New York Times Editors' Choice
New York Times Notable Children's Books of 2018
TIME magazine's 10 Best YA and Children's Books of 2018
Wall Street Journal Best Children's Book of 2018
2019 Charlotte Huck Honor Book by NCTE
2019 SCBWI Golden Kite Honor Book
New York Public Library's Best Kids Books of 2018
Chicago Public Library's Best Picture Books of 2018
Kirkus Best Books of 2018
Publishers Weekly Best Books of 2018
People Magazine Kid Pick
Spring 2018 Indie Next List


★ "This appealing work is an excellent addition to any emotional-intelligence shelf." — Kirkus, starred review

★ "Each of Doerrfeld's highly distilled and elegantly concise vignettes brims with emotional honesty and profound empathy. The result is a story that's wise, funny, and easy to take to heart." — Publishers Weekly, starred review

★ "This is a delightful picture book with a lot of meaning in the subtext...Granting this work a place in your library collection should give it the exposure and the voice it so richly deserves." — School Library Connection

"The Rabbit Listened is simple in premise, but deeply affecting." —TIME

"The bibliotherapeutic potential of thistitle is undeniable, but it never overwhelms the story and only contributes to thisbig-hearted picture book's success." — The Horn Book

"Wonderfully drawn...offers what Taylor — like all of us — needs: the comfort of someone who will just listen, laugh and give a hug." — New York Times


"[The Rabbit Listened] is a lovely book and a corrective, perhaps, for adults who may forget that quiet attention has its own curative power." — The Wall Street Journal

"Full of spirit and uncensored emotion… Doerrfeld skillfully evokes the amazing bond between kids and their pets." — The Chicago Tribune

"A gentle lesson in the power of silence." — PEOPLE

"A beautifully rendered story of loss, friendship, andlearning how to rebuild.... This is a tear-jerking tale of learning howto be there for a loved one, relevant for both the child hearing the story and the adult reading it." — Booklist

"A reminder for adults and children alike that sometimes the best way to help someone is to sit quietly with them." — BCCB

"In addition to validating feelings of anger and disappointment, this book is a fine vehicle for group discussion of ways to help others deal with these emotions. Sometimes just listening is best of all" —SLJ

"A lovely springboard to discuss grief with young children." — Book Riot
Cori Doerrfeld is the author-illustrator of Penny Loves Pink, Little Bunny Foo Foo, Matilda in the Middle and Maggie and Wendel: Imagine Everything!. She lives in Minneapolis, Minnesota, with her husband and kids.