Paint by Sticker Kids, The Original: Create 10 Pictures One Sticker at a Time! (Kids Activity Book, Sticker Art, No Mess Activity, Keep Kids Busy)
Spiral-Bound | April 5, 2016
Workman Publishing
Rebinding by Spiralverse™
★★★★☆+ from 31 to 100 ratings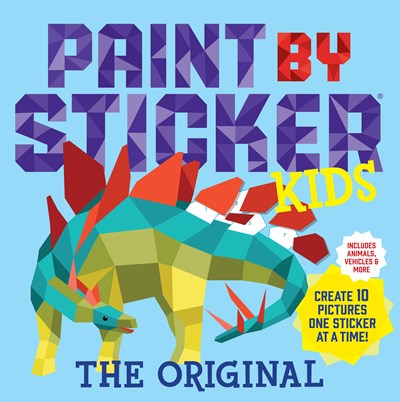 Move over, coloring books! Here's an entirely new craft that kids will love: Paint by Sticker Kids. It is the same compelling craft first introduced in Paint by Sticker, but just for kids!

The book includes everything you need to create 10 bright, playful, full-color illustrations—illustrated templates printed on perforated card stock, and 10 pages of stickers to fill in and create the artwork. The fun, vibrant images are rendered in "low-poly," a computer graphics style using geometric polygon shapes to create a 3-D effect. As in paint-by-number, each template is divided into hundreds of spaces, each with a number that corresponds to a particular sticker. Find the sticker, peel it, and place it in the right space. Add the next, and the next, and the next and voila!It's a rocket ship blasting through space. A Tyrannosaurus rex prowling his domain. A pickup truck hauling its load. A friendly toucan hanging on his perch. Kids will love watching these pictures come to life.
Paint your masterpiece with stickers!

Step 1: Find the sticker

Step 2: Peel the sticker

Step 3: Place the sticker

….and watch your painting come to life!

Includes everything you need to create ten sticker paintings on study card stock. Plus, all the pages are perforated—making it easy to tear out each finished work to frame and share!

Workman Publishing is a New York-based publisher of award-winning nonfiction for adults and children.