Tuesdays with Morrie: An Old Man, a Young Man, and Life's Greatest Lesson, 25th Anniversary Edition
Spiral-Bound | October 8, 2002
Mitch Albom
Rebinding by Spiralverse™
★★★★☆+ from 50,001 + ratings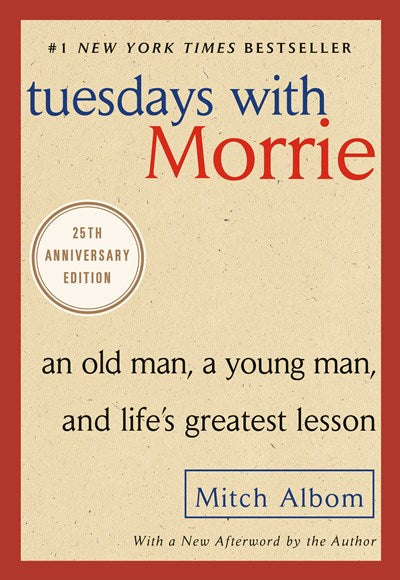 #1 NEW YORK TIMES BESTSELLER • A special 25th anniversary edition of the beloved book that has changed millions of lives with the story of an unforgettable friendship, the timeless wisdom of older generations, and healing lessons on loss and grief—featuring a new afterword by the author

"A wonderful book, a story of the heart told by a writer with soul."—Los Angeles Times

"The most important thing in life is to learn how to give out love, and to let it come in."

Maybe it was a grandparent, or a teacher, or a colleague. Someone older, patient and wise, who understood you when you were young and searching, helped you see the world as a more profound place, gave you sound advice to help you make your way through it.

For Mitch Albom, that person was his college professor Morrie Schwartz.

Maybe, like Mitch, you lost track of this mentor as you made your way, and the insights faded, and the world seemed colder. Wouldn't you like to see that person again, ask the bigger questions that still haunt you, receive wisdom for your busy life today the way you once did when you were younger?

Mitch Albom had that second chance. He rediscovered Morrie in the last months of the older man's life. Knowing he was dying, Morrie visited with Mitch in his study every Tuesday, just as they used to back in college. Their rekindled relationship turned into one final "class": lessons in how to live. "The truth is, Mitch," he said, "once you learn how to die, you learn how to live."

Tuesdays with Morrie is a magical chronicle of their time together, through which Mitch shares Morrie's lasting gift with the world.
"Mitch Albom's book is a gift to mankind."—Philadelphia Inquirer

"A wonderful book, a story of the heart told by a writer with soul."—Los Angeles Times

"An extraordinary contribution to the literature of death."—Boston Globe

"One of those books that kind of sneaked up and grabbed people's hearts over time."—Milwaukee Journal Sentinel

"An elegantly simple story about a writer getting a second chance to discover life through the death of a friend."—Tampa Tribune

"As sweet and nourishing as fresh summer corn . . . the book begs to be read aloud."—USA Today

Mitch Albom is the author of numerous books of fiction and nonfiction, which have collectively sold more than forty million copies in forty-seven languages worldwide. He has written seven number-one New York Times bestsellers, award-winning TV films, stage plays, screenplays, a nationally syndicated newspaper column, and a musical. He founded and oversees SAY Detroit, a consortium of nine different charitable operations in his hometown, including a nonprofit dessert shop and food product line to fund programs for Detroit's neediest citizens. He also operates an orphanage in Port-au-Prince, Haiti. He lives with his wife, Janine, in Michigan.