30 Days to Understanding the Bible, 30th Anniversary: Unlock the Scriptures in 15 minutes a day
Spiral-Bound |
Max Anders
Rebinding by Spiralverse™
★★★★☆+ from 501 to 1,000 ratings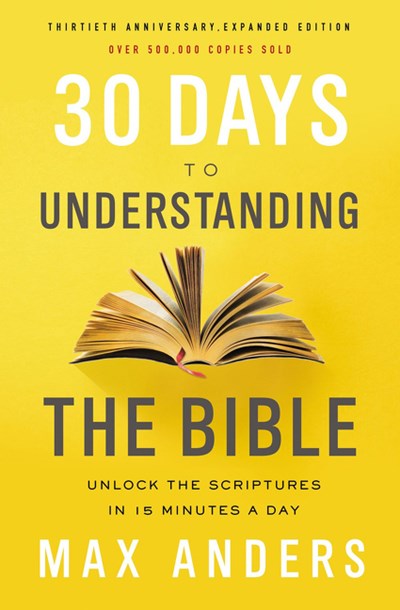 This Max Anders classic is now expanded and updated with this 30th Anniversary Edition, helping you grasp the key people, events, and doctrines of the Christian faith and get more out of God's Word.
Unlock the treasures of God's Word in just fifteen minutes a day with this classic, simple-to-use guide to Scripture.
If you've ever confused the ark of the covenant with the ark of Noah, or Jericho with Jeroboam, Max Anders' classic book, 30 Days to Understanding the Bible, is for you. In just fifteen minutes a day, you'll learn the Bible's key people, events, and doctrines to get more out of God's Word. This simple-to-use, straightforward guide has been recommended by Bible teachers and pastors for thirty years, and now it's available in an expanded thirtieth anniversary edition—with the most requested topics from the original edition restored and updated for today's readers.

Features include:
The "Arc of Bible History" to help you visualize the Bible's overarching themes
The "Story of the Bible" summarizing Genesis through Revelation in just a few pages
The core beliefs of the Christian faith, focusing on the teachings that have united Christians for the last 2,000 years
13-week plan that provides teacher's every creative and effective tool for teaching the Bible in 30 days
Fan-favorite bonus content, previously removed, now restored from the original edition
Dr. Max Anders is the author of over 25 books, including the bestselling 30 Days to Understanding the Bible, and is the creator and general editor of the 32-volume Holman Bible Commentary series. He has taught on the college and seminary level and is a veteran pastor. Max provides resources and discipleship strategies at www.maxanders.com to help people grow spiritually.