Why Do I Do What I Don't Want to Do?: Replace Deadly Vices with Life-Giving Virtues
Spiral-Bound |
Jonathan "JP" Pokluda, Jon Green
Rebinding by Spiralverse™
★★★★☆+ from 501 to 1,000 ratings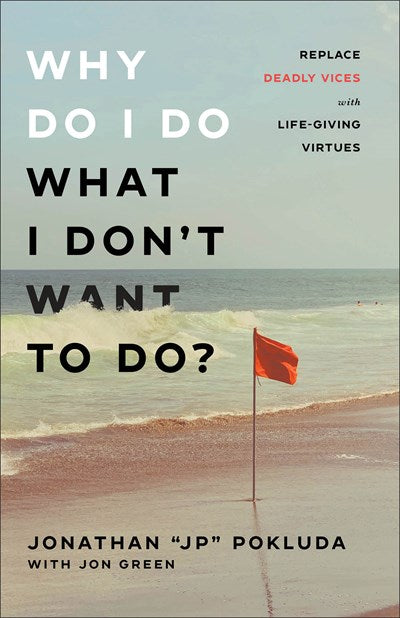 Speaker, pastor, and popular author calls us to replace mere virtue signaling with the world-changing practice of living a virtuous life characterized by humility, gratitude, generosity, forgiveness, self-control, and more.

We live in an upside-down culture. We wink at our vices as coping strategies while restricting our virtues to our online personas, where they won't interfere with our real lives. And we wonder why we feel empty, exhausted, and directionless. But why do we do things that we know are harmful for us?

Jonathan "JP" Pokluda wants you to know there's a better, more fulfilling way to live, and it doesn't involve looking inside yourself for the answers--because that's not where you'll find them. With his signature wit and wisdom, he explains, unpacks, and expands on the age-old virtues we're told to pursue in Scripture: humility, forgiveness, generosity, diligence, self-control, authenticity, rest, and optimism. Far from being restrictive, these God-given goals for living free us to love and live as we wish we would.

Practicing virtues is not just something you do--it's something done in you, slowly but surely transforming you into the person you were meant to be all along. Whether you're 18 or 80, it's never too late to redefine what's important to you and reclaim a life of virtue.
Jonathan "JP" Pokluda is lead pastor of Harris Creek Baptist Church in Waco, Texas, and author of the bestselling Welcome to Adulting and Outdated, as well as the Welcome to Adulting Survival Guide and Welcoming the Future Church. He lives with his wife, Monica, and their three children.

Jon Green has been on staff at Harris Creek in Waco, Texas, since 2013. He is a graduate of Baylor University and is the managing editor of BibleReadingPlan.org, a daily devotional and Bible study. Jon and his wife, Amanda, have two children and another on the way.