Foster
Spiral-Bound | November 1, 2022
Claire Keegan
Rebinding by Spiralverse™
★★★★☆+ from 10,001 to 50,000 ratings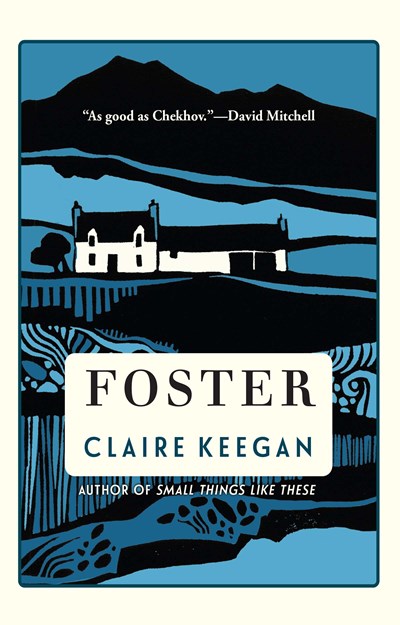 An international bestseller and one of The Times' "Top 50 Novels Published in the 21st Century," Claire Keegan's piercing contemporary classic Foster is a heartbreaking story of childhood, loss, and love; now released as a standalone book for the first time ever in the US
It is a hot summer in rural Ireland. A child is taken by her father to live with relatives on a farm, not knowing when or if she will be brought home again. In the Kinsellas' house, she finds an affection and warmth she has not known and slowly, in their care, begins to blossom. But there is something unspoken in this new household—where everything is so well tended to—and this summer must soon come to an end.
Winner of the prestigious Davy Byrnes Award and published in an abridged version in the New Yorker, this internationally bestselling contemporary classic is now available for the first time in the US in a full, standalone edition. A story of astonishing emotional depth, Foster showcases Claire Keegan's great talent and secures her reputation as one of our most important storytellers.
Praise for Foster:
A Best Book of the Year from NPR, New York Public Library, Electric Lit and PBS Newshour
A New York Times Editors' Choice
A Best Book of November from TIME and Washington Post
"Claire Keegan's beautiful new novella, Foster, is no less likely to move you than any heaping 400-page tome you'll read this year… Keegan's novella is a master class in child narration. The voice resists the default precociousness, and walks the perfect balance between naïveté and acute emotional intelligence… Like a great, long Ishiguro novel, Keegan makes us complicit in what her characters want, setting us up for utter heartbreak when they don't get it." — New York Times
"Keegan's work takes me back to when I first experienced the palpable thrill of entering an author's world. Her sentences are so artfully honed but so free of artifice they feel as rough and verdant as sprigs of fresh heather…I don't want to say anything more about Foster, except 'Read it.'" — Ron Charles, Washington Post Book Club
"Keegan's output is scarce and her stories are as spare as they are heartrending, whittled down to the essential. If she has published anything that isn't perfect, I haven't seen it… More than most books four times its size, Foster does several of the things we ask of great literature: It expands our world, diverting our attention outward, and it opens up our hearts and minds. This is a small book with a miraculously outsized impact." — NPR
"Foster is exactly as sad as you imagine it would be, but more stunningly alive than you have any right to expect. Its language settles in your belly and then your bones only seconds after it has passed your eyes… Keegan's world is lush and full, the details delicately made, ever more rewarding and engaging with every read… While the scale of her story is modest — this one small girl, this short stretch of time — the scope of what Keegan can hold inside of it — the ache of living, the flash of seeing finally what we don't have, the mourning for all we'll never be — is as big, brash and ambitious as a story might be." — Los Angeles Times
"Enchanting… a study of familial heartache and generosity." — Washington Post
"The austere style and measured pacing of "Foster" is perfect… [A] matchless novella." — Wall Street Journal
"Balancing Keegan's delicate, sparing prose and masterful ear for dialogue with a tale that is almost overwhelming in its tenderness, Foster is a heart-wrenching treasure of a book that only serves to confirm Keegan's place as one of contemporary Irish literature's leading lights." — Vogue, The Best Books to Read this Fall
"There are in this story, as in all of Claire Keegan's work, layers of nuance and resonance. Every detail has bearing, some quietly salient, others possessing a delayed charge, so that, again and again, the reader feels the sharp thrill of comprehension. A stray heifer, a light at sea, that joke understood, all pregnant tokens of a fully realized universe of feeling. Keegan is the finest writer at work in Ireland today and this brilliant little book is further proof of it." — Minneapolis Star Tribune
"Foster is an exquisite, tender, and heart-expanding tale, as Keegan creates more magic in 128 pages than others could make in 928 pages." —
Amazon Book Review
"An immensely powerful snapshot novel…this work mines the recesses of human fragility with a compassionate and deft pen, its combination of simple language and sweeping empathy landing with the force of a saga…a rich, compassionate work." — Library Journal (starred review)
"Pristine… Both concise and gut-wrenching. [Keegan's] superficially simple prose persuasively conveys a child's sometimes-innocent but always careful and insightful observations of the world…A heartbreaking but deeply humane story about parents and children." — Kirkus, starred review

"A gem of a book, to be savored again and again." — Booklist, starred review
"Foster confirms Claire Keegan's talent. She creates luminous effects with spare material, so every line seems to be a lesson in the perfect deployment of both style and emotion." — Hilary Mantel
"As good as Chekhov." — David Mitchell
"An exquisitely balanced book about a child sent to stay with relatives for the summer. Keegan is a devastatingly economic writer: all the silent spaces of the novel will break your heart." — Maggie O'Farrell
"Foster puts on display an imposing array of formal beauties at the service of a deep and profound talent… She brings a thrilling synesthetic instinct for the unexpected right word, and exhibits patient attention to life's vast consequence and finality… a high-wire act of uncommon narrative virtuosity." — Richard Ford
"A thing of finely honed beauty and cumulative power, a story that deals in suggestion, exactitude and telling detail." — Observer
"It has beauty, harshness, menace, and the spine of steel worthy of high art . . . Keegan is a realist who has mastered describing the chaos of feeling." — Irish Times
"A masterly combination of things pregnant and poised, frozen and in flux." ― Times Literary Supplement
"Keegan has mastered a style that echoes Seamus Heaney's early poetry and the stories of William Trevor, but which has grown more enclosed and lyrical with each book. The dark humour of the early work has given way to a lush melancholy that has found its perfect length at 88 pages." ― Daily Telegraph
"Keegan's lyrical novella was originally a New Yorker short story, but it has gained greatly from this expansion: the narrative breathes along with the child slowly detaching from her cramped, impoverished home and starting to unfurl, leaf-like, in an atmosphere of attentiveness." ― Guardian
"Captivating…as lyrical as poetry yet so concentrated it's a novel in miniature. A real jewel." ― Irish Independent
"A beautifully paced and delicately wrought tale... Claire Keegan has truly inhabited the mind of a child and crafted a story that will stay with you long after the final page has been read." ― Sunday Express
"Subtly enlightening… seamlessly atmospheric." ― Irish Examiner
"[Keegan] focuses on the eloquence of silence and the intimacy of wordless domesticity... the language is leanly evocative, its smallest details conveying reams about the girl's foster home, a place warm, gleaming and without children." ― Bloomberg
"Foster will captivate you." — Dazed and Confused

Praise for Small Things Like These
"For all her earlier accolades, Small Things Like These, Keegan's first novel, enters the world this month with the shocking force of a debut…Over what would amount to a couple of chapters in another novel, Keegan manages to place her characters and her readers at the center of an essential human dilemma: Will we turn a blind eye to evil in our midst, or will we take some action against it, even if it consists of just one small thing? As Keegan's concise, capacious new book demonstrates, little acts can lead to real change."—Los Angeles Times
"Keegan's precisely considered details about character, setting, memory, and dramatic moment create a story you will want to read again and again. Her deceptively simple language is pitch-perfect."—Boston Globe
"This exquisite miniature of a novel somehow defies the gravitational pull of its grim subject to hover in a quotidian, luminous present. Details materialize with preternatural clarity. The milky light of a winter afternoon, mist on a river, a woman opening an oven door, a child taking her father's hand: We see these things and feel their lingering presence as we are drawn into the life of an unassuming man in an unremarkable place."—The Wall Street Journal
"Claire Keegan…now gives us her best work yet. Small Things Like These is a short, wrenching, thoroughly brilliant novel mapping the path of one man's conscience, its torment and vacillation between two courses of action. Either one bears a price…Spare and potent, this is a remarkable story." —Minneapolis Star Tribune
"A sparse, breathtaking perfect gem of a novel."—People
"Small Things Like These is a gem of a slim novel about a family man faced with a moral decision… a deeply moving tale."—Associated Press
"Keegan captured and affected my whole attention. She draws a web of complicity around the convent's activities that is chillingly mundane and brutally true. These kinds of places existed not just because of the cruelty of the people who ran them, but also because of the fear and selfishness of those who were willing to ignore them. Stunning. Just stunning."—Catherine Whelan, NPR
A story that reached so deep I felt the characters moving around inside me. This unforgettable novel is a literary masterpiece and Claire Keegan is one of the world's greatest living writers." —Simon van Booy, author of Night Came with Many Stars
"Small Things Like These is a hypnotic and electrifying Irish tale that transcends country, transcends time. Claire Keegan's sentences make my heart pound and my knees buckle and I will always read everything she writes."—Lily King, author of Writers & Lovers
"In Small Things Like These, Claire Keegan creates scenes with astonishing clarity and lucidity. This is the story of what happened in Ireland, told with sympathy and emotional accuracy. From winter skies to the tiniest tick of speech to the baking of a Christmas cake, Claire Keegan makes her moments real—and then she makes them matter."—Colm Tóibín, author of The Magician
"Small Things Like These is not just about Ireland, it's about the world, and it asks profound questions about complicity, about the hope and difficulty of change, and the complex nature of restitution… A single one of Keegan's grounded, powerful sentences can contain volumes of social history. Every word is the right word in the right place, and the effect is resonant and deeply moving."—Hilary Mantel, author of The Mirror and the Light
"A book that makes you excited to discover everything its author has ever written… Absolutely beautiful."—Douglas Stuart, author of Shuggie Bain
"Marvellous — exact and icy and loving all at once."—Sarah Moss, author of Ghost Wall
"A true gift of a book… Reading it brings a sublime Chekhovian shock."—Andrew O'Hagan, author of Be Near Me
Claire Keegan was raised on a farm in Ireland. Her stories have won numerous awards and are translated into thirty languages. Antarctica won the Rooney Prize for Irish Literature and was a Los Angeles Times Book of the Year. Walk the Blue Fields won the Edge Hill Prize for the finest collection of stories published in the British Isles. Foster won the Davy Byrnes Award then the world's richest prize for a story. These works have been published in the New Yorker, Paris Review, Granta, and Best American Stories. Small Things Like These was a New York Times Book Review Editor's Choice and shortlisted for the Rathbones Folio Prize, awarded for the finest book in any genre published in the English language. Foster is now part of the school syllabus in Ireland. This is the first publication of the original text in the USA.