Modern Chess Openings, 15th Edition
Spiral-Bound | April 8, 2008
Nick de Firmian
Rebinding by Spiralverse™
★★★★☆+ from 101 to 500 ratings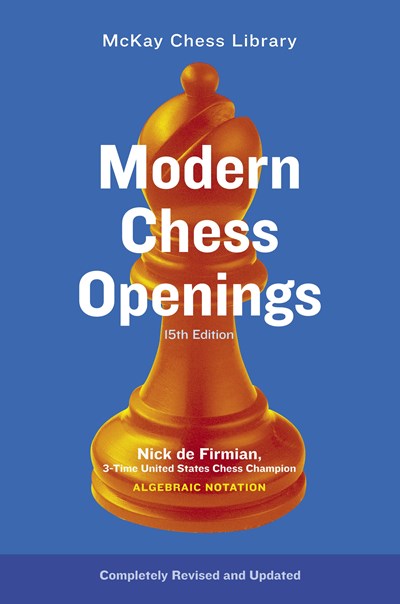 Modern Chess Openings is the best and most trusted tool for serious chess players on the market. First published over a half-century ago, this is a completely revised and updated edition of the book that has been the standard English language reference on chess openings. An invaluable resource for club and tournament players, it now includes information on recent matches and the most up-to-date theory on chess openings.

Modern Chess Openings is ideal for intermediate players ready to elevate their game to the next level or International Grandmasters who want to stay on top of recent chess innovations.
Nick de Firmian is acclaimed as the world's leading expert on chess openings. He "taught" the supercomputer Deep Blue the opening moves it used to defeat World Champion Garry Kasparov in 1997. As this book goes to press, de Firmian reigns as the current United States Chess Champion—making him a three-time winner of the top American title. He has also represented the United States in seven Chess Olympiads and three World Chess Championship cycles. His previous written works include the 13th edition of Modern Chess Openings; San Francisco 1995, which detailed that year's Grandmaster Invitational; and various articles for Chess Life magazine. A graduate of UC Berkeley with a degree in physics, de Firmian is a native Californian who now resides in Copenhagen, Denmark, with his wife and son.