The Tools: 5 Tools to Help You Find Courage, Creativity, and Willpower--and Inspire You to Live Life in Forward Motion
Spiral-Bound | May 21, 2013
Phil Stutz, Barry Michels
Rebinding by Spiralverse™
★★★☆☆+ from 1,001 to 10,000 ratings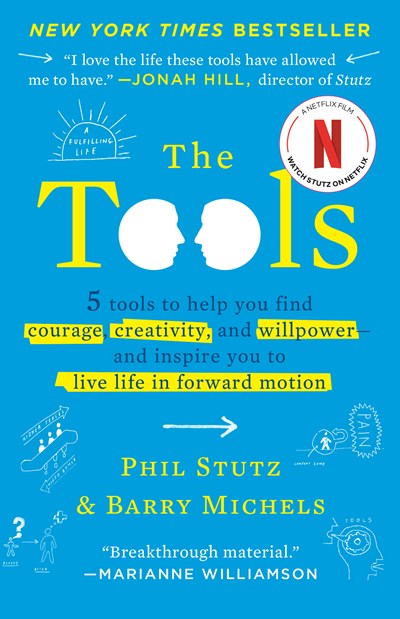 NEW YORK TIMES BESTSELLER • Change can begin right now. Learn to bring about dynamic personal growth using five uniquely effective tools—from psychotherapist Barry Michels and psychiatrist Phil Stutz, subject of the Netflix documentary Stutz.

"These tools are emotional game changers. They do nothing less than deliver you to your best and most powerful self."—Kathy Freston, author of Quantum Wellness

The Tools offers a solution to the biggest complaint patients have about therapy: the interminable wait for change to begin. The traditional therapeutic model sets its sights on the past, but psychiatrist Phil Stutz and psychotherapist Barry Michels employ an arsenal of techniques—"the tools"—that allow patients to use their problems as levers that access the power of the unconscious and propel them into action. Suddenly, through this transformative approach, obstacles become new chances—to find courage, embrace discipline, develop self-expression, deepen creativity.

A dynamic, results-oriented practice, The Tools aims to deliver relief from persistent problems and restore control and hope right away. Every day presents challenges—big and small—that the tools transform into opportunities to bring about bold and dramatic change in your life. Stutz and Michels teach you how to:

• Get Unstuck: Master the things you are avoiding and live in forward motion.
• Control Anger: Free yourself from out-of-control rage and never-ending grudges.
• Express Yourself: Learn the secret of true confidence and find your authentic voice.
• Combat Anxiety: Stop obsessive worrying and negative thinking.
• Find Discipline: Activate willpower and make the most of every minute.

With The Tools, Stutz and Michels allow you to realize the full range of your potential. Their goal is nothing less than for your life to become exceptional—exceptional in its resiliency, in its experience of real happiness, and in its understanding of the human spirit.
"An 'open secret' in Hollywood . . . [Stutz and Michels] have developed a program designed to access the creative power of the unconscious."—The New Yorker

"The motivation book that everyone in Hollywood is obsessed with."—Vanity Fair

"Barry Michels and Phil Stutz are profoundly talented guides to the inner workings of the psyche. The Tools is breakthrough material that ignites your own capacity to transform your life."—Marianne Williamson

"These tools are emotional game changers; they can help you work through conflicts, get happier, and feel a deep sense of purpose. As simple and practical as they are, they do nothing less than deliver you to your best and most powerful self."—Kathy Freston, author of Quantum Wellness

"Every single thing I've written of any power or merit came through using the tools Barry taught me. Usually counterintuitive, sometimes dangerous, they only changed my life."—Stephen Gaghan, Academy Award–winning writer of Traffic and writer-director of Syriana
Phil Stutz graduated from City College in New York and received his MD from New York University. He worked as a prison psychiatrist on Rikers Island and then in private practice in New York before moving his practice to Los Angeles in 1982. He is the subject of the Netflix documentary Stutz.

Barry Michels has a BA from Harvard, a law degree from University of California, Berkeley, and an MSW from the University of Southern California. He has been in private practice as a psychotherapist in Los Angeles since 1986.