Of Boys and Men: Why the Modern Male Is Struggling, Why It Matters, and What to Do about It
Spiral-Bound | September 27, 2022
Richard Reeves
Rebinding by Spiralverse™
★★★★☆+ from 1,001 to 10,000 ratings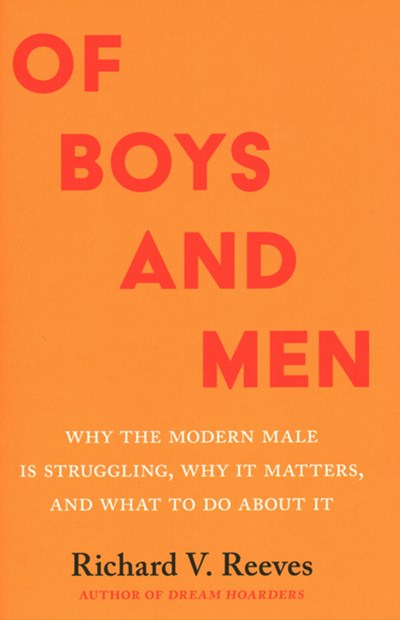 Reeves looks at the structural challenges that face boys and men and offers fresh and innovative solutions that turn the page on the corrosive narrative that plagues this issue. Of Boys and Men argues that helping the other half of society does not mean giving up on the ideal of gender equality.

Lost. Disaffected. Adrift. Checked out. Dislocated. Withdrawn. What is happening with so many of our boys and men? Economists lament inexplicable drops in male labor force participation. Public health officials point to disproportionately male "deaths of despair" from suicide or overdose. Parents see their sons struggling and worry what it means for their future. In Of Boys and Men, Richard Reeves provides a groundbreaking diagnosis of the contemporary male malaise. Many of the rapid economic, social, and cultural changes over recent decades pose new challenges to boys and men—especially those at the bottom of the economic ladder. Black boys and men face the most acute challenges of all. Politicians on both left and right have failed to engage constructively with the problems of boys and men. Views on what it means to be a man in the twenty-first century have hardened along partisan lines. But as Reeves writes: "We can hold two thoughts in our head at once. We can be passionate about women's rights and compassionate toward vulnerable boys and men." Drawing on years of deep research as well as his personal experience as a father of three sons, Reeves offers a compelling diagnosis of the problems of boys and men—and a bold set of solutions.
The modern male is struggling. It matters, and we must do something about it. In Of Boys and Men, Richard V. Reeves explores the issues so many males face in silence. His research has led to surprising revelations regarding men and health, the social sphere, education, and the age-old nature-versus-nurture debate. He pushes back on ideas that have been widely accepted with little examination, such as "toxic masculinity," and puts into words what so many have observed, which is that boys and men are ignored as society and its social constructs continue to evolve. What is going on with our boys, with our men? Without political partisanship, Reeves brings this question to the fore of modern discourse, and in doing so, does a service to us all. -Amerie's Book Club
Richard V. Reeves is a senior fellow in Economic Studies at the Brookings Institution, where he directs the Boys and Men Project and holds the John C. and Nancy D. Whitehead Chair. He is the author of John Stuart Mill: Victorian Firebrand (2007) and Dream Hoarders (2017).