The Book on Rental Property Investing: How to Create Wealth With Intelligent Buy and Hold Real Estate Investing
Spiral-Bound | October 28, 2015
Brandon Turner
Rebinding by Spiralverse™
★★★★☆+ from 1,001 to 10,000 ratings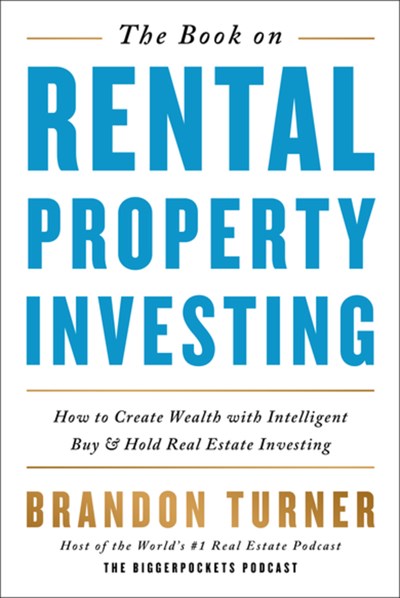 With half a million units sold worldwide, this fan-favorite will show you every strategy, tool, tip, and technique you need to become a millionaire rental property investor.
More than half a million copies sold worldwide. Everything you need to fast-track your way to financial freedom with rental properties!
Real estate investing can provide a safe and fast path to financial freedom, and this business best seller will show you exactly how to get there. With nearly 400 pages of in-depth advice, The Book on Rental Property Investing imparts practical and exciting strategies that real estate investors across the world are using to build significant cash flow with rental properties.
Brandon Turner—active real estate investor, best-selling author, and co-host of the BiggerPockets Podcast—breaks down the time-tested strategies he used to build his own wealth in real estate. Whether you are just getting started or already own hundreds of units, you will learn how to create an achievable plan, find incredible deals, analyze properties, build a team, finance rentals, and much more—everything you need to become a millionaire rental property investor.
Inside, you'll discover:
Why many real estate investors fail, and how you can ensure you don't!
Four unique, easy-to-follow strategies you can begin implementing today
Creative tips for finding incredible deals―even in competitive markets
How to achieve success without touching a toilet, paintbrush, or broom
Actionable ideas for financing rentals, no matter how much cash you have
Advice on keeping your wealth by deferring (and eliminating) taxes
And so much more!
"There are plenty of books out there aimed at providing the motivation to want to buy rental properties, but there are very few books that provide a detailed, step-by-step framework for accomplishing real estate success. Brandon Turner's The Book on Rental Property Investing does that, and does it in a way that puts financial freedom through real estate within reach of anyone who wants it." —J. Scott, Author of The Book on Flipping Houses
Brandon Turner is an author, entrepreneur, and active real estate investor with more than 500 rental units and dozens of property rehabs under his belt. He is Vice President of BiggerPockets, co-host of The BiggerPockets Podcast, and author of six best-selling business books-including The Book on Rental Property Investing and How to Invest in Real Estate-with which he enjoys showing others the power of real estate investing, passive income, and financial freedom. A life-long adventurer, Brandon (along with his wife and daughter) splits his time between his home in Hawaii and various other destinations around the globe.