The Teachers: A Year Inside America's Most Vulnerable, Important Profession
Spiral-Bound | March 14, 2023
Alexandra Robbins
Rebinding by Spiralverse™
★★★★☆+ from 1,001 to 10,000 ratings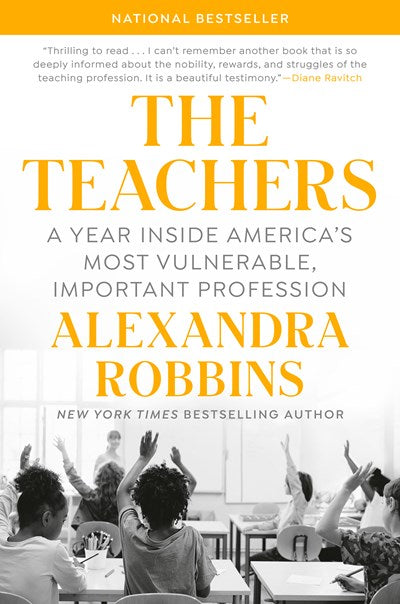 A riveting, vitally important year-in-the-life of three teachers, combined with reporting that reveals what's REALLY going on behind school doors, by New York Times bestselling author and education expert Alexandra Robbins.

Alexandra Robbins goes behind the scenes to tell the very real, sometimes heartbreaking, but always inspirational story of three teachers as they make it through a year in the classroom. She follows Penny, a Southern middle school math teacher, who grappled with a toxic teacher clique at the big school in a small town; Miguel, a special ed teacher in the Western US, who fought for his students both as educator and activist; and Rebecca, an East Coast fourth-grade teacher, who struggled to schedule and define a life outside of school.

Between the teachers' stories, the book also includes essays that feature cutting-edge reporting about the biggest issues facing teachers today, from the COVID-19 pandemic to aggression and violence that teachers face; stories about teachers bullying each other; the lack of adequate pay, support, and staffing; the "myth" of teacher burnout; and finally, ending with how all of us can help these vitally important people in all of our children, and community's, lives.

A New York Times Spring Nonfiction Pick
A USA Today "Hottest New Book Release"
A Next Big Idea Club 2023 Must Read
A Kirkus "Most Buzzworthy Book Right Now"

"Page-turning."—Library Journal

"One of the standout books of the year." —Men's Health

"Never before have I read any work that so clearly depicts the current realities of teaching in America's public schools…for those who seek a fuller understanding of what educators are coping with these days, it should prove invaluable. And for those who most need to read it — those in a position to effect change in the lives of conscientious and talented teachers who are considering abandoning the profession — one can only hope that its message will be heeded before it is too late." —Washington Post

"The Teachers is a must read… It's an extraordinary work that combines broad scope, tight focus, telling details, and the voices of dozens and dozens of actual teachers."—Forbes

"The Teachers is engaging and impeccably researched.... [It] accomplishes many things — bringing readers into classrooms, showing how politics affect teachers, exposing how awful things like book banning have gotten — but two of its biggest triumphs are eviscerating popular misconceptions about the profession and showing the colossal passion that keeps teachers going…The Teachers is an exposé, sure, but it's also a call to action, and our collective future is at stake." —NPR

"Nonfiction to read this spring…. "Teachers" reads like a great liberal arts lesson, with plenty of research to back up the book's implications." —The New York Times

"[A]bsorbing" —The Guardian

"[A] call to action that as a nation, as communities, we owe our teachers much more than we are giving" —Associated Press

"Hottest new book release.... journalist Robbins' book offers a behind-the-scenes, year-in-the-life account of three teachers and their joys and challenges." —USA Today

"This deeply researched and impressive study brings home the fact that America underinvests in the education of its children—and that teachers step in to fill the gaps."—Publishers Weekly (STARRED REVIEW)

"An important and eye-opening book that all parents, teachers, and educational administrators should read." —Kirkus (STARRED REVIEW)

"[A] compelling and highly important book… an engaging, well-researched exposé and call to action that delves deeply into the full lives and experiences of American teachers. For those who teach, this book will ring true on just about every page; for those who don't, this book is essential reading." —New York Journal of Books

"The book is a tour de force—every teacher I know who's read it agrees—unapologetically written from the POV of teachers without feeling the need to make excuses or backpedal…Highly recommended for everyone, but especially teachers." —National Education Policy Center

"[A]s authentic a look into the life of a teacher as you can get without actually teaching." —Honolulu Civil Beat

"Robbins is an unflinching and unapologetic advocate for America's 4,007,908 K-12 teachers." —Atlanta Journal Constitution

"Riveting." —Next Big Idea Club

"It should honestly be required reading.... it's clear that Robbins understands how to weave research and story into a compelling narrative about the education crisis in America.... But even more critically, Robbins gets teachers." —We Are Teachers

"This cutting-edge reporting offers insight into the biggest issues facing teachers today." —Daily Kos

"Robbins use[s] anecdotes from her subjects' professional and private lives, interviews with others in the profession, and in this case her own experience working as a substitute at a middle school, to illustrate the myriad challenges teachers face." —Town and Country

"Alexandra Robbins, a journalist who has also worked as a teacher, paints a vivid portrait of the complexities of the job and its increasingly impossible expectations." —Shondaland

"A remarkable piece of storytelling that weaves together the personal trials (and triumphs) of individual teachers with extraordinary reporting about the real, and often toxic, work conditions facing this critical profession. As the son of a high-school teacher, the stories struck a personal chord. As a parent, they make me want to thank a teacher every day. And as a citizen, they are a call to arms to save the future of our country by lifting up the profession that molds and shapes our most important asset—our children."—Jeffrey Selingo, New York Times bestselling author of Who Gets In and Why

"It was literally thrilling to read The Teachers. I can't remember another book that is so deeply informed about the nobility, the rewards, and the struggles of the teaching profession. It is a beautiful testimony to the men and women who shape the next generation of Americans, usually without the public support and resources they need and deserve." —Diane Ravitch, Historian and national bestselling author of The Death and Life of the Great American School System

"As a parent, I wonder about what my child's teachers might be really going through. In The Teachers, the answer is by turns inspiring, heartbreaking and maddening. Robbins pulls back the veil on the lives of the teachers shaping who our kids are becoming — and the system that so often undermines their efforts. This book will not only make you smarter about the state of American teachers, but it will ignite you to act. Through the eyes of the teachers we come to know intimately in this book, the Teachers will change the way you think about American education." —Rachel Simmons, national bestselling author of Odd Girl Out

"Phenomenal" —Professional Book Nerds

"Do not miss this book…. An encouraging and uplifting read, capturing how teachers find ways to rise and meet the many challenges they face… Robbins captures not just the human reality of teaching, but the ways in which teaching is a deeply human endeavor, centering on the best of what human beings can be. Or to put it another way, in my fifth year of retirement, nothing has made me miss the classroom more than reading this book. "—Peter Greene, Curmudgucation
Alexandra Robbins, the author of five New York Times bestselling books, is an award-winning investigative reporter. She has written for several publications, including The New York Times, The New Yorker, The Wall Street Journal, Vanity Fair, The Washington Post, Forbes, and The Atlantic. She regularly appears on national television on shows such as 60 Minutes, The Today Show, Oprah, The View, CNN News and The Colbert Report and has appeared as an on-air expert on hundreds of other shows on dozens of networks. She lives with her family in Maryland.


Author Residence: Maryland