The Ballad of Never After
Spiral-Bound | 44817
Garber, Stephanie (Author)
Rebinding by Spiralverse™
★★★★☆+ from 50,001 + ratings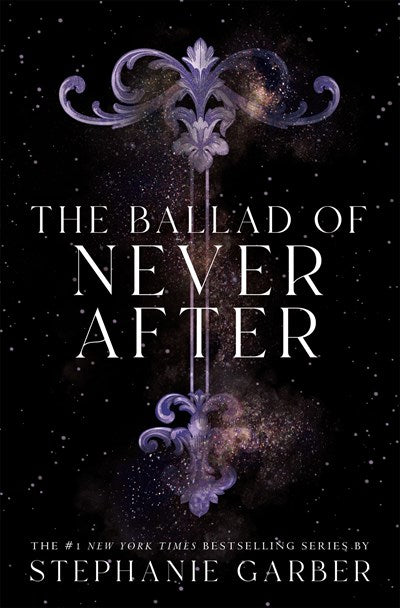 Goodreads Choice Award finalist
#1 New York Times bestseller
Indie Next pick

"Edgy, dark, and gorgeously written--this takes the fairytale trope and turns it into something heart-pounding, fresh, and addictive." --Jodi Picoult, author of Wish You Were Here
"This is only a story for those who believe in love, how it can tease, how it can stab, and sometimes, how it slips away. Don't let that happen with this book. Masterful storyteller Stephanie Garber gives you it all--characters to love, villains to hate, and a world to get lost in." --
Stacey Lee, author of The Downstairs Girl
"Nonstop adventure and multiple twists will keep fans turning pages, and the will-they-won't-they nature of Jacks and Evangeline's relationship will leave readers breathless. . . . Those who have yearned to return to this world won't be disappointed." --
School Library Journal

"Garber has created a lush fairy tale world and each book in this series expands the lands and the Fates who torment them. While Evangeline remains the main character, it's a delight to continue to see how she relates to everyone around her." --
Booklist

Praise for ONCE UPON A BROKEN HEART

#1 New York Times bestseller
Goodreads Choice Award finalist
Indie Next pick
"An explosively rich fairy tale that takes place inside an intricate world that's weaved with fast-paced plot and intriguing twists." --
BuzzFeed
"The lush worldbuilding Garber is known for is on full display here. . . . The ending is a clear setup for a sequel, but no one will be complaining about the opportunity to revisit this intricately imagined world." --
School Library Journal, starred review

"Garber enchants readers with exquisitely imagined worldbuilding and her trademark heady romance." --
Publishers Weekly
"Garber, best known for her lush and poetic Caraval series, will no doubt have readers flocking to this new series. The potential for coming installments is huge, as the glimmers of a larger world introduced in this volume are sure to stoke reader curiosity." --
Booklist
"A sugar-crusted, poison-spiked romp through a vibrant world of fairy tale intrigue, tangled romance, and forbidden magic." --
Cassandra Clare, author of The Last Hours series
"A wildly imaginative, romantic story where true love and deadly kisses collide and bargains with the Prince of Hearts come with a steep price.
Once Upon a Broken Heart
is an unputdownable fairy tale where Garber's imagination sparkles like the magnificent North. Readers will delight in each whimsical and thrilling page." --
Kerri Maniscalco, author of Kingdom of the Wicked
"A dazzling mix of mystery, romance, and magic." --
Karen M. McManus, author of One of Us Is Lying

"
Once Upon a Broken Heart
confirms that Stephanie Garber is the queen of fairy tales. I stepped into her world and got happily lost in the delicious magic, deceit, and passion." --
Mary E. Pearson, author of Dance of Thieves
Biographical Note
:
Stephanie Garber
is the #1
New York Times
and internationally bestselling author of
Once Upon a Broken Heart, The Ballad of Never After,
and the Caraval trilogy. Her books have been translated into thirty languages.
Publisher Marketing
:
#1 NEW YORK TIMES BESTSELLER!
Stephanie Garber's THE BALLAD OF NEVER AFTER is the jaw-dropping sequel to the ONCE UPON A BROKEN HEART, starring Evangeline Fox and the Prince of Hearts on a new journey of magic, mystery, and heartbreak
Not every love is meant to be.
After Jacks, the Prince of Hearts, betrays her, Evangeline Fox swears she'll never trust him again. Now that she's discovered her own magic, Evangeline believes she can use it to restore the chance at happily ever after that Jacks stole away. But when a new terrifying curse is revealed, Evangeline finds herself entering into a tenuous partnership with the Prince of Hearts again. Only this time, the rules have changed. Jacks isn't the only force Evangeline needs to be wary of. In fact, he might be the only one she can trust, despite her desire to despise him. Instead of a love spell wreaking havoc on Evangeline's life, a murderous spell has been cast. To break it, Evangeline and Jacks will have to do battle with old friends, new foes, and a magic that plays with heads and hearts. Evangeline has always trusted her heart, but this time she's not sure she can. . . .