Midnight Shadows
Spiral-Bound | September 6, 2022
Nora Roberts
Rebinding by Spiralverse™
★★★☆☆+ from 101 to 500 ratings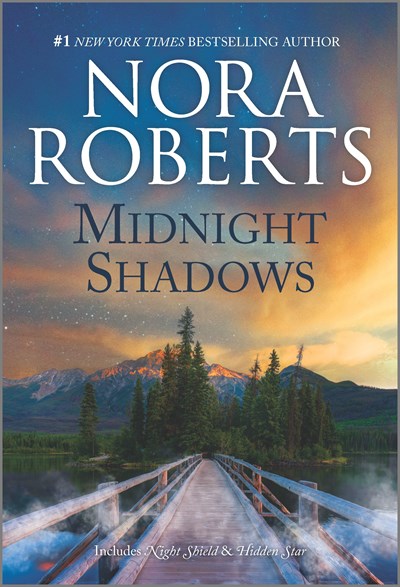 From #1 New York Times bestselling author Nora Roberts, two fan-favorite stories! This 2-in-1 collection features NIGHT SHADE and HIDDEN STAR.
Passion and peril lie in the shadows…

Night Shield

Jonah Blackhawk knows trouble when he sees it, and Allison Fletcher definitely falls into that category. Ally isn't just the undercover cop investigating a case at Jonah's nightclub—she's also the police commissioner's daughter, which makes her off-limits. Though the two have to work together, they're constantly at odds, hardly able to agree on the best way to crack the case. The day Ally and Jonah part for good can't come soon enough, but a passionate embrace might have them changing their minds about each other…

Hidden Star

Bailey James can't remember a thing. She doesn't even know who she is, let alone why her bag is filled with cash, a gun and a large blue diamond. Desperate for help, she heads to the first detective office she can find, hoping that PI Cade Parris is someone she can trust—and with no options, Bailey doesn't have much of a choice. Cade is sure the woman of his dreams walked through the door when Bailey first shuffles in, but he'll have to convince her that she's not a criminal before he can consider his love for her.
Nora Roberts is the bestselling author of more than two hundred romance novels. She was the first author to be inducted into the Romance Writers of America Hall of Fame. Since her first bestseller in 1991, Nora's books have spent more than two hundred weeks in the number one spot on the New York Times bestseller list. There are more than five hundred million copies of her books in print, published in over thirty-four countries.