The Hive Queen (Wings of Fire #12)
Spiral-Bound | May 5, 2020
Tui T. Sutherland
Rebinding by Spiralverse™
★★★★☆+ from 10,001 to 50,000 ratings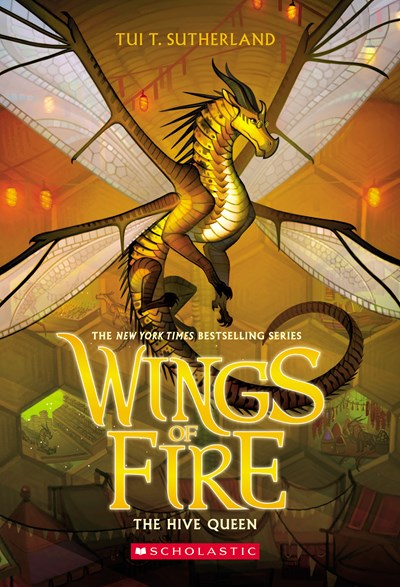 The #1 New York Times bestselling series continues with a thrilling revelation -- three brand-new tribes of dragons!Growing up in the hives, Cricket has always had a million questions. Why are trees forbidden, even in art? Why do her parents seem to hate her? And the biggest, most dangerous and secret question of all: Why is Cricket immune to Queen Wasp's powers? Whenever the queen takes control of all the HiveWings, speaking through their mouths and seeing through their eyes, Cricket has to hide, terrified of being discovered.Now she's hiding again, wanted for stealing the Book of Clearsight along with her new SilkWing friends, Blue and Swordtail, and the fierce LeafWing, Sundew. The fugitives need answers, and fast, in order to prevent a LeafWing attack. But Cricket has more questions than ever. How can she stay hidden and discover the queen's deadliest secret? And if she does succeed -- can a powerless dragonet really do anything to topple a regime and stop a war?
Praise for The Lost Heir (Wings of Fire, Book Two):"[A] perfect adventure for young fantasy fans to sink their teeth into." -- School Library JournalPraise for The Dragonet Prophecy (Wings of Fire, Book One):"Dramatic battle scenes, double-crosses, and one seriously deranged queen makes Wings of Fire a series that should have broad appeal for middle-grade fantasy fans." -- Booklist"Fast-paced and detailed, this first installment in a new adventure series is entertaining." -- Kirkus Reviews"Readers of all ages will be enchanted by the humanistic storyline and the page-turning excitement." -- Library Media Connection"A thrilling new series for dragon-lovers." -- Austin Family
Tui T. Sutherland is the author of the New York Times and USA Today bestselling Wings of Fire series, the Menagerie trilogy, and the Pet Trouble series, as well as a contributing author to the bestselling Spirit Animals and Seekers series (as part of the Erin Hunter team). In 2009, she was a two-day champion on Jeopardy! She lives in Massachusetts with her wonderful husband, two awesome sons, and two very patient dogs. To learn more about Tui's books, visit her online at tuibooks.com.