Dog Man: A Tale of Two Kitties: A Graphic Novel (Dog Man #3): From the Creator of Captain Underpants
Spiral-Bound | August 3, 2021
Dav Pilkey, Dav Pilkey (Illustrated by)
Rebinding by Spiralverse™
★★★★☆+ from 10,001 to 50,000 ratings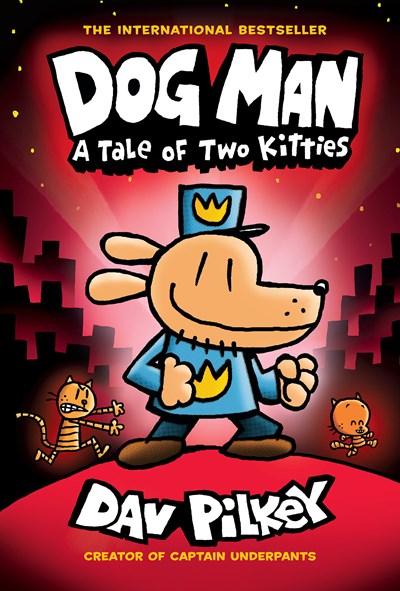 A cute kitten disrupts Petey's plans in the third Dog Man book from worldwide bestselling author and artist Dav Pilkey.
He was the best of dogs... He was the worst of dogs... It was the age of invention... It was the season of surprise... It was the eve of supa sadness... It was the dawn of hope... Dog Man hasn't always been a paws-itive addition to the police force. While he can muzzle miscreants, he tends to leave a slick of slobber in his wake! This time, Petey the Cat's dragged in a tiny bit of trouble -- a double in the form of a kitten clone. Dog Man will have to work twice as hard to bust these furballs and remain top dog!
Dav Pilkey's wildly popular Dog Man series appeals to readers of all ages and explores universally positive themes, including empathy, kindness, persistence, and the importance of being true to one's self.
Everyone Digs Dog Man!
★ "Striking color, interactive pages, drawing tutorials, and a plethora of laugh-out-loud moments all work to keep readers' attention on a tight leash." -- Kirkus Reviews, starred review
★ "High-intensity, heartwarming, and, above all, hysterically funny." -- Kirkus Reviews, starred review
★ "Riotously funny and original." -- School Library Journal, starred review
★ "An utter, unfettered delight." -- Booklist, starred review
★ "Readers (of any age) will be giggling from start to finish." -- Publishers Weekly, starred review
★ "Action-oriented cartoons... Laffs aplenty." -- Kirkus Reviews, starred review
When Dav Pilkey was a kid, he was diagnosed with ADHD and dyslexia. Dav was so disruptive in class that his teachers made him sit out in the hallway every day. Luckily, Dav loved to draw and make up stories. He spent his time in the hallway creating his own original comic books -- the very first adventures of Dog Man and Captain Underpants.
In the second grade, Dav's teacher ripped up his comics and told him he couldn't spend the rest of his life making silly books.
Fortunately, Dav was not a very good listener.