Percy Jackson and the Olympians, Book One: The Lightning Thief
Spiral-Bound | May 3, 2022
Rick Riordan
Rebinding by Spiralverse™
★★★★☆+ from 50,001 + ratings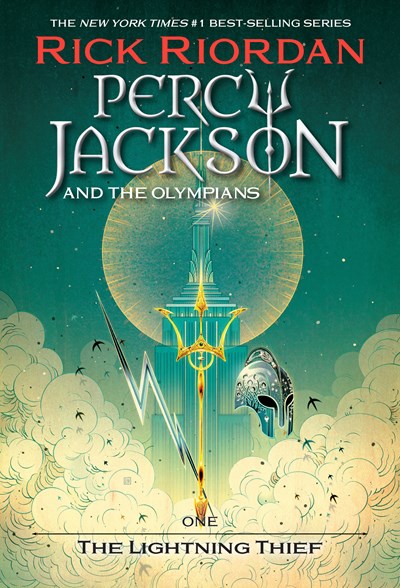 Don't get left behind! Read the book that launched Percy Jackson into the stratosphere before the Disney+ series comes out. You'll be proud to be seen with this stunning paperback edition.

"Perfectly paced, with electrifying moments chasing each other like heartbeats."--
New York Times Book Review
Percy Jackson is about to be kicked out of boarding school . . . again. And that's the least of his troubles. Lately, mythological monsters and the gods of Mount Olympus seem to be walking straight out of the pages of Percy's Greek mythology textbook and into his life. And worse, he's angered a few of them. Zeus's master lightning bolt has been stolen, and Percy is the prime suspect. Now Percy and his friends have just ten days to find and return Zeus's stolen property and bring peace to a warring Mount Olympus. But to succeed on his quest, Percy will have to do more than catch the true thief: he must come to terms with the father who abandoned him; solve the riddle of the Oracle, which warns him of betrayal by a friend; and unravel a treachery more powerful than the gods themselves.
Whether you are new to Percy or a longtime fan, this gorgeous paperback edition is a must-have for your library.

Complete your collection with:
The Sea of Monsters
The Titan's Curse
The Battle of the Labyrinth
The Last Olympian
"Packed with humorous allusions to Greek mythology . . . along with rip-snorting action sequences, [this] book really shines."—Horn Book
Rick Riordan, dubbed "storyteller of the gods" by Publishers Weekly, is the author of five #1 New York Times best-selling middle grade series with millions of copies sold throughout the world: Percy Jackson and the Olympians, The Heroes of Olympus, and the Trials of Apollo, based on Greek and Roman mythology; the Kane Chronicles, based on Ancient Egyptian mythology; and Magnus Chase and the Gods of Asgard, based on Norse mythology. Rick collaborated with illustrator John Rocco on two #1 New York Times best-selling collections of Greek myths for the whole family: Percy Jackson's Greek Gods and Percy Jackson's Greek Heroes. His most recent book is Daughter of the Deep, a modern take on Jules Verne's 20,000 Leagues Under the Sea. Rick is also the publisher of an imprint at Disney-Hyperion, Rick Riordan Presents, dedicated to finding other authors of highly entertaining fiction based on world cultures and mythologies. He lives in Boston, Massachusetts with his wife and two sons. Follow him on Twitter at @RickRiordan.

Victo Ngai is a Forbes 30 Under 30 honoree, Society of Illustrator New York Gold Medalist, and Hugo and World Fantasy Award finalist. Originally from Hong Kong, she graduated from the Rhode Island School of Design and is now based in Los Angeles. She illustrates for newspapers and magazines, creates storyboards and art for animation, provides book cover art, and works on packaging and advertisement campaigns. Victo has also taught at the School of Visual Art in New York and frequently gives guest lectures at universities and workshops at conferences. Follow her on Twitter and Instagram @victongai.