The Total Money Makeover Workbook: Classic Edition : The Essential Companion for Applying the Book's Principles
Spiral-Bound |
Dave Ramsey
Rebinding by Spiralverse™
★★★★☆+ from 1,001 to 10,000 ratings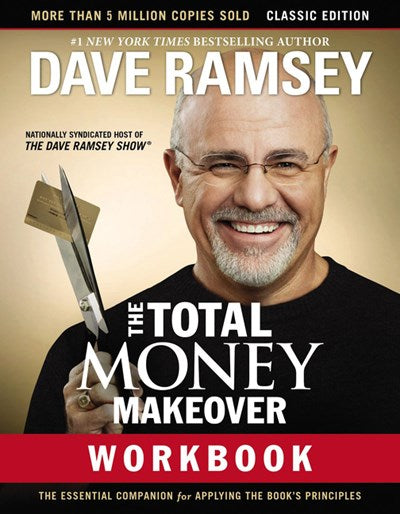 Nationally syndicated radio host and money man Dave Ramsey offers a practical and inspiring action plan to help you get in the best financial shape of your life.
Do you want to build a budget that actually works for you? Are you ready to transform your relationship with money? Based on Dave Ramsey's New York Times best-selling book that has already helped millions of readers, this companion workbook will help you develop everyday money-saving and life-changing habits.
Ready to apply everything you learned in The Total Money Makeover? This essential companion workbook--packed with self-assessments and lined sections dedicated to note-taking--will give you the tools and the encouragement you need to:
Unpack the lies you've been told about finances
Pay off the debts that are weighing you down
Start building your emergency fund
Become financially healthy for life
With inspiring real-life stories and thought-provoking questions for reflection, this workbook is the reset you've been searching for.
Dave Ramsey is an eight-time No. 1 national best-selling author, personal finance expert and host of The Ramsey Show, heard by more than 18 million listeners each week. He has appeared on Good Morning America, CBS Mornings, Today Show, Fox News, CNN, Fox Business, and many more. Since 1992, Dave has helped people regain control of their money, build wealth and enhance their lives. He also serves as CEO for the company, Ramsey Solutions.