The World Needs Who You Were Made to Be
Spiral-Bound |
Joanna Gaines, Julianna Swaney (Illustrated by)
Rebinding by Spiralverse™
★★★★☆+ from 1,001 to 10,000 ratings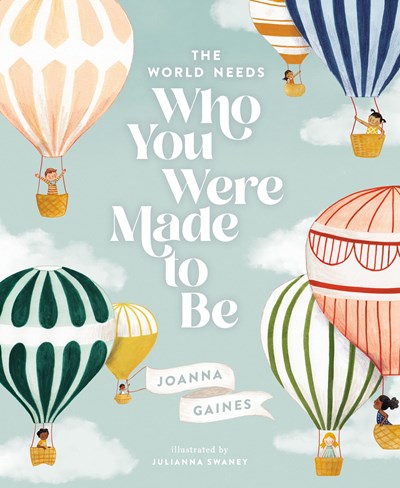 In the #1 New York Times bestseller, The World Needs Who You Were Made to Be, Joanna Gaines celebrates how creativity and acceptance can come together to make for a bright and beautiful adventure. The book, illustrated by Julianna Swaney, follows a group of children as they each build their very own hot-air balloons. As the kids work together, leaning into their own skills and processes, we discover that the same is true for life—it's more beautiful and vibrant when our differences are celebrated.
Together with Joanna, you and your kids will take a journey of growth and imagination as you learn in full color to:
celebrate every child's one-of-a-kind strengths and differences;
embrace teamwork;
share our talents and abilities to make everything more beautiful; and
end a helping hand and do our best to show kindness and take care of one another.
The World Needs Who You Were Made to Be is a vibrant picture book perfect for:
children ages 4–8;
grandparents, parents, teachers, and librarians;
classroom story times and discussions about diversity and being a good human being;
households that enjoy watching Chip and Joanna on Magnolia Network and HGTV's Fixer Upper; and
holiday or Christmas gift-giving, birthdays, graduations, or other celebrations.
With plenty of pink, a bounty of blue, orange and green and yellow too, this vibrant hot-air balloon adventure celebrates every child and teaches kids that we are in this together. "You're one of a kind, and it's so clear to see: The world needs who you were made to be."
Joanna Gaines is the co-founder of Magnolia, a New York Times bestselling author, editor-in-chief of Magnolia Journal, and creator and co-owner of Magnolia Network.
Born in Kansas and raised in the Lone Star State, Jo graduated from Baylor University with a degree in Communications. It was an internship in New York City that prompted her desire to discover how she could create beauty for people. In a big city unknown to her, Jo always felt most at home whenever she stepped inside the cozy and thoughtfully curated boutique shops, which inspired her to open a shop of her own in Waco, Texas.
Alongside her passion for design and food, nothing inspires Jo more than time spent at home with Chip and their five kids--whether they're messing with recipes in the kitchen or planting something new in the garden.