Treasury of Greek Mythology: Classic Stories of Gods, Goddesses, Heroes & Monsters
Spiral-Bound | October 11, 2011
Donna Jo Napoli
Rebinding by Spiralverse™
★★★★☆+ from 1,001 to 10,000 ratings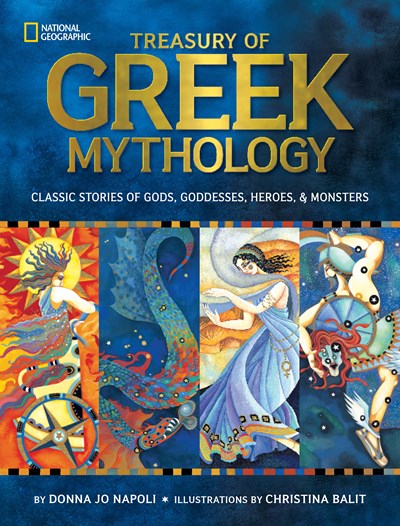 School Library Journal Best Books of 2011

Eureka! Silver Honor Books—California Reading Association

Capitol Choices 2012 list of Noteworthy Titles for Children and Teens

2012 Notable Children's Books—ALSC

The new National Geographic Treasury of Greek Mythology offers timeless stories of Greek myths in a beautiful new volume. Brought to life with lyrical text by award-winning author Donna Jo Napoli and stunning artwork by award-winning illustrator Christina Balit, the tales of gods and goddesses such as Zeus, Aphrodite, Apollo, and Athena and heroes and monsters such as Helen of Troy, Perseus, and Medusa will fascinate and engage children's imaginations.

National Geographic completes the book with embellishments of each story: sidebars for each god, goddess, hero, and monster link the myths to constellations, geography, history, and culture to help young readers connect the stories to real life events, people, and places. A family tree and a "cast of characters" profile page help make relationships between the characters clear, and a mapping feature adds to the fun and fascination. Resource notes and ample back matter directing readers to more information round out this luminous book. Sure to dazzle all those intrigued with the fantastic tales of Greek mythology and enchant new readers, this vibrant book will soon become a family keepsake.

National Geographic supports K-12 educators with ELA Common Core Resources.
Visit www.natgeoed.org/commoncore for more information.
"This is the kind of rich but accessible reference work school librarians love. It's also likely to stimulate fact-obsessed Percy Jackson fans as well as children who have been ordered to research their school papers offline....This is a book meant to dazzle its readers — and it does." New York Times online

Kirkus Starred Review
School Library Journal Starred Review
DONNA JO NAPOLI is professor of linguistics at Swarthmore College, mother of five, grandmother of five, and the author of more than 80 books for children and young adults. While her undergraduate major was mathematics and her graduate work was in linguistics, she has a profound love of mythology, folklore, and fairy tales.


CHRISTINA BALIT is a graduate of the Chelsea School of Art and the Royal College of Art, London. An award-winning dramatist and illustrator, Christina has painted more than 20 children's books, including Blodin and the Beast by Michael Morpurgo, Zoo in the Sky, The Planet Gods, The Lion Bible, National Geographic's Treasury of Greek Mythology, and National Geographic's Treasury Egyptian Mythology. Her author titles include Escape From Pompeii, Atlantis, The Legend of the Lost City, and An Arabian Home. Her plays include Woman With Upturned Skirt, The Sentence, and Needle (winner of the Brave New Role award).