Ultimate Bugopedia: The Most Complete Bug Reference Ever
Spiral-Bound | October 22, 2013
Darlyne A. Murawski, Nancy Honovich
Rebinding by Spiralverse™
★★★★☆+ from 101 to 500 ratings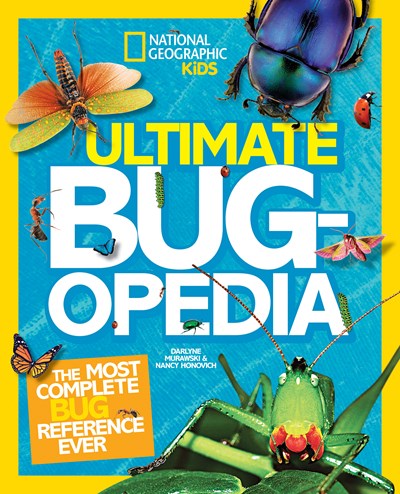 Welcome to the hidden world of the most popular bugs on Earth. Opening the beautiful and accessible pages of this book is like turning over a series of stones under which you'll find a fascinating array of the world's coolest creepy-crawlies.

This fully photographic book profiles bugs, beetles, wasps, bees, ants, caterpillars, butterflies, dragonflies, spiders, flies, crickets and grasshoppers, and centipedes and millipedes. These profiles are accompanied by Did You Know? facts and fast facts including scientific name, size, diet, and habitat. Front matter includes a How to Use spread and thematic spreads covering topics from prehistoric insects to bugs around the world. In short, this book includes everything a young fact-hound needs to discover the weird, wacky, diverse, and fascinating world of bugs.
Selected as a 2014 Outstanding Science Trade Book for Students K-12 by the National Science Teachers Association (NSTA) and the Children's Book Council

"This is fantastically creepy fun for nonfiction lovers…The Ultimate Bugopedia is a bug lover's dream." –NC Teacher Stuff blog

"This outstanding book is a must for all library collections and will delight bug-obsessed readers everywhere!" –Booklist
DARLYNE MURAWSKI is a versatile nature photographer and writer with years of experience as a research biologist working with bugs. Her articles have appeared in National Geographic Magazine and many international publications, children's magazines and calendars. She has traveled the world to showcase the lives and ecology of small critters - including butterflies, moths, fungi, parasites, spider webs, marine worms, horseshoe crabs, mollusks, and glass-shelled diatoms. NANCY HONOVICH is an editor and children's writer and with more than 10 years experience creating content for a wide variety of subject areas and across medias.