How Not to Kill Your Houseplant: Survival Tips for the Horticulturally Challenged
Spiral-Bound | August 15, 2017
Veronica Peerless
Rebinding by Spiralverse™
★★★★☆+ from 1,001 to 10,000 ratings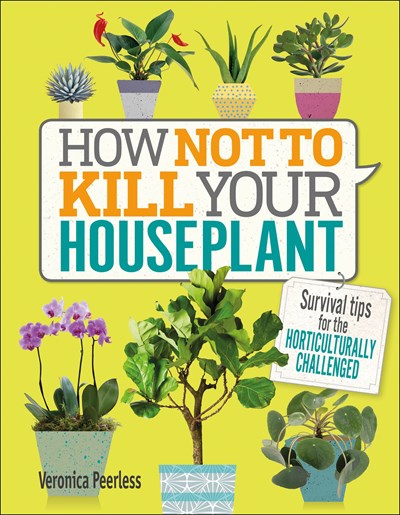 You had one job: watering your new plant. But it's been a week and it's already dying.

Fear not! This helpful guide is here to show you how to rescue your plants. Follow the survival tips outlined in this book and you'll be on your way to having your home brimming with green life.


It's absolutely possible not to assassinate your houseplant – all you need is this book! From identifying exactly what's in the pot to helping it flourish and grow, this is your guide to creating an oasis of happy, flourishing houseplants.

With over 50 different types of popular houseplants, this book summarizes what type of care your plants do (or don't) need. Find out which types of plants will thrive in your living space. You'll also discover how to keep a cactus alive, where to hang air plants, and how to repot succulents. Understand how much light, water, heat, and humidity your plant needs. Whatever your horticulture woes, this book will explain and fix it.

Yellowed leaves, drooping leaves, and dried leaves – learn to spot the danger signs and how to take the proper action to rescue your sick plant. Packed with helpful tips, pictures, and information panels, How Not to Kill Your Houseplant will equip you with the skills necessary to raise a healthy plant.

Give Your Plants a Chance!

If you're horticulturally challenged and can't keep a house plant alive to save your life, then this book is for you! This practical guide to raising indoor plants equips you with the know-how you need to care for your plants.

Inside the pages of this comprehensive gardening book from, you'll discover:

• Tips on watering and feeding plants.
• Advice on how to choose the perfect house plants for your unique space and needs.
• Helpful survival tips and simple ways not to kill your plants.
• Everything you need to know about lighting for house plants, from natural to artificial lighting sources.
• Learn to spot the danger signs in unhealthy indoor plants and the effective techniques on how to rescue them.
"..[A]ims squarely at people who've had no luck with greenery in the past—'the horticulturally challenged,' in the words of the subtitle—but who are eager to try again." — Publishers Weekly
"This easy to use guide tells you how to care for most plants we can find in stores or nurseries that are meant to be indoors, as well as what to do if things go wrong." — Budget Earth.com