The Science of Cooking: Every Question Answered to Perfect Your Cooking
Spiral-Bound | September 19, 2017
Dr. Stuart Farrimond
Rebinding by Spiralverse™
★★★★☆+ from 501 to 1,000 ratings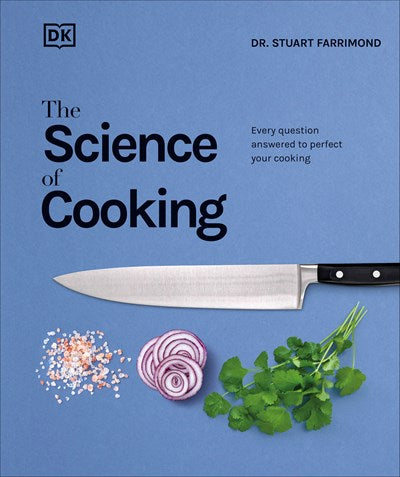 It's time to bring food science out of the lab and into your kitchen!

Which vegetables should you eat raw? How do you make the perfect poached egg? And should you keep your eggs in the fridge? Why does chocolate taste so good? Is it OK to reheat cooked rice? How do I cook the perfect steak or make succulent fish every time? TV personality, food scientist and bestselling author, Dr. Stuart Farrimond answers all these questions and more with The Science of Cooking - equipping you with the scientific know-how to take your cooking to new levels.

Explore fundamental culinary concepts, practical advice and step-by-step techniques, to bring food science out of the lab and into your kitchen. Find the answers to your cookery questions and get more out of recipes with intriguing chapters covering all major food types from meat, poultry and seafood, to grains, vegetables, and herbs.

Perfect your cooking with practical instruction and the science behind it, as you explore:

- Step-by-step techniques to demonstrate key concepts in a clear manner
- Striking illustrations are featured throughout to highlight key culinary processes
- Scientific concepts organized by food group and ingredient
- Question-and-answer format to make science relevant to everyday cooking

A good recipe goes a long way, but if you can master the science behind it, you'll be one step ahead! The Science of Cooking shows you how by bringing food science out of the lab and into your kitchen, providing you with all the scientific information you need to take your home cooking to a whole new, more nutritious level! From making great risotto and soft ice cream to the process of steaming, this gastronomic cookbook includes step-by-step techniques and striking 3D graphics to bring culinary facts to life.

A must-have cooking gift for anyone interested in the culinary arts, whether you're a hobby cook at the beginning of your learning, seeking to cook more intuitively, or you love science and learning about it's everyday applications, this is a great volume for anybody interested in food and nutrition generally, doubling up as a lovely coffee table book for the whole family to explore and love!

At DK, we believe in the power of discovery.

So why stop there? This series from DK is designed to help you perfect your cooking with practical instruction - and the science behind it. There are more cookbooks to discover from The Science of... series giving you the essentials to cook up a storm! Explore the science behind the art of making incredible spice blends with The Science of Spice paired together they make the ideal cookery gifts for your food-loving friends too!
Specializing in food science, Dr. Stuart Farrimond is a science and medical writer, presenter, and educator. He makes regular appearances on TV, on radio, and at public events, and his writing appears in national and international publications, including the Independent, the Daily Mail, and New Scientist.
An avid blogger, Stuart is also the founder and editor of online lifestyle-science magazine Guru, which is supported by the Wellcome Trust, the world's largest medical research charity.