Science of Yoga: Understand the Anatomy and Physiology to Perfect Your Practice
Spiral-Bound | January 8, 2019
Ann Swanson
Rebinding by Spiralverse™
★★★★☆+ from 501 to 1,000 ratings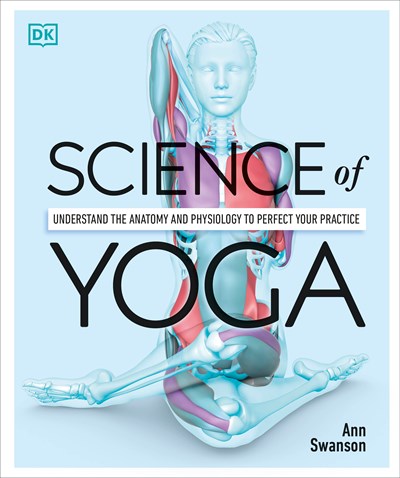 Explore the biomechanics of 30 key yoga asanas, in-depth and from every angle, and master each pose with confidence and control.

Introducing Science of Yoga - an all-encompassing science book to help you better understand yoga anatomy and the medical science behind yoga to perfect your practice and poses!

Did you know that yoga practice can help treat age-related memory loss better than brain-training games? Recent scientific research now supports what were once anecdotal claims about the benefits of yoga to every system in the body. Science of Yoga provides a detailed insight into variations of key yoga poses and the specific benefits of different styles of yoga on the human body, system by system.

Dive right in to discover:

- Specially commissioned CGI artworks show 30 asanas in depth and detail the physics of the pose
- 16 spreads of clear, easy-to-understand scientific facts and research answering key questions around ancient and modern claims
- Illustrated section on the benefits of yoga on the human body system by system
- Easy-to-understand research is presented in an easy-to-understand format with illustrated pullouts, debunking the myths and explaining the scientific facts, from breathing techniques to mindfulness

Science of Yoga is a riveting read, and reveals how your blood flow, respiration, muscles and joints work below the surface of each yoga pose, whilst teaching you to achieve technical excellence in your practice, from the comfort of your own home.

The first yoga book on the market to combine detailed anatomical drawings, pose mechanics and key scientific research, Science of Yoga is a must-have volume for yoga beginners and professionals alike, seeking an accessible and easy-to-read guide on the effects of yoga on the human body from a scientific standpoint.

Whether you're looking to take up yoga this New Year, or your yoga poses are already perfect, this science book is the ideal fitness gift for the yoga lover in your life, and sets out to separate the facts of yoga from the myths, with proven scientific research.
Ann Swanson, MS, C-IAYT, LMT, E-RYT500
Ann is a mind-body science educator. She holds a Master of Science in yoga therapy from Maryland University of Integrative Health, where she went on to become an adjunct faculty member. With years of experience tutoring and teaching anatomy and physiology in colleges, massage therapy schools, and yoga teacher training programs, she has refined the ability to make complex scientific concepts simple to understand. Ann uniquely applies cutting-edge research practically to yoga while maintaining the heart of the tradition. She believes that there is no one "right" alignment or way to do a yoga pose or practice; if you can breathe, you can do yoga. In her private practice, she makes yoga therapy, qigong, and mindfulness meditation accessible with personalized modifications. Her convenient online classes help busy people worldwide relieve pain and manage stress effectively. For more about Ann, head to www.AnnSwansonWellness.com or www.scienceof.yoga