Spectrum Language Arts, Grade 3
Spiral-Bound | August 15, 2014
Spectrum (Compiled by)
Rebinding by Spiralverse™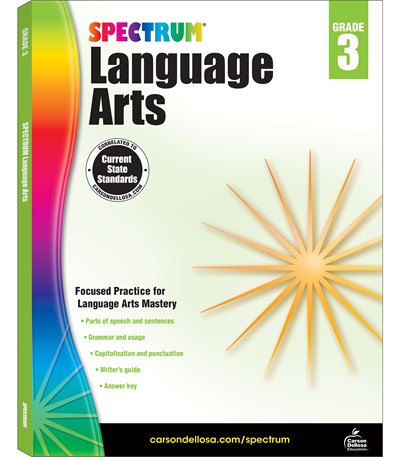 The Spectrum® Language Arts Workbook for third grade features 176 pages of engaging, open-ended writing activities and grade-appropriate practice that are necessary for a stronger understanding of essential language arts concepts.
Spectrum Grade 3 Language Arts Workbook for kids ages 8-9
Support your child's educational journey with Spectrum's Language Arts 3rd Grade Workbook that teaches basic language arts skills to 3rd grade students.
Grammar workbooks are a great way for kids to learn basic skills such as capitalization, parts of speech, types of sentences, and more through a variety of activities that are both fun AND educational!
Why You'll Love This 3rd Grade Workbook
Engaging and educational reading and writing practice. "Capitalizing song titles", "rewriting sentences", and "writing a friendly letter" are a few of the fun activities that incorporate language arts into everyday settings to help inspire learning into your child's homeschool or classroom curriculum.
Testing progress along the way. Lesson reviews test student knowledge before moving on to new and exciting lessons. An answer key is included in the back of the third grade book to track your child's progress and accuracy.
Practically sized for every activity The 176-page language arts workbook is sized at

about 8 inches x 10 ½ inches—giving your child plenty of space to complete each exercise.
About Spectrum
For more than 20 years, Spectrum has provided solutions for parents who want to help their children get ahead, and for teachers who want their students to meet and exceed set learning goals—providing workbooks that are a great resource for both homeschooling and classroom curriculum.
This Language Arts Kids Activity Book Contains:
4 chapters full of tips, fun activities, illustrations, and lesson reviews
An answer key and writer's guide
Perfectly sized at about 8" x 10.5"