Gravity Falls: : Journal 3
Spiral-Bound | July 26, 2016
Alex Hirsch
Rebinding by Spiralverse™
★★★★☆+ from 1,001 to 10,000 ratings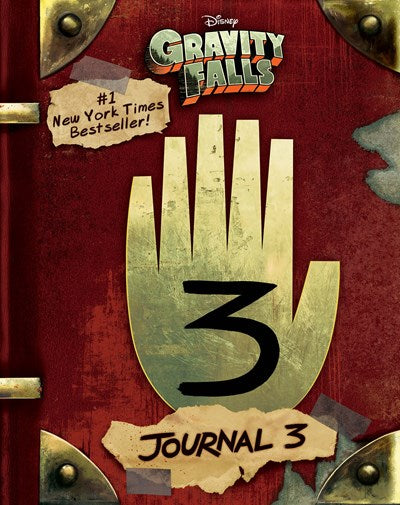 Journal 3 brims with every page ever seen on the show plus all-new pages with monsters and secrets, notes from Dipper and Mabel, and the Author's full story. Fans of Gravity Falls will simply love this 288-page full-color jacketed hardcover version of Journal 3!Plus the book jacket doubles as an exclusive poster!
"Gravity Falls is a place you wouldn't want to live in. But it sure is fun to visit. A perfect combination of scary stuff and riotous humor that always keeps me coming back for more."—R.L. Stine, author of Goosebumps and Fear Street
Alex Hirsch is a writer, animator, voice actor, and director. He is best known for creating Gravity Falls on Disney XD. He was raised in Piedmont, California, and received a BFA in Character Animation from The California Institute of the Arts. He currently lives in Los Angeles, and is at work developing projects for Film & TV.
Rob Renzetti is the creator of the Nickelodeon series My Life As a Teenage Robot. He has worked as a producer, director, storyboard artist, and writer on shows such as Gravity Falls, My Little Pony: Friendship is Magic, Dexter's Laboratory, Powerpuff Girls, Samurai Jack, Foster's Home for Imaginary Friends, and Family Guy.

Andy Gonsalves is a designer, illustrator, and storyboard artist who works in the wonderful world of television animation. In addition to his work on popular shows such as Gravity Falls and Uncle Grandpa, Andy is also known for his original designed T-shirts which are worn by people around the world.
Stephanie Ramirez, a Los Angeles native, has worked in the animation industry as a character designer and freelance artist since 2007. Her credits include television shows such as Gravity Falls, Clarence, and Rick and Morty. Stephanie has also illustrated two other books for Disney Publishing Worldwide: Dipper's and Mabel's Guide to Mystery and Nonstop Fun! and Don't Color This Book!. Stephanie is currently a designer on Disney XD's Star vs. the Forces of Evil, and lives with her boyfriend and her cat Itty Bit Ramirez.