Tyrant's Tomb, The-The Trials of Apollo, Book Four
Spiral-Bound | April 6, 2021
Rick Riordan
Rebinding by Spiralverse™
★★★★☆+ from 50,001 + ratings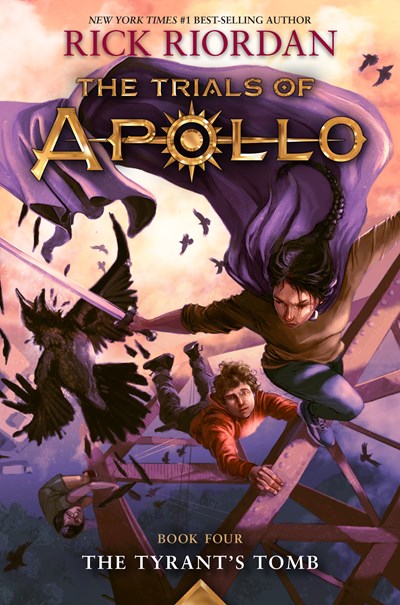 In his penultimate adventure, now in paperback, a devastated but determined Apollo travels to Camp Jupiter, where he must learn what it is to be a hero, or die trying.
"A clash of mythic intrigues and centuries of pop culture to thrill die-hard and new fans alike."--Kirkus Reviews
It's not easy being Apollo, especially when you've been turned into a human and banished from Olympus. On his path to restoring five ancient Oracles and reclaiming his godly powers, Apollo (aka Lester Papadopoulos) has faced both triumphs and tragedies.
Now his journey takes him to Camp Jupiter in the San Francisco Bay Area, where the Roman demigods are preparing for a desperate last stand against the evil Triumvirate of Roman emperors. Hazel, Reyna, Frank, Tyson, Ella, and many other old friends will need Apollo's aid to survive the onslaught.
Unfortunately, the answer to their salvation lies in the forgotten tomb of a Roman ruler . . . someone even worse than the emperors Apollo has already faced.
This fourth book in the #1 New York Times best-selling series features a diverse cast of characters in a pull-out-all-the-stops adventure and can be enjoyed by mythology lovers ages 8 and up. Bonus material includes the first chapter of The Tower of Nero, a sneak peek at Rick's first story based on Celtic mythology, and more!
Rick Riordan, dubbed "storyteller of the gods" by Publishers Weekly, is the author of five #1 New York Times best-selling middle grade series with millions of copies sold throughout the world: Percy Jackson and the Olympians, The Heroes of Olympus, and the Trials of Apollo, based on Greek and Roman mythology; the Kane Chronicles, based on Ancient Egyptian mythology; and Magnus Chase and the Gods of Asgard, based on Norse mythology. Rick collaborated with illustrator John Rocco on two #1 New York Times best-selling collections of Greek myths for the whole family: Percy Jackson's Greek Gods and Percy Jackson's Greek Heroes. Rick is also the publisher of an imprint at Disney-Hyperion, Rick Riordan Presents, dedicated to finding other authors of highly entertaining fiction based on world cultures and mythologies. He lives in Boston, Massachusetts with his wife and two sons. Follow him on Twitter at @RickRiordan.