Eight Dates: Essential Conversations for a Lifetime of Love
Spiral-Bound | February 5, 2019
John Gottman, Julie Schwartz Gottman, Doug Abrams, Rachel Carlton Abrams
Rebinding by Spiralverse™
★★★★☆+ from 1,001 to 10,000 ratings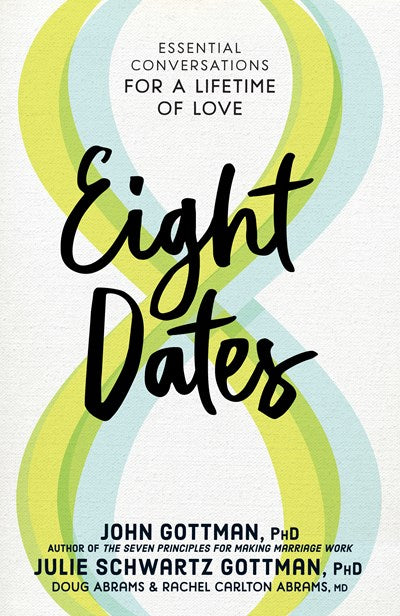 From the leading research scientist on marriage and family and author of the million-copy bestseller The Seven Principles for Making Marriage Work, a program of eight lively, conversation-based dates for couples to capture essential conversations for a lifetime of love and commitment.

Strengthen and deepen your love with a fun, ingenious program of eight life-changing conversations—on essential topics such as money, sex, and trust—from two of the world's leading marriage researchers and clinicians.

Navigating the challenges of long-term commitment takes effort—and it just got simpler, with this empowering, step-by-step guide to communicating about the things that matter most to you and your partner. Drawing on forty years of research from their world-famous Love Lab, Dr. John Gottman and Dr. Julie Schwartz Gottman invite couples on eight fun, easy, and profoundly rewarding dates, each one focused on a make-or-break issue: trust, conflict, sex, money, family, adventure, spirituality, and dreams.

Interactive activities and prompts provide motivation to stay open, stay curious, and, most of all, stay talking to each other. And the range—from the four skills you need for intimate conversation (including Put Into Words What You Are Feeling) to tips on being honest about your needs, while also validating your partner's own emotions—will resonate, whether you're newly together or a longtime couple looking to fortify your bond. You will discover (or rediscover) your partner like never before—and be able to realize your hopes and dreams for the love you desire and deserve.

"[A]n instant hit… If you've been married forever and think this book isn't for you, (dates??), think again." —Oprah.com

"Whether you are already in a long term committed relationship or are just starting one, Eight Dates is an essential guide to building and maintaining true and lasting love. Based on decades of scientific studies and clinical wisdom from our world's leading visionaries in romance, this fabulous book will enable you to engage in fun and constructive conversations to nurture a love that can grow for a lifetime!" —Daniel J. Siegel, MD, New York Times bestselling author, Aware: The Science and Practice of Presence

"Brilliant" —The Chicago Tribune
World-renowned for his work on marital stability and divorce prediction, John Gottman, Ph.D., has conducted 40 years of breakthrough research with thousands of couples. His work on marriage and parenting has earned him numerous major awards, including four National Institute of Mental Health Research Scientist Awards. He is the author or coauthor of more than 40 books, including the bestselling The Seven Principles for Making Marriage Work; What Makes Love Last; The Relationship Cure; Why Marriages Succeed or Fail; and Raising an Emotionally Intelligent Child. Dr. Gottman's media appearances include Good Morning America, Today, CBS Morning News, and Oprah, as well articles in the New York Times, Ladies Home Journal, Redbook, Glamour, Woman's Day, People, Self, Reader's Digest, and Psychology Today. Cofounder of the Gottman Institute with his wife, Dr. Julie Schwartz Gottman, John was also the Executive Director of the Relationship Research Institute. He is Professor Emeritus of Psychology at the University of Washington, where he founded "The Love Lab" at which much of his research on couples' interactions was conducted. He lives in Seattle.

Julie Gottman, Ph.D., is a clinical psychologist and the cofounder and President of The Gottman Institute. She is the cocreator of the immensely popular The Art and Science of Love weekend workshops for couples, and she also co-designed the national clinical training program in Gottman Couples Therapy. She is Author/co-author of five books: Ten Lessons to Transform Your Marriage, And Baby Makes Three, 10 Principles for Doing Effective Couples Therapy, The Man's Guide to Women, and The Marriage Clinic Casebook. Julie lives in Seattle.

Doug Abrams is president and founder of Idea Architects, a literary agency, as well as an author and editor. His most recent bestseller is The Book of Joy, with The Dalai Lama and Desmond Tutu. He lives outside Santa Cruz, CA.

Rachel Carlton Abrams, M.D., is an integrative physician and the author of the book BodyWise. She and Doug live outside Santa Cruz, CA, and have three young adult children.