There Are Moms Way Worse Than You: Irrefutable Proof That You Are Indeed a Fantastic Parent
Spiral-Bound | March 29, 2022
Glenn Boozan, Priscilla Witte (Illustrated by)
Rebinding by Spiralverse™
★★★★☆+ from 501 to 1,000 ratings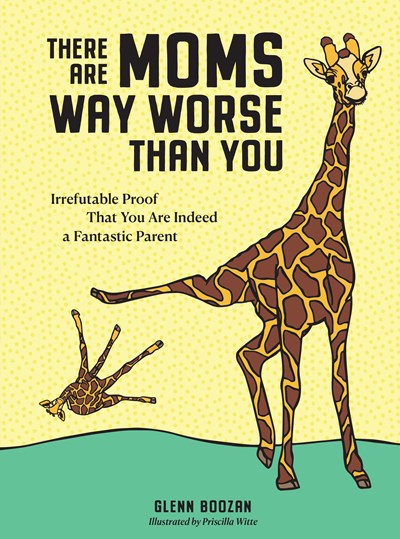 A rhyming illustrated humor book for moms who feel they're not doing a good job (and that's all moms, right?). Packed with scientifically true examples of terrible parents in the animal kingdom, to remind and reassure any mother that there are way worse moms out there.

A hilarious and reassuring gift for every mom: because we're all doing the best we can, and the natural world is filled with moms worse than you!

A mom giraffe is pretty nice until the fetus drops.
She'll birth a newborn baby calf, then kick him 'til he walks.

Whenever you feel guilty that you haven't cleaned the house:
Sexton beetles raise their kids in a decomposing mouse.

A koala mom will feed her kids her own poop. Yes, poop. Panda moms will abandon one twin because raising two is, well, just too much. And every now and then a cuddly little hamster mom will —yup— eat her newborn pups.
These and other true facts from the animal kingdom offer a hilarious reality check on what constitutes "good parenting." So, human mother, time to stop worrying about the job you're doing —because you're a great mom.

"Glenn Boozan is a wickedly funny writer and this hilarious book is a gift to mediocre moms everywhere." –Conan O'Brien

"This book is clever and funny and silly,
but also truly needed.
Buy this book for the moms in your life,
so they know that they've succeeded." –Sarah Silverman

"Society puts so much pressure on us to be perfect, and these hilariously horrible facts made me feel better about how much I suck. They even made me briefly reconsider my decision to not have kids!" –Adam Conover, creator and host of Adam Ruins Everything

"I love this book! It sounds like a song when read out loud, and it's so funny and sweet that I almost want to have another baby. Almost." –Laurie Kilmartin, author of Sh*tty Mom

"Great news! You never have to figure out those confusing Babylist registries again because this is THE ONLY gift every new mom needs. It's laugh out loud funny, relatable, secretly educational, and made me feel a lot better about the time my toddler said 'jesus f*ckin' cwist' in front of my mom." –Laura Willcox, author of I Am Bride

Glenn Boozan is a WGA-winning and Emmy-nominated comedy writer whose credits include—among others—Conan, Home Economics, and Sarah Silverman's I Love You, America. She lives in Los Angeles.

Priscilla Witte is a Los Angeles–based illustrator and muralist. Her work has taken her from the Black Sea of Russia to the beaches along the coast of Bali. Some of her clients include Warner Music, Barbie, and Google. Her most recent mural is painted in downtown Los Angeles between a Jeff Koons and a Takashi Murakami. That's a tasty sandwich.