On a Quiet Street
Spiral-Bound | May 17, 2022
Seraphina Nova Glass
Rebinding by Spiralverse™
★★★★☆+ from 10,001 to 50,000 ratings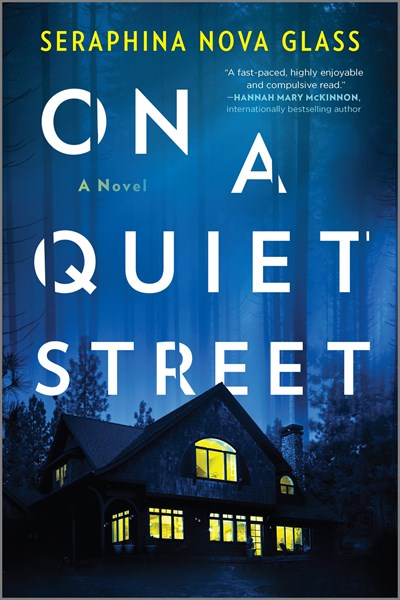 In a tranquil, well-to-do gated community on the Oregon coast, two neighboring housewives make a deal. What seems like a simple--if devious--arrangement sets off a chain of events that reveal the neighborhood's dark underbelly, particularly concerning their mysterious and reclusive new neighbor, in this juicy suspense novel that is perfect for fans of Big Little Lies and The Last House Guest.
A New York Times Book Review Summer Read and Edgar Award nominee! Don't miss this unputdownable psychological thriller! Perfect for fans of Lucy Foley and Ruth Ware!

When you really start to look beyond the airy open floor plans and marble counters, Brighton Hills is filled with secrets. Some big, some little, some deadly. And one by one, they're about to be revealed… "A writer to watch." —Publishers Weekly

The perfect neighborhood can be the perfect place to hide…

Who wouldn't want to live in Brighton Hills? This exclusive community on the Oregon coast is the perfect mix of luxury and natural beauty. Stunning houses nestle beneath mighty Douglas firs, and lush backyards roll down to the lakefront. It's the kind of place where neighbors look out for one another. Sometimes a little too closely…

Cora thinks her husband, Finn, is cheating—she just needs to catch him in the act. That's where Paige comes in. Paige lost her son to a hit-and-run last year, and she's drowning in the kind of grief that makes people do reckless things like spying on the locals, searching for proof that her son's death was no accident…and agreeing to Cora's plan to reveal what kind of man Finn really is. All the while, their reclusive new neighbor, Georgia, is acting more strangely every day. But what could such a lovely young mother possibly be hiding?

Don't miss Seraphina's upcoming novel, The Vanishing Hour. You won't be able to put it down!

Other thrillers from Seraphina to keep you up all night:

The Vanishing Hour
Such a Good Wife
Someone's Listening
"Welcome to the 'burbs…except you won't find much peace and quiet here. Brighton Hills is packed with secrets, lies, grief, and deceit, all of which make ON A QUIET STREET a brilliant and twisty tale. You'll be wondering who did what and to whom, who's telling the truth or feeding you lies, and you'll shift your allegiances faster than a tennis match. A fast-paced, highly-enjoyable and compulsive read that may well make you look at your entire neighborhood a little differently…" — Hannah Mary McKinnon, internationally bestselling author of Never Coming Home

"A twisty thriller in the vein of The Girl on the Train."—Bustle

"A writer to watch."—Publishers Weekly

"Get this book when it comes out, read it, then ask everyone you know to make it into a movie! In case you can't tell, I am EXCITED ABOUT THIS BOOK!" — Imogen Church, audiobook narrator

"Seraphina Nova Glass's twisty...thriller plunges the reader into a dark, compelling world of lies, adultery and murder. Bold, racy and masterfully plotted, Such a Good Wife kept me guessing from the very first page to the scorching, jaw-dropping conclusion." — Rose Carlyle, #1 internationally bestselling author of The Girl in the Mirror

"Such a Good Wife hooked me from page one and didn't let go...the big reveal was both shocking and satisfying at the same time. And that ending – wow – dark in the most delicious way. Clear your calendar because once you open this book you won't want to close it until after you've read the last page!" — Amber Garza, author of When I Was You

"In Such a Good Wife, Seraphina Nova Glass weaves a deliciously dark tale starring Melanie, a loving and overworked mother and wife having an affair with the handsome Luke…until he turns up dead. If you think you've figured out the culprit, think again. A sly and pulse-pounding murder mystery set in steamy Louisiana." — Kimberly Belle, internationally bestselling author of Stranger in the Lake

"Such a Good Wife is a terrifically engaging thriller. I couldn't turn the pages fast enough!" — Emily Gray Tedrowe, author of The Talented Miss Farwell

"A juicy tight-rope of a thriller that sees a woman teetering on the perilous line between lust and love as deception, betrayal and murder threaten to destroy her seemingly perfect life." — Katie Tallo, author of Dark August, on Such a Good Wife

"Glass weaves a taut web of suspicion, murder and revenge in this chilling tale. Sinister characters and blind ends increasingly heighten the tension until the harrowing final climax. Add Someone's Listening to your must read list!" — Liv Constantine, internationally bestselling author of The Last Mrs. Parrish

"Unputdownable. I found myself suspecting everyone at some point. Twisty, original and a must-read—highly suspenseful and cleverly written." — Karen Hamilton, bestselling author of The Perfect Girlfriend, on Someone's Listening

"A taut and intriguing suspense that held my attention from the very first page. I thought I had it figured out, but I had no idea what was in store. A stunning and impressive debut." — Alessandra Torre, New York Times bestselling author, on Someone's Listening
Seraphina Nova Glass is a professor and playwright-in-residence at the University of Texas, Arlington, where she teaches film studies and playwriting. She holds an MFA in playwriting from Smith College, and she's also a screenwriter and award-winning playwright. Seraphina has traveled the world using theatre and film as a teaching tool, living in South Africa, Guam and Kenya as a volunteer teacher, AIDS relief worker, and documentary filmmaker.