Pacifiers Are Not Forever
Spiral-Bound |
Elizabeth Verdick, Marieka Heinlen (Illustrated by)
Rebinding by Spiralverse™
★★★☆☆+ from 101 to 500 ratings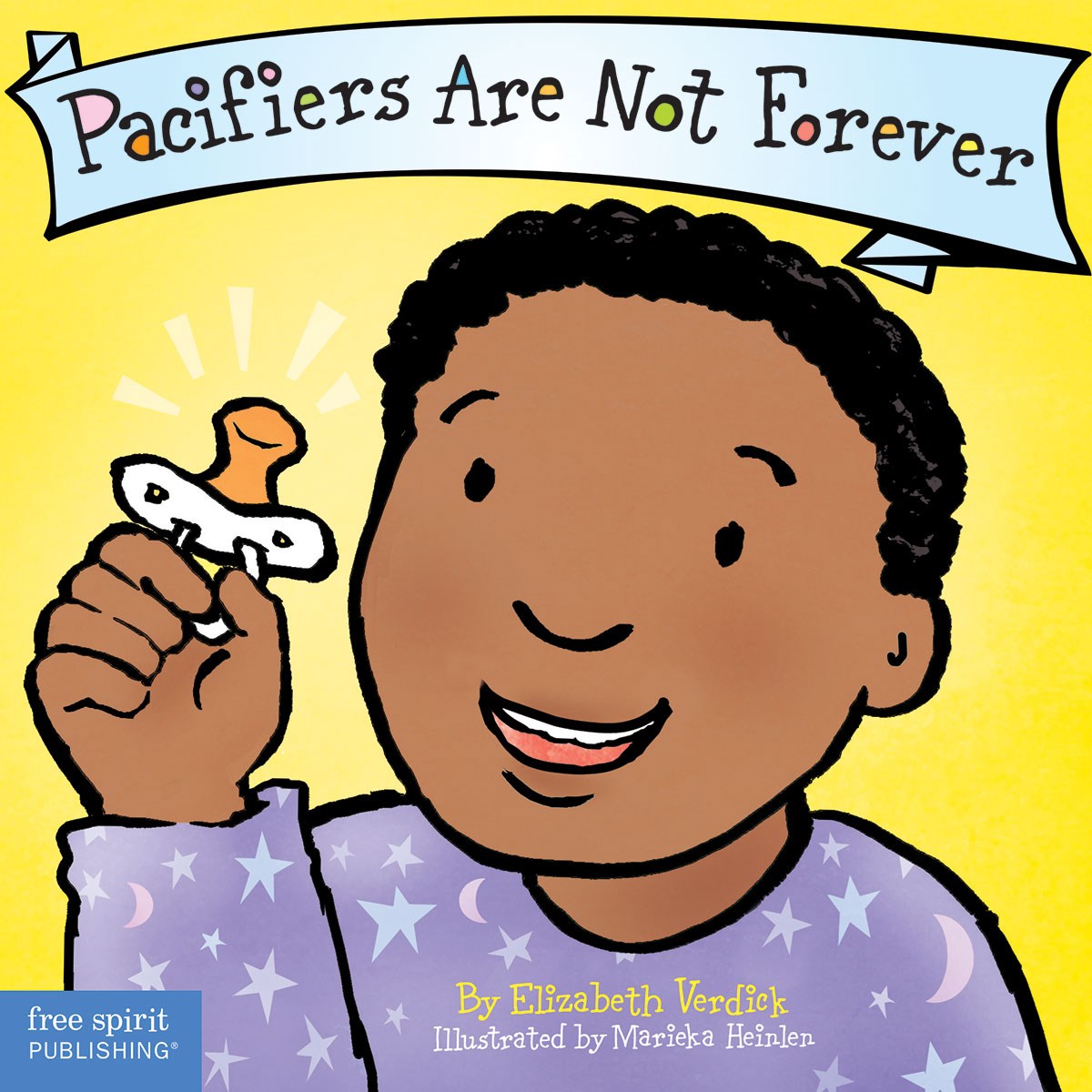 Help toddlers transition to giving up the pacifier and make it a positive experience for kids and grown-ups alike.
For many young children, giving up the pacifier is a major milestone. This board book offers warm, comforting words and pictures to ease the transition and make it a positive experience for kids and grown-ups alike. The focus is on minimizing stress and drama, dealing with feelings of loss and frustration, finding fun things to do without a pacifier, and finally being pacifier-free. Includes helpful tips for parents.
Preferred Choice Award, Creative Child Magazine
Elizabeth Verdick has been writing books since 1997, the year her daughter was born. Her two children are the inspiration for nearly everything she writes. Before becoming an author, Elizabeth edited books for children and parents.
These days she writes books for babies, toddlers, teens, and every age in between. She especially loves creating new board book series—including the Happy Healthy Baby® series, which is designed to capture the interest of your littlest readers. Elizabeth's Toddler Tools® series helps young children and their parents cope with those tough times and transitions that happen every day (like naptime and bedtime). In the Best Behavior® series, she helps toddlers reach new milestones and improve their day-to-day behavior.
Elizabeth also enjoys getting the chance to look at the funny side of life in the Laugh and Learn® series, which helps kids ages 8–13 get a handle on the social-emotional skills they're developing throughout the elementary and middle school years.
She's also coauthor of The Survival Guide for Kids with Autism Spectrum Disorder (And Their Parents), which offers kids with autism spectrum disorder (ASD) their own comprehensive resource for both understanding their condition and finding tools to cope with the challenges they face every day.
Elizabeth lives and writes near St. Paul, Minnesota.
Marieka Heinlen received her BFA at the University of Wisconsin, Madison, and also studied at Central Saint Martins College of Art and Design in London.
She launched her career as an award-winning children's book illustrator with Hands Are Not for Hitting and has illustrated all of the books in the Best Behavior® and Toddler Tools® series. Marieka focuses her work on books and other materials for children, teens, parents, and teachers.
She lives in St. Paul, Minnesota, with her husband, son, and daughter.