Six Seasons: A New Way with Vegetables
Spiral-Bound | May 2, 2017
Joshua McFadden, Martha Holmberg (With)
Rebinding by Spiralverse™
★★★★☆+ from 1,001 to 10,000 ratings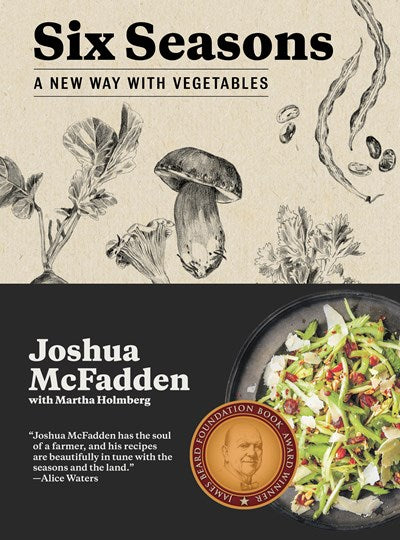 A new way to look at (and cook with) vegetables through the seasons, with 225 vegetable-centric recipes with an exciting modern sensibility from a brilliant young chef and former vegetable farmer who makes vegetables taste delicious in ways we haven't experienced before.
Winner, James Beard Award for Best Book in Vegetable-Focused Cooking

Named a Best Cookbook of the Year by the Wall Street Journal, The Atlantic, Bon Appétit, Food Network Magazine, Every Day with Rachael Ray, USA Today, Seattle Times, Milwaukee Journal-Sentinel, Library Journal, Eater, and more

Featured in The Strategist 's Nonobvious Wedding Gift Guide

"Of the many vegetable-focused cookbooks on the market, few espouse the dual goals of starting from square one and of deploying minimal ingredients for maximum enjoyment. Joshua McFadden's guide excels at both. These are recipes that every last relative around your holiday table would use because they're umami-rich and can be made on a weeknight."
—USA Today, 8 Cookbooks for People Who Don't Know How to Cook

"If you're finding pantry cooking to mean too many uninspired pots of beans, might I suggest Six Seasons? [It] both highlights a perfectly ripe plant . . . and shows you how to transform slightly less peak-season produce (yes, the cabbage lurking in the back of your fridge right now counts) with heat, spice, acid, and fat."
—Epicurious

"Never before have I seen so many fascinating, delicious, easy recipes in one book. . . . [Six Seasons is] about as close to a perfect cookbook as I have seen . . . a book beginner and seasoned cooks alike will reach for repeatedly."
—Lucky Peach

Joshua McFadden, chef and owner of renowned trattoria Ava Gene's in Portland, Oregon, is a vegetable whisperer. After years racking up culinary cred at New York City restaurants like Lupa, Momofuku, and Blue Hill, he managed the trailblazing Four Season Farm in coastal Maine, where he developed an appreciation for every part of the plant and learned to coax the best from vegetables at each stage of their lives.

In Six Seasons, his first book, McFadden channels both farmer and chef, highlighting the evolving attributes of vegetables throughout their growing seasons—an arc from spring to early summer to midsummer to the bursting harvest of late summer, then ebbing into autumn and, finally, the earthy, mellow sweetness of winter. Each chapter begins with recipes featuring raw vegetables at the start of their season. As weeks progress, McFadden turns up the heat—grilling and steaming, then moving on to sautés, pan roasts, braises, and stews. His ingenuity is on display in 225 revelatory recipes that celebrate flavor at its peak.
"A great book. Period. . . . Never before have I seen so many fascinating, delicious, easy recipes in one book. . . . In fact, it's about as close to a perfect cookbook as I have seen. What McFadden and Holmberg have achieved is no small feat: This is a book that will educate nearly everyone who picks it up, a book beginner and seasoned cooks alike will reach for repeatedly. It's the rare book that achieves what it sets out to do, and manages to do so in a manner that is both appetizing and engaging. It is accessible without sacrificing its artistry."
—Lucky Peach

"The book's appealingly simple recipes are focused on delivering big flavor."
—The Wall Street Journal, The Best Books to Give to the Food Lover in Your Life

"Six Seasons: A New Way with Vegetables is poised to join the veggie canon. . . . The flavors are big. . . . They're also layered and complex, despite their apparent simplicity. What will really change your cooking is [McFadden's] approach to seasoning. . . . Trust me: Read this book and you'll never look at cabbage the same way again."
—Bon Appétit

"Achieves the near-impossible: Recipe after recipe of restaurant-quality food that isn't difficult to put together."
—Eater

"Stellar mix-and-match recipes that highlight produce at its gorgeous peak."
—Food Wine

"The Six Seasons cookbook. Have you bought it yet? I know this is awfully bossy of me, but I think you should. I think that if you, like me, delight in inventive but not overly complicated vegetable preparations (225 of them, even), things you hadn't thought of but that you'll immediately tuck into your repertoire, you're going to love this book as much as I do. I confess I've had it for almost a year. In that year, I've been almost overwhelmed with how much I've wanted to cook from it."
—SmittenKitchen.com

"Exciting flavor combinations mean this is no mere guide to vegetables but a primer on how to make them taste their exciting best."
—Fine Cooking

"Downright thrilling. . . . Divided into six seasons rather than the traditional four—a more accurate reflection of what's happening in the fields—the book encourages readers to embrace what he calls 'the joyful ride of eating with the seasons. . . .' On page after page, McFadden presents a deliciously enlightening way of cooking with vegetables."
—Sunset

"Enduringly rewarding. I am utterly consumed with Six Seasons and feel I could cook from it every day without tiring."
—Nigella Lawson

"This cookbook might put meat out of business. It's that good. . . . A rare source of new ideas about vegetables. McFadden's forward-looking sensibility infuses every recipe."
—Portland Monthly

"Brilliant."
—Food52

"[This is] a cookbook I've gotten a little obsessed with. . . . The book offers inspiring treatments for vegetables that are often relegated to a boring crudité tray—if you're looking for a new way to treat celery or cabbage, you need a copy."
—Serious Eats

"Six Seasons is a beautiful book. But it's more than a pretty face: It's a practical primer that begs to come into the kitchen—and won't disappoint once you get it there."
—Santa Fe New Mexican

"An exuberant, engaging approach to vegetables. . . . Six Seasons is a joy. . . . [It] manages to feel comprehensive without sacrificing delight and humor."
—Portland Press Herald

"The most exciting approach to home cooking I've seen all year. . . . Six Seasons is one of the most satisfying cookbooks I've purchased in years, and McFadden's insights into seasoning are invaluable, even for an experienced home cook."
—Willamette Week

"A must-have cookbook that stands out from the crowd of vegetable-centric cookbooks. . . . This cookbook deserves to become a well-thumbed, vital addition to any kitchen."
—Publishers Weekly, starred review

"Essential techniques that can help cooks become better at preparing seasonal and local vegetables. . . . Attractive vegetable recipes range from brightly colored raw and cooked salads to indulgent appetizers, pastas, and baked goods. Under McFadden's tutelage, cooks will learn how to bring out the best in every humble vegetable."
—Library Journal, starred review

"McFadden's debut cookbook is an invaluable resource for all things veggie."
—Booklist, starred review

"Visionary. . . . Beautifully produced."
—BookPage

"Glorious."
—Atlanta Journal-Constitution

"This is not a cookbook for coffee tables or artfully curated bookshelves! Its recipes demand to be tasted until the pages are dog-eared and sauce-splattered and stick together. Compulsory for the home cook."
—Dan Barber, chef/co-owner of Blue Hill

"Joshua McFadden has the soul of a farmer, and his recipes are beautifully in tune with the seasons and the land."
—Alice Waters, owner of Chez Panisse

"Joshua [understands] vegetables from the perspective of both a farmer and chef. His mouthwatering and terrific solutions . . . get the most out of vegetables from their beginning to their last act on our plates."
—David Chang, chef/owner of Momofuku

"We always knew Joshua was a vegetable magician, but this is so much more. We learned something new on every page. Six Seasons is a brilliant cookbook."
—Barbara Damrosch and Eliot Coleman, cofounders of Four Season Farm
Joshua McFadden is the founder of Submarine Hospitality in Portland, Oregon. He owns and manages Ava Gene's, Cicoria, Medjool, and Tusk restaurants. In between running the restaurants, he is bringing new life to Berny Farm, a historic fifty-acre farm in Springdale, Oregon, with the goal of creating an agricultural complex that will host collaborations between farming, food, and design. His first book, Six Seasons: A New Way with Vegetables, also written with Martha Holmberg, won a James Beard Award in 2018. Follow him on Instagram at @jj__mc.
Martha Holmberg is a food writer who has authored or co-authored nine cookbooks. Modern Sauces was a James Beard Award finalist. Six Seasons: A New Way with Vegetables, written with chef Joshua McFadden, won the James Beard Award, and Grains for Every Season, also with McFadden, was a James Beard Award finalist. Holmberg was the editor in chief of Fine Cooking magazine for a decade, the food editor of The Oregonian newspaper in Portland, Oregon, and the founder of MIX magazine. She studied cooking at La Varenne in Paris, where she worked for several years as a private chef. Holmberg lives in Spokane, Washington. Follow her on Instagram @marthaholmberg.