I Love You As Big As the World
Spiral-Bound | September 3, 2013
David Van Buren, Tim Warnes (Illustrated by)
Rebinding by Spiralverse™
★★★★☆+ from 501 to 1,000 ratings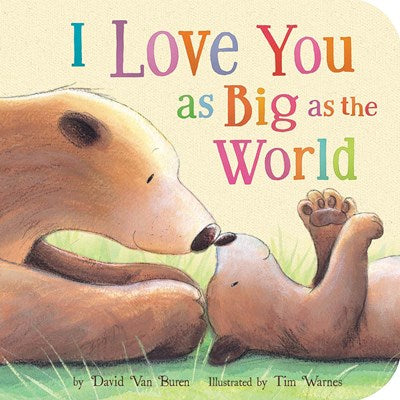 Show your little one just how strong your love is with this sweet rhyme! Features soft, padded covers and sturdy board pages that make this a perfect choice for preschoolers.

Big Bear and Little Bear love each other very much! Their love stretches down to the bottom of the sea, to the top of the highest mountain, and as far away as a star. The two spend the day together exploring the ocean, basking in the warm of the Sun on the beach, climbing a tree, and snuggling close at bedtime. The soft padded covers, rounded corners and sturdy board pages make this title a perfect fit for preschoolers.
David Van Buren was born in New York, and currently lives in Ireland with his wife and five children. He has written a newspaper column for the Irish Voice newspaper in New York, as well as a number of poems, songs and children's stories.