The Book of Awakening: Having the Life You Want by Being Present to the Life You Have (20th Anniversary Edition)
Spiral-Bound | January 1, 2020
Mark Nepo, Jamie Lee Curtis (Foreword by)
Rebinding by Spiralverse™
★★★★☆+ from 1,001 to 10,000 ratings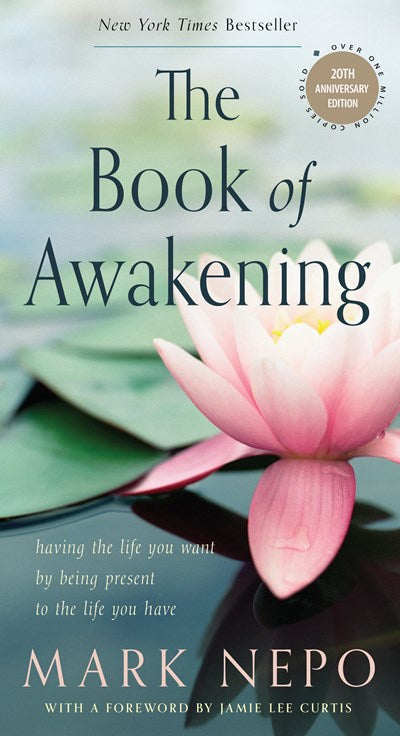 A new edition of the #1 NYT's bestseller by Mark Nepo, who has been called "one of the finest spiritual guides of our time" and "a consummate storyteller."
Philosopher-poet and cancer survivor Mark Nepo opens a new season of freedom and joy—an escape from deadening, asleep-at-the wheel sameness—that is both profound and clarifying.
His spiritual daybook is a summons to reclaim aliveness, liberate the self, take each day one at a time, and savor the beauty offered by life's unfolding. Reading his poetic prose is like being given second sight, exposing the reader to life's multiple dimensions, each one drawn with awe and affection.
The Book of Awakening is the result of Nepo's journey of the soul and will inspire others to embark on their own. He speaks of spirit and friendship, urging readers to stay vital and in love with this life, no matter the hardships. Encompassing many traditions and voices, Nepo's words offer insight on pain, wonder, and love. Each entry is accompanied by an exercise that will surprise and delight the reader in its mind-waking ability.
"There was one book that transformed my life and that book is The Book of Awakening by Mark Nepo. The river of life is wide and the journey we make together is made so much more beautiful, important, and moving when our lives are linked by this book." —Jamie Lee Curtis, from the Foreword
-Jamie Lee Curtis
Mark Nepo has moved and inspired readers and seekers all over the world with his #1 New York Times bestseller The Book of Awakening. His work is widely accessible and used by many, and his books have been translated into more than twenty languages. A bestselling author, he has published twenty-two books and recorded fifteen audio projects. In 2015, he was given a Life-Achievement Award by AgeNation. In 2016, he was named by Watkins: Mind Body Spirit as one of the 100 Most Spiritually Influential Living People, and he was also chosen as one of OWN's SuperSoul 100, a group of inspired leaders using their gifts and voices to elevate humanity. And In 2017 Mark became a regular columnist for Spirituality & Health magazine.