The New Art of Coffee: From Morning Cup to Caffeine Cocktail
Spiral-Bound | April 4, 2023
Ryan Castelaz, Kevin Miyazaki
Rebinding by Spiralverse™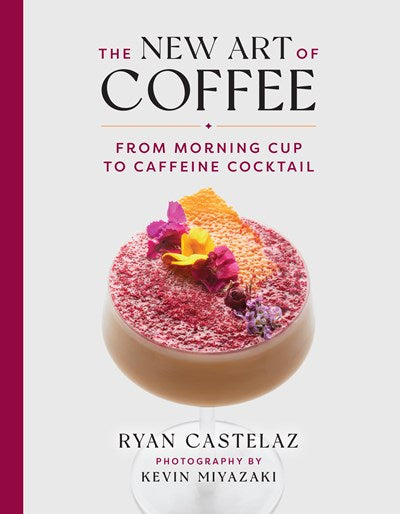 Coffee lovers: here are recipes and inspiration for every taste, mood, and complexity, making for the perfect coffee drink for each moment of the day.

While the popularity of craft cocktails and home bartending have helped people create their own drink-driven memories, the possibilities for coffee have remained rather tame. Much more than a guide to beans or brewing, The New Art of Coffee shares how to create inspiring concoctions and flavor profiles from comforting and rejuvenating to celebratory and adventurous.

Nearly fifty recipes paired with beautiful photography will inspire and offer something for every taste and time of day—hot, iced, carbonated, post-workout, decaffeinated, alcoholic, and deconstructed. Organized by mood, the recipes range in complexity from a quick quaff to a showstopping slow build, allowing readers to match the drink with the moment.

Enjoy a Moonwater with breakfast, a Throw Em' A Haymaker after a hard workout, or an Amuse as a happy-hour delight. The Don is the ideal after-dinner companion, and there's nothing quite like powering down with a Windmill Cookie Steamer after a long day.

"Much more than a guide to beans or brewing, The New Art of Coffee shares how to create inspiring concoctions and flavor profiles from comforting and rejuvenating to celebratory and adventurous. Nearly fifty recipes paired with beautiful photography will inspire and offer something for every taste and time of day—hot, iced, carbonated, post-workout, decaffeinated, alcoholic, and deconstructed. Organized by mood, the recipes range in complexity from a quick quaff to a showstopping slow build, allowing readers to match the drink with the moment." —GOOD SPIRITS NEWS

"A caffeine dream dispensary… forty Wonka-worthy concoctions along with Kevin Miyazaki's sensational photography will either send you racing to the kitchen or fantasizing about a flight to Wisconsin (yes, these bonkers beverages are that tempting)." —PASSPORT MAGAZINE

"Ryan Castelaz tells stories through the coffee drinks he makes. Now, what goes into those drinks and the meanings behind them can be found in his new, carefully crafted book." —MILWAUKEE JOURNAL-SENTINEL

"What Ryan has contributed to the coffee industry with this book is truly magnificent. His fanatical approach to composition, from his early day "concoctions" to details of texture, flavor, and aroma are a true example of how far the medium of coffee can be taken. The New Art of Coffee is amazingly comprehensive, from the history of the American Coffee Movement to modern day interpretations. A must for aspiring coffee professionals." —Frankie Solarik, owner of BarChef (Toronto) and Drink Master Judge

"The New Art of Coffee by Ryan Castelaz is a must-have for both coffee enthusiasts and professionals alike. His take on the craft of creating coffee drinks is truly unique and inspired. He offers an expansive view that takes readers far beyond simply making drinks — he encourages us to think about presentation, aroma, taste, and texture in ways that allow us to tap into memories. With exhaustive research and a deep understanding of the coffee industry, Castelaz has created an indispensable guide for exploring the many facets of coffee. Highly recommended!" —Vasileia Fanarioti, editor of Coffee t&i Magazine (Shanghai, China)

Ryan Castelaz...present(s) some of the most forward-thinking and inspired coffee beverages anywhere in the world. The New Art of Coffee has peeled back the layers of Discourse's world class coffee program to present techniques and flavors unmatched in some of the most revered beverage programs anywhere. This book truly has it all, from precise technique and beautiful photography, all the way to progressive culinary inspired flavors and my personal favorite - flavored ice!" —Micah Melton, Beverage Director @ the Aviary & the Alinea Group

"While countless books on coffee have been written, The New Art of Coffee by Ryan Castelaz, brings something altogether fresh and exciting to the table with this gorgeously photographed book. While the basics of brewing are covered, the aim of The New Art of Coffee is to push the creative envelope on developing whimsical, thoughtful drinks for cafe service with a thorough how-to in bringing the idea for a drink to life. Castelaz walks the reader through steps to consider and take in dreaming up something that will dazzle visually while pleasing the palate. And for inspiration, the author shares a plethora of his own original and imaginative drink recipes." —Sarah Allen, Editor in chief, Barista Magazine
Ryan Castelaz is the owner and creative director of Discourse Coffee Workshop, which he opened in Door County, Wisconsin, in 2017, before moving the business to Milwaukee in 2021. His inventive drink making has been featured on the Emmy Award–winning PBS program Wisconsin Foodie and featured in print in Barista Magazine, Food & Wine, Plate Magazine, Daily Coffee News, and The Growler magazine, which called him "The Coffee Wizard of Sister Bay."


Author Residence: Milwaukee