The Champion's Mind: How Great Athletes Think, Train, and Thrive
Spiral-Bound | May 12, 2015
Jim Afremow, Jim Craig (Foreword by)
Rebinding by Spiralverse™
★★★☆☆+ from 1,001 to 10,000 ratings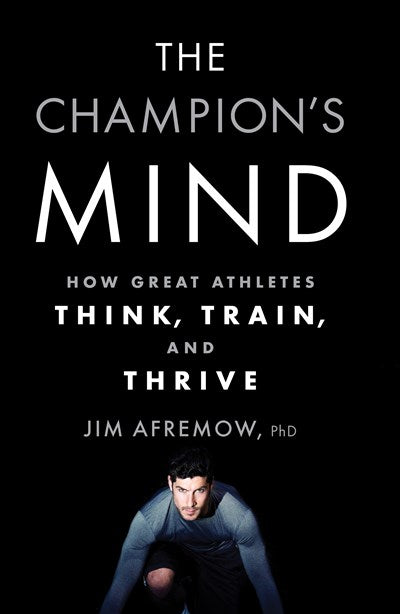 Even among the most elite performers, certain athletes stand out as a cut above the rest, able to outperform in clutch, game-deciding moments. These athletes prove that raw athletic ability doesn't necessarily translate to a superior on-field experience—its the mental game that matters most.

Sports participation—from the recreational to the collegiate Division I level—is at an all-time high. While the caliber of their games may differ, athletes at every level have one thing in common: the desire to excel. In The Champion's Mind, sports psychologist Jim Afremow, PhD, offers the same advice he uses with Olympians, Heisman Trophy winners, and professional athletes, including:

• How to get in a "zone," thrive on a team, and stay humble
• How to progress within a sport and sustain long-term excellence
• Customizable pre-performance routines to hit full power when the gun goes off or the puck is dropped

With hundreds of useful tips, breakthrough science, and cutting-edge workouts from the world's top trainers, The Champion's Mind will help you shape your body to ensure a longer, healthier, happier lifetime.
"The Champion's Mind is loaded with great lessons, advice, and perspectives on how to be successful. The skills and strategies that Jim provides here are essential in carving a path to success, no matter what field you are in or what your goals are. I can honestly say that I have lived by many of the strategies offered in this book and I can also say I wish I had lived by more of them. But it's never too late to be as good as you can be!" —Dan Jansen, Olympic gold medalist, speed skating

"I learned early on in my professional baseball career that players at the elite level are generally pretty similar from the perspective of physical aptitude. Yet, what tends to differentiate the all-stars from the rest of the pack resides between the ears. Jim Afremow does a great job of exploring this subject in The Champion's Mind. This is a great book for coaches and athletes of all ages who are looking to improve performance at any level, in any sport." —Shawn Green, two-time MLB All-Star

"The Champion's Mind reveals the mental skills and strategies Olympic champions use to perform their best when it matters most. Dr. Afremow's matchless book is a must for athletes and coaches." —Shannon Miller, Olympic gold medalist, gymnastics

"The Champion's Mind is a mental training book that will help you reach your potential in sports. I highly recommend this book to all athletes and coaches." —Jackie Slater, NFL Hall of Famer

"Dr. Afremow nails all the basics and gives readers an excellent window into how a champion's mind works before and during 'the process'." —Randy Cross, three-time Super Bowl Champion

"I read this book with my eyes wide open and the content continued to keep them open at all times. Jim's advice and tips are very simple and easy to understand. Read only one chapter at a time and apply it to your approach to Tennis, Sports, and Life." —Nick Bollettieri, Founder/President of Nick Bollettieri IMG Tennis Academy

"The Champion's Mind shows you how to take your game to the next level." —Tony Womack, MLB All-Star and World Series Champion

"Dr. Afremow's training and tips have been an important part of the preparation and success of our athletes when they take the Wonderlic test at the NFL Combine. In The Champion's Mind, Dr. Afremow provides simple, yet powerfully effective strategies to help athletes and coaches reach their full potential." —Mark Verstegen, author of Core Performance

"How sweet it is to breathe that rarified air of a high performance athlete! How refreshing it is, as well, to recognize so many of the techniques in Dr. Afremow's book that get you to that privileged place. The Champion's Mind is simple, straightforward elixir for the high achiever in all of us." —Morten Andersen, NFL's all-time leading scorer

"The mind is a powerful thing. As a baseball player the more confidence I have and the more mentally prepared I am, the better I perform when it matters the most. Dr. Afremow'sbookThe Champion's Mind will help guide you to reach your potential both on and off the field!" —Travis Buck, MLB outfielder, Houston Astros

"Athletes who want to learn the secrets of the mental game should read The Champion's Mind." —Carli Lloyd, Olympic gold medalist, soccer

"One can always learn from others. The Champion's Mind holds a wealth of insight as to how you can become a winner in your everyday life." —Phil Mahre, Olympic gold medalist, Alpine skiing

"It's amazing to see how Dr. Afremow points out what athletes go through every day. He describes a lot of situations that I have experienced as well. In this book, you can find a lot of simple but very useful tips and principles that might help you to improve your performance." —Britta Heidemann, Olympic gold medalist, epee fencing

"The Champion's Mind is very informative and full of great principles and guidelines for any athlete that is searching for excellence in their performance." —Mike Candrea, three-time Olympic gold medal coach of USA softball, eight-time national champion coach of the University of Arizona women's softball team

"Athletes can unlock a new level of performance by learning the power of training their mind as they train their body. From preparation to rehabilitation to competition, The Champion's Mind gives the mental guidance necessary to allow an athlete to reach their full athletic potential. Dr. Afremow's playbook for increasing mental strength gives clear direction to make the reader a better athlete, a better teammate, and a better person." —Curt Tomasevicz, Olympic gold medalist, four-man bobsleigh

"We all have an athlete in us; we were all born to run, jump, swim and compete in some way or another. The gold medal at an Olympic Games has been declared as the highest honor to reward discipline, commitment, power, strength, finesse, passion, precision, patience, speed and skill, just to name a few. You too can go for gold in all areas of your life by following Jim's strategies. Decide what you want and go after it with all you have to give, every single day. Daily acts of excellence are the secret. Choose your success today." —Natalie Cook, Olympic gold medalist, beach volleyball

"Do you want to learn how the best in the world got there? In The Champion's Mind, Jim distills a myriad of golden Olympic stories into clear tools we all can use. I am positive that you will read insights in this book that will help you rise to the top of your discipline. If you read this book you will be inspired. Thank you Jim for writing this book!" —Adam Kreek, Olympic gold medalist, men's eights rowing

"When I read The Champion's Mind it quite frankly reminded me of many instances, mannerisms, and thoughts leading to my Olympic Championship, and it has given me many other wisdoms to pass on to the athletes I now coach. Choose your path, follow your path, any path worth choosing will have its ups and downs, but The Champion's Mind will help you with ideas to keep moving forward on that path. The focus you gain will help you reach the top of whatever you seek." —Nick Hysong, Olympic gold medalist, pole vault

"Dr. Afremow hits a grand slam with The Champion's Mind. Every athlete should keep a copy of this book in their locker or gym bag." —Leah Amico, three-time Olympic gold medalist, softball
Jim Afremow, PhD, is a sports psychologist and licensed counselor at Arizona State University. He has worked closely with athletes at all levels, including pros from the MLB, NBA, WNBA, NFL, NHL, PGA Tour, and LPGA Tour, as well as business professionals, performing artists, and others in demanding careers. He lives in Phoenix.