The Bulletproof Diet: Lose Up to a Pound a Day, Reclaim Energy and Focus, Upgrade Your Life
Spiral-Bound | April 10, 2018
Dave Asprey, J. J. Virgin (Foreword by)
Rebinding by Spiralverse™
★★★☆☆+ from 1,001 to 10,000 ratings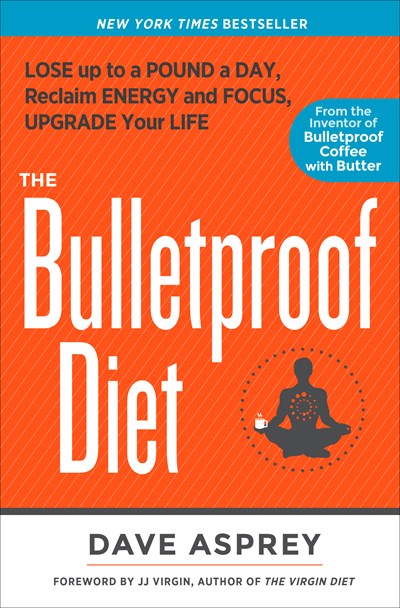 In his mid-twenties, Dave Asprey was a successful Silicon Valley multimillionaire. He also weighed 300 pounds, despite the fact that he was doing what doctors recommended: eating 1,800 calories a day and working out 90 minutes a day, six times a week.

When his excess fat started causing brain fog and food cravings sapped his energy and willpower, Asprey turned to the same hacking techniques that made his fortune to "hack" his own biology, investing more than $300,000 and 15 years to uncover what was hindering his energy, performance, appearance, and happiness. From private brain EEG facilities to remote monasteries in Tibet, through radioactive brain scans, blood chemistry work, nervous system testing, and more, he explored traditional and alternative technologies to reach his physical and mental prime. The result? The Bulletproof Diet, an anti-inflammatory program for hunger-free, rapid weight loss and peak performance.

The Bulletproof Diet will challenge—and change—the way you think about weight loss and wellness. You will skip breakfast, stop counting calories, eat high levels of healthy saturated fat, work out and sleep less, and add smart supplements.

In doing so, you'll gain energy, build lean muscle, and watch the pounds melt off. By ditching traditional "diet" thinking, Asprey went from being overweight and sick in his twenties to maintaining a 100-pound weight loss, increasing his IQ, and feeling better than ever in his forties. The Bulletproof Diet is your blueprint to a better life.
"Dave Asprey will make you question everything you thought you knew about nutrition and health. His revolutionary advice will truly make you a healthier, better-looking, smarter version of yourself—we can all be Bulletproof like Dave!" —Mark Hyman, #1 New York Times bestselling author of The Blood Sugar Solution

"So cutting edge that you may draw blood, The Bulletproof Diet will teach you how to avoid the toxins, enjoy more butter, and have tremendous fun as you get lean." —Sara Gottfried, MD, New York Times bestselling author of The Hormone Cure

"In the high stakes world of peak performance in both the boardroom and locker room, The Bulletproof Dietdelivers on the promise of vibrant health, abundant energy, and heightened awareness to knock it out of the park. It should almost be considered an unfair advantage--that's how good it is!" —Dr. Jeff "Cornerman" Spencer, creator of "The Champion's Blueprint" and 9-time Performance Coach for the Tour de France

"We all know how easy it is to gain weight and get out of shape. By applying the concepts in The Bulletproof Diet, losing weight and getting in shape will be just as easy. Dave has done the research to understand the intricacies of how our diet went wrong, and then shows us a simple process to turn it all around. Let Dave show you how a great body and amazing health are your birthright, not a pipe dream." —Doug McGuff, MD, co-author of Body By Science and President of Ultimate Exercise, Inc.

"Dave Asprey is a biohacker extraordinaire--The Bulletproof Diet will make you rethink everything you know about food!" —Steven Kotler, New York Times bestselling author of Rise of Superman and Abundance and director of research for the Flow Genome Project

"I've searched for years to find a way of eating that would help me on long tours with my band where I need to perform at a high energy level night after night on little sleep. Bulletproof is literally food for performance, and is going to help people lead healthier lives with more physical vitality and more mental clarity." —Stephan Jenkins, lead singer, songwriter, and guitarist for Third Eye Blind

"I need a lot of sustained energy and consistency for my work and Bulletproof always delivers. All the coffee I've tried gives you that crash...except Bulletproof. It has become a way of life for me." —Jeremy Piven, actor, producer, and star of Mr. Selfridge and Entourage

"Today we have the power to measure what works. Dave Asprey uses this new power in his quest to biohack the human body to improve how we think and how we feel. This capacity is groundbreaking and will lead to measurably improve human performance." —Peter H. Diamandis, MD, CEO, XPRIZE Foundation, Executive Chairman, Singularity University, and author, Abundance: The Future Is Better Than You Think

"I thought I knew a lot about health and nutrition, but Dave Asprey introduced me to the real truth about modern food, and most importantly, the beauty of clean, powerful saturated fat." —Brandon Routh, actor and star of Superman Returns and Arrow

"Learning to biohack your health is one of the smartest things you can ever do. Dave Asprey is the best person on the planet for showing you how. This fascinating and easy-to-read book will not only expose harmful dietary misinformation but provide simple and effective solutions so you can finally take control of your health and live life with gusto!" —Peter Sage, International Serial Entrepreneur & Bestselling Author of 5 Keys to Master Your Life
Dave Asprey is the author of The Bulletproof Diet and Bulletproof: The Cookbook, the creator of Bulletproof Coffee® made with butter, and the owner of the enormously popular Bulletproof Coffee Shop restaurant in Los Angeles. He is the chairman of the Silicon Valley Health Institute and host of the #1 ranked Bulletproof Radio show with 30 million downloads on iTunes and PodcastOne. He has been featured on the Today show, Nightline, and CNN in Financial Times, Rolling Stone, Men's Health, Vogue, Marie Claire, Slate, Forbes, and dozens more. He lives in Victoria, British Columbia, and Seattle, Washington.