Dr. Kellyann's Bone Broth Cookbook: 125 Recipes to Help You Lose Pounds, Inches, and Wrinkles
Spiral-Bound | December 6, 2016
Kellyann Petrucci, MS, ND, Karen Pickus (Foreword by)
Rebinding by Spiralverse™
★★★☆☆+ from 101 to 500 ratings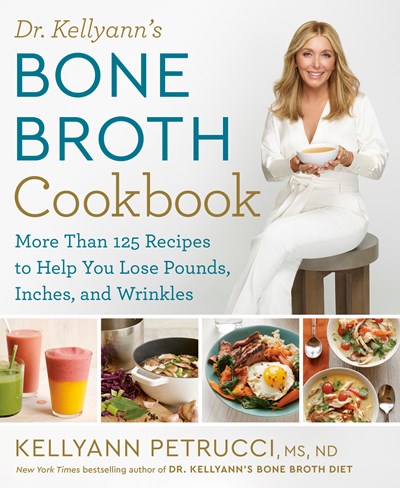 Become a slimmer, younger, healthier you with more than 125 recipes centered on the latest health craze: bone broth.

"I start my day enjoying Dr. Kellyann's scrumptious recipes and warm, rich, bone broth. I find it to be a delicious way to keep me on track."—Robin Roberts, anchor, ABC's Good Morning America

Thousands of people have already discovered the powerful promise in the New York Times bestseller Dr. Kellyann's Bone Broth Diet. Weight loss, firmer skin, and boundless energy are just some of the benefits of sipping bone broth. It's why celebrities like Gwyneth Paltrow, Shailene Woodley, and Salma Hayek are hooked on it. And it's why Dr. Kellyann has been recommending a diet rich in bone broth to her patients for years.

In Dr. Kellyann's Bone Broth Cookbook, you'll discover even more recipes to help you burn fat, heal your gut, and tighten your skin. Each meal is as mouth-watering as it is packed with essential nutrients for glowing health—cravings and hunger pains not included. You'll enjoy more than just bone broth with fabulous recipes for beef, poultry, fish, lamb, eggs, and more, plus "bonus" recipes for your maintenance phase. They're all designed with easy preparation and fast cooking in mind, so you can spend less time in the kitchen and more time enjoying your newfound vibrancy.

Dr. Kellyann's Bone Broth Cookbook is your ticket to slimming down, looking younger, and ending cravings for good.
Praise for Dr. Kellyann's Bone Broth Diet

"Dr. Kellyann's Bone Broth Diet is totally dialed in. This is empowering, user-friendly information supported by the most forward-thinking scientific research available. "—David Perlmutter, MD, author of the #1 New York Times bestseller Grain Brain

"Here's what Kellyann and I know from decades of transforming people's lives: What you put on your fork is more powerful than anything you'll find in prescription bottles."—Mark Hyman, MD, New York Times bestselling author of The Blood Sugar Solution

"Wealth doesn't mean anything if you don't have your health. In this book, Dr. Kellyann gives you the tools you need to conquer your weight problems, heal your body, stay young, and take your energy to an incredible level. Read it and take charge of your life."—Daymond John, cohost of ABC's Shark Tank and bestselling author of The Brand Within, Display of Power, and The Power of Broke

"Your life isn't about losing a few pounds right now and then falling back into old habits. Instead, it's about empowering you to take control of your body and your mind for the rest of your life. Dr. Kellyann offers you the tools you need to be healthy, slim, and young not just now, but forever."—Brett Hoebel, creator of the 20 Minute Body ™
Kellyann Petrucci, MS, ND, is a board-certified naturopathic physician, a certified nutrition consultant, and the author of four books, including the New York Times bestseller Dr. Kellyann's Bone Broth Diet and The 10-Day Belly Slimdown. A concierge doctor for celebrities in New York and Los Angeles, Dr. Kellyann has been a host for Public Television specials and has been featured on Dr. Oz, The Doctors, Good Morning America, and Today.