Adult Children of Emotionally Immature Parents: How to Heal from Distant, Rejecting, or Self-Involved Parents
Spiral-Bound |
Lindsay C. Gibson
Rebinding by Spiralverse™
★★★★☆+ from 10,001 to 50,000 ratings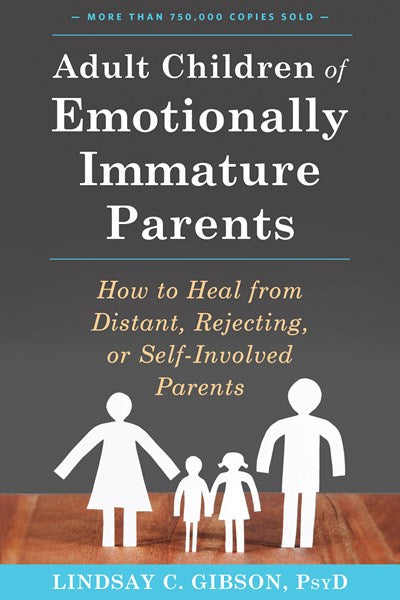 What happens when children are more mature than their parents? Growing up with an emotionally unavailable, immature, or selfish parent is painful, but rarely discussed. In this breakthrough book, clinical psychologist Lindsay C. Gibson exposes an often overlooked, yet extremely common syndrome that shapes the lives of so many people. Gibson also provides powerful skills to help the adult children of self-centered parents gain the insight they need to move on from feelings of loneliness and abandonment, and find healthy ways to meet their own emotional needs.
If you grew up with an emotionally immature, unavailable, or selfish parent, you may have lingering feelings of anger, loneliness, betrayal, or abandonment. You may recall your childhood as a time when your emotional needs were not met, when your feelings were dismissed, or when you took on adult levels of responsibility in an effort to compensate for your parent's behavior. These wounds can be healed, and you can move forward in your life.
In this breakthrough book, clinical psychologist Lindsay Gibson exposes the destructive nature of parents who are emotionally immature or unavailable. You will see how these parents create a sense of neglect, and discover ways to heal from the pain and confusion caused by your childhood. By freeing yourself from your parents' emotional immaturity, you can recover your true nature, control how you react to them, and avoid disappointment. Finally, you'll learn how to create positive, new relationships so you can build a better life.
Discover the four types of difficult parents:
The emotional parent instills feelings of instability and anxiety
The driven parent stays busy trying to perfect everything and everyone
The passive parent avoids dealing with anything upsetting
The rejecting parent is withdrawn, dismissive, and derogatory
"Lindsay C. Gibson, PsyD, gives practical insight into a prevalent problem…The book is impeccably clear…This utter lack of confusion makes the book quite soothing, despite the heavy subject. The soothing effect is amplified by Gibson's caring, knowledgeable voice—it's easy to believe her when she says, 'I wish the very best for you.' This book can be a source of healing for adult children of these kinds of parents—particularly for young adults. But it's also insightful for bosses, therapists, friends, and anyone else who works with, cares for, and supports the people described in this book. Gibson's professional background allows her to anticipate people's emotions and reticence—and urge them gently forward."
—Foreword Magazine
Lindsay C. Gibson, PsyD, is a clinical psychologist in private practice who specializes in individual psychotherapy with adult children of emotionally immature parents. She is author of Who You Were Meant to Be and writes a monthly column on well-being for Tidewater Women magazine. In the past she has served as an adjunct assistant professor of graduate psychology for the College of William and Mary, as well as for Old Dominion University. Gibson lives and practices in Virginia Beach, Virginia.