Let's Learn ABCs
Spiral-Bound |
Rebinding by Spiralverse™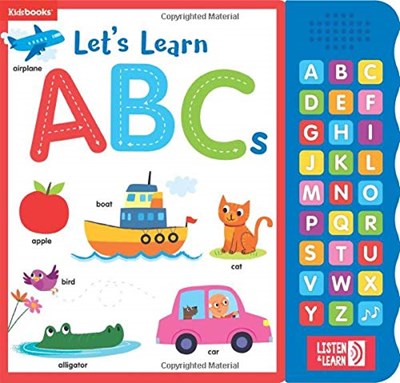 childrens board books; board books; joy of learning; curiosity; love to learn; early education; early learning; first ABC book; love of reading and learning; preschoolers; home schooling; home schooled; early learners; board book; home learning; home teaching; first alphabet book; key first words; alphabet book; learn the alphabet; learning the alphabet; lets learn ABCs; perfect introduction to ABCs; alphabet sound book; ABCs sound book; alphabet song; practice letter tracing; tracing letters; letter recognition; word recognition; letter sounds; basic phonics; babies; toddlers; sound book; 27 button sound book; fun sound buttons; sound buttons; fun sound book; on/off switch; fine motor skills with traceable letters and sound buttons; listen & learn
Press the buttons to hear each letter of the alphabet said out loud and sing along to the alphabet song!
Babies and toddlers will love to learn the alphabet with
Let's Learn ABCs
. Large capital and lowercase letters on each page have dotted lines that make it easy for little hands to practice tracing each letter. With delightful illustrations, key first words, and fun sound buttons, this book is the perfect introduction to the ABCs! Sound module has an on/off switch and batteries are easily replaceable.