Badass Affirmations: The Wit and Wisdom of Wild Women (Inspirational Quotes for Women, Book Gift for Women, Powerful Affirmations)
Spiral-Bound | May 15, 2018
Becca Anderson
Rebinding by Spiralverse™
★★★☆☆+ from 501 to 1,000 ratings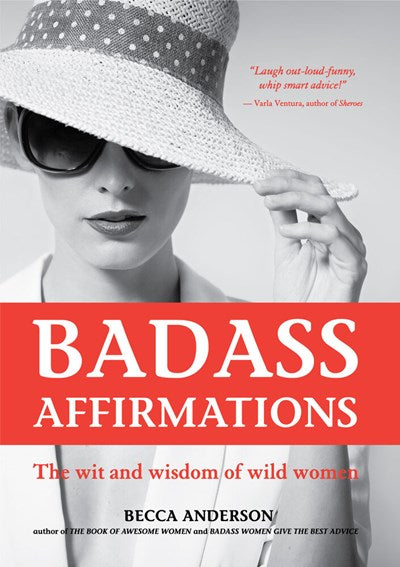 Affirmations can be your superpower! These in-your-face affirmations for badass women take self-help to a whole new level. Filled with sass, smarts and singularly empowering sayings and advice will have reader's self-esteem skyrocketing to a happy, satisfying and successful life.
Positive Affirmations and Motivational Quotes for a Badass

"No matter how you use it, there can be benefits for you and your daily life."—Nerdy Girl Express

#1 Best Seller in Popular Culture, Quotations, Women's Studies, Love & Marriage Humor, Self-Esteem, LGBT, Trivia, and Psychology Humor

Badass Affirmations is full of positive affirmations, profiles of powerful real-life heroines, and inspirational quotes for women. Packed with just the right amount of sass, this book is the perfect women empowerment gift for you and all your fabulous BFFs.

Even a badass needs positive affirmations. No one leaps out of bed knowing they're amazing and about to have an incredible day. We find ourselves rushing around, working hard to please others—and often we find ourselves making everyone happy but our own damn selves. Badass Affirmations is here to stop the negativity with positive quotes and affirmations from powerful women.

Discover strong women quotes and encouraging self-affirmations. In Badass Affirmations, positive living and affirmation queen Becca Anderson reminds you that you are pretty darn great. Inside this motivational quotes and affirmations book, you'll be fired up by inspirational quotes for women, by women. Alongside these women empowerment quotes, you'll gain new knowledge of the badass ladies who have left their mark on the world with a mix of short bios and longer profiles. And when you're done learning from other fierce females, you can work on affirming yourself with uplifting journal prompts.

Read Badass Affirmations and:

Learn the habit of affirming yourself daily
Empower yourself and strengthen your self-esteem
Be encouraged by words of wit and wisdom
Readers of affirmations books and positive quote books for women like Let That Sh*t Go, A Year of Positive Thinking, or Beautifully Said will love the inspirational quotes for women in Badass Affirmations.
"Beyond affirmations this book also shares tips to journal and discuss your own feelings and thoughts in a focuses way. These can help you to attain your own affirmative feelings as well as create a more solid feeling of what you want. Each affirmation station is so clear and not only gives you personal affirmations, but also quotes from famous and well known women in history and society to help you see how these affirmations can tie into real life. This text can help you to grow and find a strong sense of self, while also showing you women that you might want to connect with. This book is something you can use as a sort of coffee table book or something you can carry with you every day and no matter how you use it, there can be benefits for you and your daily life."- Nerdy Girl Express
Becca Anderson is an author, teacher and writing instructor living in the San Francisco Bay Area. Originally from Ohio, Becca's background in women's studies has given her a lifelong passion for empowering women through their own herstory. The author of The Book of Awesome Women, Becca Anderson credits her first grade teacher as a great inspiration and runs several popular classes and workshops including "How to Put Your Passion on Paper."